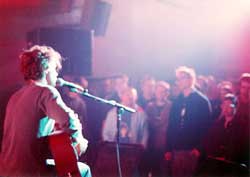 photo by gary ewing
the social, nottingham, england, nov 19 2002
jan 19 -- chris brokaw solo
cambridge, ma, at tt's
jan 23 -- chris brokaw solo
brooklyn, ny, at luxx

feb 17 -- evan dando (accompanying evan)
burlington, vt, at higher ground
feb 18 -- evan dando (accompanying evan)
mt snow, vt, at club indigo
feb 19 -- evan dando (accompanying evan)
mt snow, vt, at club indigo
feb 20 -- evan dando (accompanying evan)
killington, vt, at the pickle barrel
feb 26 -- jumbo
cambridge, ma, at tt's
feb 27 -- evan dando (accompanying evan)
austin, tx
feb 28 -- evan dando (accompanying evan)
houston, tx
march 1 -- evan dando (accompanying evan)
san antonio, tx
march 2 -- evan dando (accompanying evan)
dallas, tx

march 13 -- chris brokaw solo
austin, tx, at the kimchee showcase at the drink -- south by southwest festival
march 16 -- consonant
cambridge, ma, at tt's

march 24 -- the new year
denton, texas, at rubber gloves w/seaworthy
march 25 -- the new year
at launchpad, albuquerque, new mexico, w/seaworthy
march 26 -- the new year
tucson, arizona, at solar culture gallery w/seaworthy
march 27 -- the new year
los angeles, at the troubador w/pedro the lion and seaworthy
march 28 -- the new year
san francisco, at bottom of the hill w/pedro the lion and seaworthy
march 29 -- the new year
eugene, oregon, at WOW hall w/pedro the lion and seaworthy
march 30 -- the new year
seattle, at graceland w/pedro the lion and seaworthy
march 31 -- the new year
portland, oregon, at berbatis pan w/pedro the lion and seaworthy

april 9 -- pullman
brooklyn, ny, at north six w/caliphone and alan licht
april 10 -- pullman
philadelphia, at north star w/caliphone
april 11 -- pullman
oberlin college, oberlin, ohio, at dionysus w/caliphone
april 12 -- pullman
louisville, ky, at headliners music hall w/caliphone
april 13 -- pullman
chicago, at the hideout w/janet bean
april 14 -- pullman
chicago, at the hideout w/janet bean

april 17 -- chris brokaw solo
somerville, ma, at 608 w/victory at sea, rosa chance well, blake hazard
april 23 -- chris brokaw solo / the new year / consonant
london, uk, at the borderline

april 24 -- the new year
glasgow, uk
april 25 -- the new year
leicester, uk
april 27 -- consonant
camber sands, uk, at all tomorrows parties festival
april 28 -- the new year
camber sands, uk, at all tomorrows parties festival

april 29 -- evan dando (chris solo opening, then accompanying evan)
cork, ireland, at the half moon
april 30 -- evan dando (chris solo opening, then accompanying evan)
galway, ireland, at roison dubh
may 1 -- evan dando (chris solo opening, then accompanying evan)
limerick, ireland, at dolan's
may 2 -- evan dando (chris solo opening, then accompanying evan)
derry, ireland, at nerve centre
may 3 -- evan dando (chris solo opening, then accompanying evan)
belfast, ireland, at the empire
may 4 -- evan dando (chris solo opening, then accompanying evan)
dublin, ireland, at the olympic theatre (midnight show as part of the heineken green energy festival)
may 5 -- evan dando (chris solo opening, then accompanying evan)
kilkenny, ireland, at the zoo

may 9 -- consonant
boston, at the paradise supporting LUNA
may 10 -- consonant
providence, ri, at lupo's supporting LUNA
may 11 -- consonant
philadelphia, at the trocadero supporting LUNA
may 16 -- chris brokaw solo / consonant
nyc, at mercury lounge
may 17 -- consonant
washington, dc, at the 9:30 club supporting LUNA
may 18 -- consonant
baltimore, at fletcher's supporting LUNA
may 24 -- chris and clint conley (consonant)
cambridge, ma, at WMBR-FM
may 25 -- consonant
somerville, ma, at 608 w/radio 4

june 4 -- "red cities" listening party
cambridge, ma, at river gods with guest dj's winston bramen and matt kadane
june 5 -- evan dando (chris solo opening, then accompanying evan)
milwaukee, wi, at shank hall
june 6 -- evan dando (chris solo opening, then accompanying evan)
madison, wi, at the annex
june 7 -- evan dando (chris solo opening, then accompanying evan)
chicago at park west
june 8 -- evan dando (chris solo opening, then accompanying evan)
indianapolis, in, at the patio

june 14 -- consonant
milwaukee, wi, at the cactus club, w/silkworm and brothers kadane
june 15 -- consonant
chicago at the abbey pub, w/silkworm and brothers kadane
june 21 -- consonant
boston at the paradise, w/buffalo tom
june 22 -- consonant
nyc, bowery ballroom, w/buffalo tom

july 6 -- chris brokaw solo with full band
cambridge, ma, at the middle east, w/curtis harvey band and others tba
july 7 -- chris brokaw solo with full band
nyc, at tonic, w/curtis harvey band and others tba

july 12 -- consonant
cambridge, ma, at tt's, w/silkworm
july 13 -- consonant
nyc, at the knitting factory, w/silkworm

july 19 -- chris brokaw solo
washington, dc, at the black cat, w/j.mascis
august 1 -- chris brokaw solo
albany, ny, at valentine's, w/j.mascis
august 3 -- chris brokaw solo
providence, ri, at the met cafe, w/j.mascis
august 7 -- chris brokaw solo
london, england, at the arts cafe, w/the james orr complex
august 8 -- chris brokaw solo
manchester, england, at britons protection, w/the james orr complex
august 9 -- chris brokaw solo
edinburgh, scotland (planet pop festival), at la belle angele, w/the james orr complex
august 10 -- chris brokaw solo
dublin, ireland, at whelans, w/the james orr complex
august 11 -- chris brokaw solo
belfast, ireland, at katy dalys, w/the james orr complex
august 13 -- chris brokaw solo
berlin, germany, at magnet
august 15 -- chris brokaw solo
koln, germany, at underground II, at the pop komm music festival
august 16 -- chris brokaw solo
copenhagen, denmark, at loppen
sept 6 -- evan dando (chris accompanying)
cambridge, ma, at tt's
sept 20 -- evan dando (chris accompanying)
brooklyn, ny, at southpaw
sept 21 -- evan dando (chris accompanying)
hoboken, nj, at maxwell's

sept 30 -- chris brokaw and the red cities orchestra
brooklyn, ny, at north 6, w/the shipping news
oct 1 -- chris brokaw and the red cities orchestra
cambridge, ma, at tt's, w/the shipping news

oct 5 -- chris brokaw solo
state college, pa, (venue tba)
oct 6 -- chris brokaw solo
cleveland, ohio, at grog shop, w/karate
oct 7 -- chris brokaw solo
detroit, mi, at the shelter, w/karate
oct 8 -- chris brokaw solo
kalamazoo, mi, at the space, w/karate
oct 9 -- chris brokaw solo
champaign, il, at high dive, w/karate
oct 10 -- chris brokaw solo
madison, wi, at the tornado room
oct 11 -- chris brokaw solo
chicago, il, at shuba's, w/karate
oct 12 -- chris brokaw solo
pittsburgh, pa, at the quiet storm

oct 13 -- consonant
nyc, ny, at the knitting factory, w/shellac

oct 17 -- the new year
cambridge, ma, at tt's, w/victory at sea
oct 19 -- the new year
nyc, ny, at the knitting factory

oct 26 -- consonant
hoboken, nj, at maxwells

oct 30 -- chris brokaw solo
cambridge, ma, at tt's, w/bob mould
oct 31 -- chris brokaw solo
northampton, ma, at the iron horse, w/bob mould
nov 2 -- chris brokaw solo
new york city, CMJ festival, at acme underground, as part of a kimchee records showcase w/thalia zedek, victory at sea, and others
nov 9 -- chris brokaw solo with viva las vegas
santander, spain, at the tanned tin festival

nov 11 -- the new year / chris brokaw solo
finale emilia, italy
nov 13 -- the new year / chris brokaw solo
carpi, italy
nov 14 -- the new year / chris brokaw solo
fano, italy, at the bachelor club
nov 15 -- the new year / chris brokaw solo
gorizia, italy, at the art and co club
nov 16 -- the new year / chris brokaw solo
bologna, italy, at the il covo club

nov 17 -- chris brokaw solo
liverpool, england, at the stanley theater, w/j.mascis
nov 18 -- chris brokaw solo
edinburgh, scotland, at la belle angele, w/j.mascis
nov 19 -- chris brokaw solo
nottingham, england, at the social, w/j.mascis
nov 21 -- chris brokaw solo
london, england, at dingwall's, w/j.mascis

nov 23 -- thalia zedek with chris brokaw
verona, italy -- sintonie festival

nov 24 -- chris brokaw solo
pesaro, italy, at plastic
nov 25 -- chris brokaw solo
fano, italy, at maria
nov 27 -- chris brokaw solo
milan, italy, at la casa, w/fuck
nov 28 -- chris brokaw solo
lausanne, switzerland, at la cigale (chris' performance of "my idea" from this show is included on the compliation "the hospital radio request list volume two," on the uk's sink and stove records)
nov 30 -- chris brokaw solo
basel, switzerland, at parterre
dec 1 -- chris brokaw solo
frankfurt, germany, at dreikoenigskeller
dec 2 -- chris brokaw solo
dresden, germany, at the starclub, supporting low
dec 3 -- chris brokaw solo
magdeburg, germany, at miniversum
dec 4 -- chris brokaw solo
berlin, germany, at spreewaldmitte
dec 5 -- chris brokaw solo
hamburg, germany, at astrastube
dec 6 -- chris brokaw solo (then DJ'ing til 5 am)
copenhagen, denmark, at the vega / ideal bar
dec 7 -- chris brokaw solo
oslo, norway, at cafe mono
dec 8 -- chris brokaw solo
malmo, sweden, at inkonst
dec 11 -- chris brokaw solo
stockholm, sweden, at kagelbanan, w/j mascis
dec 12 -- chris brokaw solo
valencia, spain, at the university of valencia
dec 13 -- chris brokaw solo
porto, portugal, at the mercedes club
dec 14 -- chris brokaw solo
porto, portugal, at the mercedes club
dec 29 -- chris brokaw solo
nyc, at tonic, w/sumara lubelski

dec 31 -- consonant
boston, ma, at the orpheum, as part of the first night festival, w/the damn personals and flag of the shiners

[last updated jan 20, 2003]

chris began playing solo in late 1999, at the prompting of good pal doug mccombs, opening shows for brokeback and nobokazu takemura. initially, the shows were for solo electric guitar and tambourine, but chris eventually added vocals, and finally switched to acoustic guitar in 2002. with the release of "
red cities
" in june 2002, chris played several shows on the east coast with a seven-piece band; but the live show, at the moment, is solo, and exactly like what can be heard on the 2003 cd "
wandering as water
." chris also has a 4-song ep out called "
my confidante + 3
, on 12XU records.

CONSONANT is a band showcasing the songwriting talents of CLINT CONLEY and HOLLY ANDERSON. its latest lp, "love and affliction," was released august 2003 on fenway recordings. videos of the band live and in the studio, as well as audio clips of the record, are online at the fenway site. clint is in the seminal band MISSION OF BURMA, while holly has worked as a writer and visual artist for many years in boston and new york. CONSONANT includes clint on guitar and vocals, winston bramen (count me outs, fuzzy, ex-come) on bass, matt kadane (the new year, silkworm) on drums, and mr. brokaw on guitar and vocals. consonant's debut lp was released in the spring of 2002 on fenway and was named the local record of the year by the boston phoenix.


THE NEW YEAR showcases the songwriting of matt and bubba kadane, best known for their work with the dallas band BEDHEAD. THE NEW YEAR includes the kadanes, peter schmidt on guitars, mike donofrio (saturnine) on bass, josh mckay on keyboards, and chris b. on drums. the band has two recordings: 2001's "newness ends," and the 2004 release "the end is near." both are out on touch and go records.


THE EMPTY HOUSE COOPERATIVE is a free-floating collective of musicians, spearheaded and masterminded by multi-instrumentalist DAVID MICHAEL CURRY (willard grant conspiracy, thalia zedek, will oldham, boxhead ensemble) and specializing in improvised music. the EHC has existed for several years and includes stalwart members of the music communities of boston, new york, montreal and louisville, ky. there are two recordings available to date: the full-length cd "improvisational music," on hinah records in france (a trio of curry, brokaw and cellist jonah sacks); and the track "lilacs" on the "acuarela songs" compilation from acuarela records, gijon, spain. hinah's web site also has downloadable mp3s of the ehc. brokaw, curry and sacks performed with the american repertory theatre in march 2003, in the production of "highway ulysses."

EVAN DANDO is a singer/songwriter based in new york city, formerly of THE LEMONHEADS. evan's solo debut, "baby i'm bored," was released in march 2003. chris played guitar and drums on several numbers, and penned the song "my idea" with tom morgan. chris began accompanying evan in june of 2001 at the fleadh festival in london, and since that time has toured with evan as both a duo and with a full band in the US, UK and australia.


PULLMAN is an instrumental combo and collaboration between bundy brown (ex-tortoise, bastro), doug mccombs (tortoise, brokeback, 11th dream day), curtis harvey (rex, letter e), and mr. brokaw. the group has been joined in performance by drummer tim barnes (jim o'rourke, silver jews), and has 2 lp's on thrill jockey.

JUMBO is a boston-based collective of musicians playing, primarily, circus music. the ensemble has existed since roughly 1995 and on any given night includes 20 to 40 members. performances are generally quite spirited and occasionally "ramshackle." JUMBO has "tackled" (sometimes quite literally) "the magical mystery tour," "the nutcracker," and an evening of film soundtracks. an extremely collectible 7-inch and even more collectible cassette of "the nutcracker" can be found, somewhere. bookings are sporadic and cause for great merry-making.

Red Cities Skyscraper by Dan Abbott




chris' top music picks of 2002:
the flatlanders - "going away"
thomas brinkmann - row
feist - at home
dj screw - chopped and screwed vol. 7
ernst reijseger - i love you so much it hurts
papa m - whatever, mortal
philip jeck - stoke
cecil taylor
alice in chains
chris smither
bob dylan - live 1975
thalia zedek - you're a big girl now
annette krebs- guitar