Performing at Union Pool in Brooklyn, NY, Sept 2019. Photo by Kevin Bannon
---
Come Peel Sessions from 1992 and 1993:
Now out as part of the reissue of
Come
's entire catalog from the 1990s: Previously unreleased Peel Sessions, recorded live at the BBC. Also included is the song "Clockface," recorded live at Citi in 1991. A limited edition on white vinyl is available. The package, from Fire Records, came out Feb 25, 2022.
Details here
.
---
"Best of 2021" lists
celebrated Chris' 2021 LP "PURITAN" and the reissue of Come's "DON'T ASK DON'T TELL." The French magazine
EXITMUSIK named PURITAN the #1 album of 2021
. Details about PURITAN and a selection of
reviews are here
.
---
Come reissues:
Fire Records of London, England, has begun reissuing
Come
's entire catalog and an additional album of Peel Sessions, a project that will run from 2021 to 2023. The first release, DON'T ASK DON'T TELL (from 1994), came out October 22, 2021. The reissue is a double album/double cd with singles, b-sides and a few previously unreleased gems.
Read more from Fire Records
. MOJO gave the reissue four stars.
Newly remastered versions of "Car" and "German Song (Demo)" are included. (
Find both at this Pitchfork article
.) Come played two shows to celebrate, in November 2021 at Union Pool in Brooklyn, NY.
Watch a performance of 'Finish Line'
.
---
Dan Burton and Chris Carothers, who since 1994 have been making music under the name
Ativin
, asked Chris to play drums on their new record. They worked together in New Orleans in August and December 2021 and recorded in Chicago in December 2021, with Steve Albini producing.
---
Dark Money
is the name of Chris' newest band. It features Mark Morgan on guitar, Greg Kelley on trumpet, and Chris on drums and bass. The band recorded and mixed its first batch of music at Oddfellows in Weymouth, MA, in October 2021.
---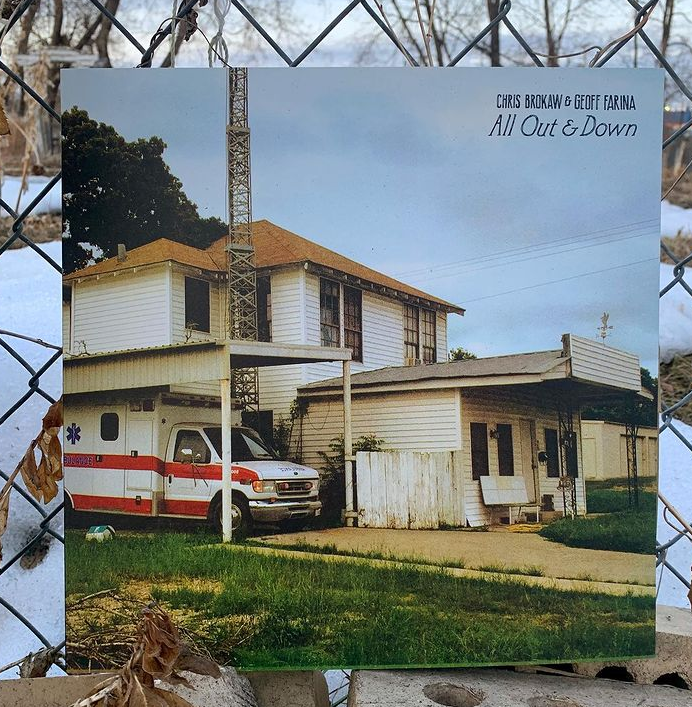 "ALL OUT & DOWN," Chris' 2016 collaboration of guitars and vocals with
Geoff Farina
, was reissued in 2021 in a deluxe silkscreened edition with a new gatefold jacket. The artisans behind this 3rd version of the album are
Dan Black and Landland Colportage
. The album includes covers of the Carter Family, Gun Club and more. Numbered edition of 145 copies. $25 postagepaid in the US (ask Chris for price outside the US) ~ venmo @Christopher-Brokaw-2 or PayPal chrisbrokaw@yahoo.com
---
Dusted magazine
"Chris Brokaw — Puritan (12XU) — review by Jennifer Kelly"
online here
Chris Brokaw is one of the unsung heroes of independent music, a mainstay in groundbreaking bands like Come and Codeine, a vital contributor to Consonant and the New Year, a sideman to Thurston Moore and Evan Dando, a drummer, a bass player, a guitarist, an all-around good guy, whose work is always good and sometimes surprising.
...Claudia Groom joins in the waltz-time sweetness of "I'm the Only One for You," and Tricia Adelmann adds some fetching leads and harmonies to the rambunctious "I Can't Sleep." Thalia Zedek's unmistakable alto weaves through gentle, pensive "Bragging Rights" and the Karl Hendricks cover, "The Night Has No Eyes" (she also plays guitar). But in all cases, the guests and the band itself, feel like a natural extension of Brokaw's musical intention, as if they were people already in his life who stopped by in a casual way to help him get his songs out. And, indeed, though the songs vary from track to track, there's a unity of vision in Puritan. Brokaw works with a lot of people in a lot of different contexts, but this feels uniquely his. There are artists who flare up quickly, click with the zeitgeist and then fade out. And then there are artists like Chris Brokaw, who do the work year after year, getting better and more focused on what they want to do, making beautiful, meaningful music and nonetheless flying consistently (and undeservedly) under the radar. Puritan is as good a record as Brokaw has ever made, which is saying something. Don't let it slip by.
The Vinyl District
"Graded on a Curve: A- Review by Joseph Neff"
online here
...As a solo record, this set appropriately finds Brokaw consistently in the foreground, with his vocals immediately up front in the opening title track. But it's his guitar that gets an extended instrumental spotlight in the cut's back half, a stretch simultaneously establishing a trio dynamic that's both heavy and lithe.
MixCloud: Tanya Mellotte at 343 Radio in Belfast
"Show #6 - 16/01/2021"
online here
Radio show with an interview with Chris.
Gaesteliste.de
"Interview with Chris Brokaw by Carsten Wohlfeld"
online here
This interview is in German. Here is the English translation, in full:
1. To get the most obvious topic out of the way first: At the end of your most recent virtual live show you said something like: "I feel myself changing, it's nice to be home so much". So, despite all the obvious worries and the hardship involved, would that imply that you can see some positive effects of this unexpected (touring) break, are there things you might want to carry over into post-pandemic life? ----That's a two part question, so I'll answer it in 2 parts. The positive effect of the pandemic, on a purely personal level, was that it made me stay home. I dont often do New Years' Resolutions, but I did a few this year, and number one was: STAY HOME. So I got what I wanted. Honestly I think it took a pandemic for this to even seem possible to me. It completely forced my hand, but really, if this was ever going to happen, this was a good time in my life for it. I think I was both burnt out on traveling so much - and the tours in 2019 burned me out on a few different levels - and I also felt happy at the prospect of being home. Home is quite good these days, my lockdown buddies (my girlfriend and her son) are awesome, it's a good place for me. I really just switched into teaching guitar, drums and bass on Skype on every day. I was already doing that but I just devoted more time to it. Just studying and teaching this year was really good and I hope to continue that post-pandemic. I also really like doing these online shows, and I anticipate continuing them. Knowing me , I will probably want to go back on tour again, but perhaps I'll be able to reframe that knowing what I know about life at home and how I enjoy it. 2. You also mentioned during the show that there's no place you'd rather be right now than Cambridge. Especially considering that you've traveled the world so extensively: What is it about Cambridge / New England, that makes you feel so at home there? ----It's been cumulative, and I had to move around a bit and try a few other places (Chicago, Brooklyn, Seattle, as well as a lot of time in Germany when i dated someone there) but Cambridge is where I feel best. It's small, beautiful, low key, the people are smart, the politics are good, the food is good, there's plenty going on. Massachusetts is one of the more progressive and generous states in the Union. I think it's a good place to be in the US right now. 3. Since the pandemic hit, you kept busy teaching guitar and drums over Skype, amongst other things, occasionally commenting on some of the songs your students wanted to learn on Social Media. I know you've been teaching for a while now, but I'm still curious: Is that's something that came easy to you? What do you find most challenging? Is that something you see as a separate thing from your own creative work or do they inform each other? -----It didn't come easily to me, I had to figure out so much about it on my own. I didn't have a guidebook or any advice. It's been a huge learning process. So much about it, for me, is figuring out what each student needs, what will keep them engaged as well as challenged. It requires a lot of patience. People really need encouragement. // I guess the most challenging students are laconic ones, usually kids. Mostly I teach adults but sometimes I'll have a really impenetrable kid and that's the hardest, for me. But I have an 8 year old girl drum student who's probably my favorite, so, not all kids are tough. // I don't feel like it really has anything to do with my creative life. I don't think they really feed one another. 4. There's obviously a lot of talk about musicians losing their jobs due to the pandemic etc. Just hypothetically, if money and qualification weren't an issue: Is there anything else you could see yourself doing as a career besides music? ------It's getting harder and harder to imagine. I feel like all the other things I'd like to do professionally (film, tv, theater, dance) involve me doing music. 5. Especially considering we are currently living in "Stay at home"-times: There are many descriptions of the ideal state of mind for being creative. What is it like for you? What supports this ideal state of mind and what are distractions? Do you have ways to get into this state more easily? ------It's become clear to me that I need what I refer to as "the great wash of humanity" - I just need to be around people, out in the world. I have not been very creative this year. I think I need to be more out in the world. // I've been in circumstances working with others where a sort of incubator was created that definitely made me more creative, or creative in different ways. The best example I can think of is the work I've done in the last two years with FindlaySandsmark in Stavanger, Norway, an arts group working on a multimedia piece. It's often tough going but they're rigorous and devoted and I like where we went. I also really enjoyed this piece I did with my girlfriend, Jimena Bermejo, on a piece for dance, music and movement in Dallas, Texas in January of this year. I've also really enjoyed collaborating with the Irish musician/teacher Matthew Nolan, doing live scores to the silent films of Peter Hutton. All of these were collaborations that took place in supportive environments - large spaces, good funding, friendly people who seemed genuinely excited that we were there. I'd love to work more this way. 6. More generally speaking: How is playing live and writing music in the studio connected for you? What do you achieve and draw from each experience personally? How do you see the relationship between improvisation and composition in that respect? -----For an album like "Puritan", playing live is preparing the songs as best as possible, and the studio is where I try to execute all that as best as possible, no longer as accurately as possible. I look forward now to more spontaneity or surprises. 7. It might just be that deep inside I'm still an indie rocker, but looking at your vast catalog, I've always considered your rock albums with vocals as significant milestones, and often used the work in between to look for clues where your inspiration might take you next. Is that just me, do the "rock" album hold a particular significance for you, too? -------The rock albums are more of a big deal for me. Each one I think takes a lot out of me and it's where I feel most vulnerable. Those albums all feel messy to me, sometimes I wish they were more single minded, but I have to allow them to take whatever odd forms they take. They undoubtedly take on a life of their own. They're weird, "Incredible Love" is a weird acoustic-rock-pop album, "Gamblers Ecstasy" is a weird rock album, I don't even know what "Puritan" is. Kind of emo? Who expects emo right now? 8. Turning to the new album: At least to my ears, the new album is much broader in scope than both "Gambler's Ecstasy" and "Incredible Love". Is that possibly a reaction to working on some very specific projects like "End Of The Night" and "The Hand That Wrote The Letter" in recent years or just due to the fact that you slowly built up a cache of songs and recordings for the album? ------I'm glad it seems that way to you, to me it feels very single in purpose, I guess because it's just guitar, bass + drums. 9. I suppose if you enter a studio with a band and record ten songs in a week or so, at the end of that period you have a fairly good idea what they album will be. With "Puritan" it seems that the process was more intricate. Especially considering the musical variety of the record: Can you tell me a little bit about how the album came about? Like, at what point did you realize that you had at least the bare bones for an album and how and why did you decide to add different flavors and colors, as I believe songs like "I'm The Only One For You" and the "The Night Has No Eyes" weren't done first and foremost with the album in mind? ------It was really just a process of working slowly with the bassist and drummer, Dave Carlson and Pete Koeplin. When I moved back to Cambridge in 2017, I called Pete and asked him if he wanted to play. We started to rehearse, just the two of us, and eventually added Dave. And we rehearsed for a long time, only playing live occasionally. And I was adding new songs really slowly. I wasn't in a hurry, to record or play live. I just wanted to feel out what we were doing. And eventually it seemed like we were movng towards having an album. It was just a really slow inching towards this thing. // The two songs with Thalia were recorded while we were on tour together in late 2018. I liked the idea of throwing them in with the band stuff, it seemed fine. 10. I know you don't like explaining the lyrics and I'm bad at asking specific questions about them anyway, but especially considering you're covering quite a bit of ground sonically with the album: When choosing songs for a vocal record - is the lyrical content or the music your main guide when it comes to finalizing the track listing and sequencing? I suppose it is not just a silly joke that the album is called "Puritan"? ------- the sequence is done intuitively. This time around, when we'd finished recording, the three songs I really wanted to play for people are the ones that are first up on the record. So I sort of front loaded it. At the time I was sequencing the record, my girlfriend's son was listening to "Nevermind" constantly, and I thought about how frontloaded that album is. So, "Puritan" is my "Nevermind", in that regard. // The album at one point was going to be called 'The Story of Seattle', and a lot of the songs reflect some of the fallout of my time living there, but calling it "Puritan" symbolizes my return to New England, looking forward instead of backward. The album has a lot of impressions of judgement in it, so the title isn't silly, it's suggestive. 11. More generally speaking again: What do you look for in a song these days and how has it changed over the years? ------ I don't know how to answer that. I like all sorts of songs! I've probably become more critical of lyrics over the years. 12. When I interviewed you about "The End Of The Night" I couple of years back, you mentioned how much you enjoyed the collaborative process. Has that rubbed off in any way or form on the recordings on "Puritan", which features considerably more guests and collaborators than your previous "rock" albums? (Having guest lead singers certainly seems like an intriguing choice!) -------I felt personally more open, though I'm not sure it was necessarily more collaborative. Though Dave and Pete added a great deal to the songs, and Andy Hong took a big role in shaping the mixes. The singers all wanted pretty specific coaching from me, but all brought their own very awesome + very beautiful things to it. I don't know, I think it was just time spent hanging out and singing with all three of the singers (Thalia Zedek, Tricia Adelmann, Claudia Groom). I wanted them there with me on this. (And when I wrote 'The Bragging Rights' I totally heard Thalia singing it, so I just asked her to do it. ) 13. I guess the albums will come out while the world is still very much in hibernation due to COVID-19. Nevertheless - any plans, hopes, dreams for the (more or less immediate future)? ----I'm not projecting anything. I hope the world gets well soon! At the moment I feel pretty ambivalent about the prospect of ever touring this idiot country again, but we'll see. 14. What is making you the happiest right now as a musician (asking more about this phase in your life and career, not about staring at the wall in lockdown)? ------playing my new guitar (1965 Gibson Firebird). Studying and learning old soul, R+B, country and bossa nova music. Playing drums by myself. Explaining music, to the best of my ability, to students - showing them how cool and vast it can be.
Facebook Record Release Party
"Chris Brokaw on Facebook Live, Jan 15, 2021"
online here
Live show with special guests from Chris' home in Cambridge, Massachusetts, to celebrate the release of "Puritan." Archived and available for streaming!
Concrete Islands
"Review of Puritan by Adrian"
online here
It's hard not to introduce the veteran Chris Brokaw to the still-uninitiated without detailing at least some of his storied CV – which includes stints in Codeine, Come, Pullman, Consonant, The New Year, Dirt Music and Charnel Ground alongside collaborative engagements with Geoff Farina, Steve Wynn, Evan Dando, Thurston Moore, Willard Grant Conspiracy and many more. That's before you even get to his on/off/on solo career.
His more solitary roaming has in itself followed an eclectic trajectory, flipping between intrepid instrumental art-rock (2001's striking one-man debut Red Cities), acoustic troubadour deconstructions (2003's wonderful Wandering as Water), imaginative 12-string explorations (2009's VDSQ – Solo Acoustic Volume Three), post-rock schooled experimentation (such as 2015's The Periscope Twins), numerous film soundtracks, wordless classical guitar reinterpretations of Prince and David Bowie standards (2017's The Hand That Wrote This Letter) and chamber-jazz-tinged meditations (2019's End of the Night). It's some time though, since Brokaw's sole-trader snaking around settled into his self-described 'rock band' mode (as assumed across 2005's Incredible Love and 2012's Gambler's Ecstasy LPs) but here it is – at last – in the shape of the benevolently potent Puritan. With Brokaw mainly up front on vocals/guitar backed by Dave Carlson (bass) and erstwhile Drop Nineteens member Pete Koeplin (drums) as well as three guest singers, the album is an adroit exercise in reacquainting with and expanding upon Brokaw's formative roots. In turns both a rousing and reflective travelogue-themed affair, Puritan is infused equally with the cruising driving speed and the lonesome motel moods of a long open road trip. Giving the record its biggest momentum then is a string of stirring power-trio pieces. These peel out in the shape of the angular churning Chavez-like opening titular track; the surging Sonic Youth-meets-Eleventh Dream Day sprawl of "The Heart of Human Trafficking"; the dense roiling "Periscope Kids"; and the stomping Black Sabbath-slanted voice-free workout of "Report to an Academy". While these well-amplified cuts alone mark out Puritan as a solid statement, five remaining recordings with more ruminative temperaments cement its status as one of Brokaw's sturdiest self-billed releases to date. Hence, the yearning "Depending" displays an affecting warmth in its serenely-paced heartbreak; "I'm the Only One" stretches out as a languid cosmic Americana duet with Claudia Groom (formerly of the Seattle band Juned) laced with an unapologetically romantic streak; and the succinct "I Can't Sleep" (another co-ed voice hook-up, with Tricia Adelmann of Boston band Possum) glides along with a strong scent of melodic dissonance akin to Panic On-era Madder Rose. However, a pair of pieces featuring erstwhile Come co-leader Thalia Zedek – put to tape in Texas during a stop-off on a pre-Covid-19 duo tour – should provide the biggest draw for long-time aficionados of the two old hands. For the sparse aching majesty of "The Bragging Rights" Zedek takes to the mic alone atop overlapping acoustic and electric guitars, whilst in the coda to the redemptive closing cover of Karl Hendricks' "The Night Has No Eyes" she adds a remarkably tender postscript to Brokaw's main vocal. Arguably, the overriding strength of Puritan comes from the fact that it equitably rewards loyalists as well as late-comers, with an ease that belies any signs of creative fatigue that might be expected after over three decades in the same chosen trade. Hopefully though, we won't have to wait quite so long again for Chris Brokaw to deliver a sequel that swims in the same song-focused tributaries.
A Pessimist Is Never Disappointed
"I'm The Only One For You: A Brief Review"
online here
Chris Brokaw has done time in Codeine, Come, The Lemonheads, and a bunch of other bands. He is also a solo artist whose quietly unassuming brand of dark alt-rock is the kind of thing that gently haunts. Serious but not pretentious, there's a lot to embrace here on his newest album, Puritan."
"Depending" sways atop a hook that's both blues and folk influenced, while "I'm The Only One for You" has a nice retro vibe to it, like something Chris Isaak would have crooned on the Wild at Heart soundtrack. Elsewhere, "I Can't Sleep" rides a Velvet Underground-style hook, while "The Heart of Human Trafficking" positively mesmerizes. The intensity builds here and it's a good showcase for Brokaw's playing. He's joined by Come bandmate Thalia Zedek on "The Night has No Eyes", the closer here to Puritan, and a fairly decent showcase for that legendary player too.
Benzine Magazine
"Chris Brokaw – Puritan : la redécouverte d'un artiste Indie rock essentiel"
online here

Popmatters
"Post-rocker Chris Brokaw Is Onto Something with 'Puritan'"
online here
[...on the title track,] Brokaw generates tons of heat with almost dirgy but undistorted repetitions played passionately between poles of recklessness and restraint; [drummer Pete] Koeplin, working the ride, leads the way through the wilderness of sound with crashing crescendos. It is the record's finest moment.
Podcast: All Your Things Are Gone: Episode 49
"Chris Brokaw; Codeine, Come, Pullman, New Year"
online here

Daggerzine
online here
'I Can't Sleep' is probably the most straightforward thing on here (and I love Tricia Anderson's vocals on this one) and 'Periscope Kids' is a frenzied, wild mess of broken dreams (and possibly broken guitars).
---
Chris Brokaw Pedal:
Reuss Musical Instruments
of Copenhagen has collaborated with Chris on a guitar pedal, the
Reuss Recidivist Chris Brokaw signature pedal
. This is a limited edition of 50 pedals.
"The pedal is based on the vintage 1980s Tokai TOD-1 Overdrive, which Chris has been using consistently during his career, starting in the early 90s," says the Reuss website. "Originally the Tokai TOD-1 was a copy of the Boss SD-1 Super Overdrive, but the Tokai engineers added their own magic to it, and came up with a superior sounding pedal. For his signature pedal, Chris wanted to add a foot switchable bass boost. This turned into the EQ / Boost section of the Recidivist, which is an original Reuss design."
---
Q&A with The Stranger:
"Chris Brokaw Talks Codeine, Come, Leonard Cohen, and Music for the End of the Night"
online here
In an expansive interview, Chris talks about the "little village" of Cambridge, Massachusetts, why certain kinds of melancholy music make people feel so good, and what 'End of the Night' shares with his previous work: "I think End of the Night shares a couple of elements with Codeine — delicacy, patience — but overall it feels like a different thing, and something new for me. Codeine's music was so specific, and while this album is going for a specific mood or vibe or time, the way there was a lot more open. I allowed other players to help shape the music on some songs, and even on the ones where it was mostly me, I allowed for a more unknown thing to take shape. I didn't recognize the album when it was done, which felt strange but I welcomed it." [by Dave Segal, October 2019, full interview online here]
Video from 'End of the Night' U.S. West Coast Tour
Oct 10 2019, Seattle, Washington; video by Tim Cook
The "Chris Brokaw 'End of the Night' Band" is Chris on guitar, Lori Goldston on cello; Greg Kelley on trumpet; Luther Gray on drums; and Dave Abramson on drums.


Chris' interview with the album's cover artist:
"On Primal Loneliness :: Chris Brokaw In Conversation With Sandy Dvore"
online here
Chris says: "It was an overwhelming privilege to have the great Sandy Dvore do the cover of my new album 'End of the Night'. I interviewed the 83 year old iconoclast recently — he has an amazing life story, a fairly mind blowing career, and without expecting it at all we had a deeply moving conversation."
Here's Dvore, from the interview: "When you're out here [in Los Angeles] and someone asks you to draw Judy Garland and someone sticks it on the back page of the Hollywood
Variety
and all of the sudden at the place you go to by yourself to get a hamburger, people come up to you and say they saw my name under the Judy Garland ad and they had no idea I could do that. That's like you hitting the nail on the head and having the front rows jump to their feet and start clapping. That's what it was, that's what happened. Then I was in a place where I could do whatever I wanted to do, they let me do whatever I wanted to do and I didn't have to follow any rules and regulations, I could do all my own ideas. This was a way I could perform." [For aquariumdrunkard.com, October 2019, full interview
online here
]
MOJO
**** [four stars] The storied Boston guitarist makes every note felt on this instrumental set, as shifting ensembles evoke wee hours reverie. Deep blue jazz timbres predominate — two tracks with Greg Kelley's finest Chet Baker-style trumpet really hit the spot — and Brokaw's pensive mood-mastery is constant. [August, 2019]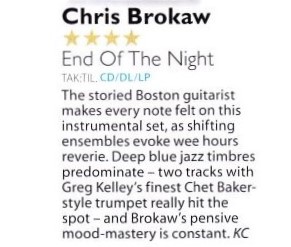 Uncut
[8 out of 10] American guitarist Chris Brokaw has landed in a number of great groups over the past few decades -- Come, Codeine, The New Year, Pullman, Dirtmusic — but he's also spent 20-or-so years quietly etching out an understated solo career, centring around the weightless, weeping blues of his guitar, sometimes accompanied by his deadpan, driftwood voice. This time around, Brokaw's recorded an instrumental collection, heavy on the reflective melancholy, sometimes shaded in with trumpet from Greg Kelley, or strings from Samara Lubelski and Lori Goldston, amongst other players; these small group settings offer the perfect vehicles for Brokaw's flinty, deep-breathing guitar. [by Jon Dale, August 2019]
The Stranger
online here
[Inbox Jukebox Track of the Day: The Beautifully Melancholic "End of the Night" by Ex-Codeine Drummer Chris Brokaw]
Best known for his stints in Sub Pop-affiliated slowcore luminaries Codeine and angst-ridden indie-rockers Come, Chris Brokaw lived in Seattle for a brief while in the mid 2010s before heading to Boston in 2017. During his time here, he frequently played around town and created new scores for several Peter Hutton movies for Northwest Film Forum's Puget Soundtrack series. I hope you saw him while you had the chance. Over the last 30 years, Brokaw has distinguished himself as a musician of acutely nuanced sensibilities and robust power both on guitar and drums, which has made him a valued collaborator and contributor to artists such as Obnox, the New Year, Ryley Walker, Thurston Moore, Stephen O'Malley, Wrekmeister Harmonies, and—surprisingly—with the latest incarnation of the Lemonheads. But Brokaw's really come into his own with his new solo LP, End of the Night. Featuring a strong cast of musicians, including Seattle trumpeter Greg Kelley and cellist/Stranger Genius Lori Goldston, End of the Night captures the nocturnal contemplativeness that its title promises. One's sense of existential gravity peaks at night's end, and the 10 instrumentals on this record assist in those thought processes, while offering consoling melodies whose beauty unspools in methodical intervals. "End of the Night" closes out the album on an aptly valedictory note. Kelley's trumpet channels Chet Baker's delicate, melancholic waft while Brokaw picks out a spindly guitar figure that spangles and descends with dignified resignation. The song conjures the aftermath of a scene of 4 am momentousness; you've made a decision that will alter your life, and now you're trudging to bed, exhausted yet relieved. "End of the Night" betokens the beginning of a beautiful new dream. --Dave Segal, Jun 10, 2019
Magnet
online here
[ESSENTIAL NEW MUSIC: CHRIS BROKAW'S "END OF THE NIGHT"] If you need some music made to order, guitarist Chris Brokaw is your man. He can play all the tricky parts for Evan Dando, match blue note for blue note with Thalia Zadek in Come, score your movie and then turn around and make a set of solo classical-guitar interpretations of David Bowie and Prince songs. Once he knows the plan, he gets to work.
End Of The Night was born from a challenge: Make the last record you'd want to play at the end of the night. Ah, but what kind of night are we talking about? Each of this LP's 10 tracks could work as a solitary nightcap for a particular situation. If you're full of regret, listen to "Our Fathers" as you mumble your prayers. If you gotta go, let the stolid cadence and wide-screen-worthy, echoing lead of "Step Outside" ring out while you put on your 10-gallon hat and step into the inky night. Want to have some company? Bat your best bedroom eyes to "The Dip." But if you're turning the corner from latest night to early morning, put the whole thing on and let Brokaw's reverberant guitar and the melancholy trumpet of Greg Kelley (Heathen Shame, Damon & Naomi) prop you up on either side as you fade away. End Of The Night delivers just what it promises. —Bill Meyer, July 18 2019
Presto Jazz
Chris Brokaw soundtracked my student days with his post-rock/grunge bands Codeine and Come, so it's pleasant to stumble over him almost 25 years later in this slightly more jazzy (albeit still post-rock) guise. Codeine were masters of slow-motion moody rock and some of that vibe is present on End of the Night, as in the title track which could easily have been included on the Barely Real EP. Fans of Bill Frisell and Marc Johnson-style Americana should have a listen.
Dusted Magazine
online here
Chris Brokaw has spent a lifetime in music making other people sound better, from his early days in Codeine and Come to gigs recreating Psychic Hearts with Thurston Moore or sitting in on guitar with Consonant and or playing drums for The New Year. Most recently, he's left a mark with the insanely stacked Charnel Ground, whose other members are Kid Millions and James McNew. His solo work ranges widely, too, from finger picked blues to abrasively tuneful guitar pop. But even given all that, this new one, End of the Night, is special. The disc begins and ends with Brokaw in duet with Greg Kelley, laying down languid lines of electric guitar against the trumpeter's airy, melancholic "Chet Baker" tone. Brokaw wrote this album with the idea of creating the ideal end-of-the-night listening experience, and indeed, there is a midnight blue tone to both these songs—the opener "Swimming, Tuesday" and the closing title track — a serenity tinged with smoke and memory. These two tracks, along with several others, edge Brokaw's work into jazz, though it is cut with the shimmery guitar translucence of post-rock and drone. Brokaw brings together a handful of talented collaborators to End of the Night, working mostly with them in ones and twos. Boston jazz drummer Luther Gray makes an appearance on four tracks, including the moody "Tradewinds," where his dry, steady patterns of cymbal and snare pockmark swarms and clouds of guitar notes that move slowly across a melody, their particulate nature blurred and smudged in halos of sound. Lori Goldston lays down a dusky throb of cello in "Bragging Rights," her smudgy resonances contrasting intriguingly with Brokaw's bright, bucolic country blues. And in "Her Breathing," both Brokaw's guitar and Samara Lubielski's violin take on a luminous abstracted tone, turning sustained string tone into edge-less, glowing bars of Rothko color; the cut has the inward looking tranquility of church organ music, though none of the pomp and bombast. Longtime associate David Michael Curry plays viola, Jonah Sacks cello and Timo Shanko acoustic bass on the brief, dreamlike "A Dip," slithering in and out of the slipstream of Brokaw's Spanish-toned guitar melody. Yet though all these guests fill out the corners of this lovely album, it is ultimately Brokaw's show. He plays by himself on "Blue Out," coaxing eerie, lingering, shape-shifting notes, I believe with e-bow. The track is three minutes of pure sonic sensation, the notes denatured to essence, no string squeak or finger tap to indicate where they came from. The song, and indeed, much of the album, has a masterful restraint, yet is in no way minimalist. It takes only a few notes, pondered on, left to linger, to entirely fill up the space, in the way that a few sounds take on resonance in the quiet at the end of the night. -- Jennifer Kelly June 3 2019
About Cover Artist Sandy Dvore
The cover for END OF THE NIGHT was drawn by renowned artist Sandy Dvore, who did album covers in the 1960s for Buffalo Springfield and Leonard Nimoy and title sequences in the 19702 for the TV show The Partridge Family and the movie Blacula. He composed this drawing after listening to Chris' album. See a large version of the cover.
Video for "Swimming, Tuesday"
video online here
Milo Jones directed the video of "Swimming, Tuesday", the first song from the album.
Australian radio show featuring the album
radio show online here
'Sideways Through Sound,' produced in Sydney, Australia, highlighted END OF THE NIGHT on its June 12 2019 edition. The show is archived and can be streamed globally.
Greek radio show featuring the album
radio show online here
Akis garlic highlighted END OF THE NIGHT in a July 29 2019 show, which can be streamed globally.
Gaesteliste magazine
Long Q&A online here (English)
. . . my first thought was that this assignment - to make the last album of the night - was maybe the greatest assignment ever, and that I really wanted to get it right. I didn't want to fuck it up. So I was a bit daunted by it. I had to think about it for a long time and I think my original vision of it was different than how it came out. I thought of it as having a kind of noir-rock vibe to it, sort of spy movie music, which is not how it came out at all, which I'm glad about. -- I also am not sure now if it's a record FOR the end of the night or ABOUT the end of the night. I think more the latter, which is fine with me. It took on its own life and purpose divorced from the original one, which I'm always happy for, I like when that happens. . .
---
Lemonheads Spring 2019 U.S. tour:
Chris toured with
THE LEMONHEADS
in May and June 2019, playing 34 shows across the U.S. The band was Lee Falco on drums, Farley Glavin on bass, Chris on guitar and vocals, and Evan Dando on guitar and vocals. TOMMY STINSON (The Replacements) opened all shows. Chris played guitar on the new Lemonheads record, "Varshons 2," which was released February 2019.
---
Norway collaboration:
: Chris and Findlay//Sandsmark, a Norway-based performance company mixing dance, theater, video art, and live music, worked together from 2018 to 2019 on a new multimedia piece called "Florida (lowlands)." The work was debuted in four shows in Norway in March, 2019: at Rimi/Imir SceneKunst in Stavanger, Norway, and at the Oslo Internasjonale Teaterfestival 2019.
Details here
about the project.
---
Chris is proud to announce the release of a new LEMONHEADS album, in February 2019.
The album is a set of covers of songs by 13 artists. Chris played guitar on some of it, including the lead off track, "Can't Forget" by Yo La Tengo.
Track list here
. The band toured Europe January and February 2019, with Lee Falco, Evan Dando, Farley Glavin, and Chris.
---
The feature film "Buck Run" had its world premiere
at the Palm Springs International Film Festival in January, 2019.
Watch the trailer here
.
Chris scored the film
, which is directed by Nick Frangione and stars James Le Gros.
Variety says
: "The drifting electric guitar of Chris Brokaw's score further amplifies a timelessly melancholy air."
Read more about Chris' film scoring work here
.
---
Chris's music for Peter Hutton, composed to be performed with the filmmaker's short films, was released in a limited edition
on
Tape Drift Records
in 2018. Chris presented the work in 2017 and 2018 in screenings of Hutton's films, including a show in June, 2018, in Norway. Lost in a Sea of Sound
writes in a review
: "There is difficulty in describing the tranquility of music. . . .In the case of this composition, Music for Peter Hutton, the energy behind it gave additional texture to the silent films of Peter Hutton. In the most beautiful fashion, Chris Brokaw has accomplished what these words try to do, taking creativity not initially meant for an ancillary descriptive medium, beyond it's own existence.... Recently released on compact disc by Tape Drift, Chris Brokaw recorded this music to accompany screenings of Peter Hutton's silent films. This particular set was recorded live at Northwest Film Forum in Seattle by Brenan Chambers. Two tracks, one thirty five minute guitar slow burner and an additional six minute field recording heavy track, titled Boston Fire." Also in 2018, Chris
reworked/remixed a recent film score piece for compilation VIII on ALREADY DEAD TAPES
of Kalamazoo, Michigan. It was released August 31.
Details here
.
---
Spin
"A Killer New Album From a Noise Rock Supergroup"
online here
Charnel Ground is comprised of three veteran New York City musicians: James McNew of bass, Kid Millions on drums, and Chris Brokaw on guitar. Each is or has been a member of at least one well-established band (Yo La Tengo, Oneida, and Codeine/Come, respectively), and there are enough smaller projects and collaborations between the three of them to fill a short novel. Their self-titled debut as a trio arrived a week ago, and is well worth your time if you're a fan of any of them, or of noisy, expansive instrumental music in general.
The album begins with two tracks that will feel familiar to anyone who's caught Oneida in recent years, when McNew has been a semi-regular presence in the lineup: drum hits that tumble like barrels over Niagra falls, amps on the verge of a meltdown, churning together in grooves that draw cosmic power from gutbucket rock'n'roll. This is not exactly surprising music for these three to make together: they could probably spend the rest of their lives with the gain maxed out on their overdrive pedals, but if you're the type of person who enjoys what they do, you could probably spend the rest of your life listening. Charnel Ground's real treasure is its 18-minute album-closing title track, the kind of elegantly sprawling feedback jam that often crops up near the end of a Yo La Tengo album. Brokaw plays with real tenderness as McNew and Millions patiently keep time behind him—a reminder that improvised noise rock, when played well, is fully capable of touching your heart as well as melting your face. [by Andy Cush, April 13, 2018]
Dusted
online here
Charnel Ground is a super-group, of sorts, combining the considerable talents of Kid Millions (Oneida, Man Forever) on drums, Chris Brokaw (Come, Codeine, Consonant, etc.) on guitar and James McNew (Yo La Tengo) on bass. Just that amount of background is probably enough to tell you whether you want to hear this album — and you do — and that's fortunate because it's pretty much all the background anyone's getting. We know that the music was recorded in Brooklyn by these three musicians in late 2016, and that is pretty much all we know.
That blankness of backstory allows, even forces us to focus on the music, always the best course of action. The music, all instrumental, abstract, driving, blistering and, at times, lyrical, can absolutely support scrutiny all by itself. It brings together the best of all three principals – the furious percussive energies of Kid Millions, Brokaw's slow arcs and haunting echoes of guitar tone, McNew's nodding, pulsing, hypnotic hum of bass. The album's two longest tracks work the strongest alchemy. "The High Price" rampages furiously on for more than 10 minutes, bending guitar effects into screaming rainbows, pummelling rackety beats into bloody, rapturous submission, plummeting into wild, celebratory excess but pulling up well short of chaos. "Charnel Ground" is a whole other experience, an aura of soft guitar notes and cymbal vibrations set into gentle motion by McNew's steady, head-nodding bass. It's like the dreamiest sort of Yo La Tengo instrumental pushed a little bit further from melody/verse/chorus. Of the shorter tracks, "Jimmy" is the most obliterating, scatter-shooting rounds of percussion into giant amp-altered girders of guitar sound, "Skeleton Coast" has the off-hand, unhurried grace of a Bedhead instrumental, and "Playa de Ticia" is just odd, a mariachi beach band tune kidnapped and shoehorned into the sequence. And yet, with these three guys, the inclination is to let them do whatever they want. Why not, after all? They've earned it and the results are mostly stunning. [by Jennifer Kelly, April 19, 2018]
Raven Sings the Blues
online here
This one almost doesn't need a review based on the lineup alone. A meeting of the minds of Chris Brokaw (Come, Codeine), James McNew (Yo La Tengo, Dump) and Kid Millions (Oneida, Man Forever) exploring the boundaries of experimental instrumental shred just seems like a good idea. Hell, if those were names drawn out of a hat and the musicians were tossed in a room even without intent and direction, you know they'd come up with something good. As such, they did enter Charnel Ground with a purpose and to that end they've succeeded. Their eponymous LP snares some real moments of powder keg psych, but the record is far from a one-note slash and burn. As much as they go for raw shred, they also wrangle nuance into the equation. Their ability to balance the impulses speaks to the players' collective pedigrees.
"The High Price" tears a few new holes in the ozone, battling Brokaw's scorched riffs, tainted and tortured by feedback, with Millions' rambunctious punishment of drum heads. It's a premium petrol burn lit on sacred ground and building to a nimbus sized plume of ash, but the band is quick to suck the oxygen out of that rager. They stop for what seems like a nice Tex-Mex lunch on "Plaa De Tica" before flexing Brokaw and McNew's strengths of restraint and riff sculpture on "Skeleton Coast" and the title track closer, which stretches out for 16+ minutes of slow build and subtle detail. If you've been missing out on the instrumental guitar boom of the aughts, where emotions were exorcised among the strings and post-rock flipped through the stacks of psych, jazz and drone, then Charnel Ground will rush in like a breath of sweet air. [by Andy, April 4, 2018]
Doom and Gloom from the Tomb
online here
This week's Bandcamp Monday brings us the inspired/incendiary power trio team-up of Kid Millions (Oneida), James McNew (Yo La Tengo) and Chris Brokaw (Come, Codeine, many more). Things kick off in full blowout mode — the second track, "The High Price" is a total rager, with Kid and McNew laying down a demonic beat and Brokaw coughing up shards of glorious riffage and white-hot feedback. Ride the lightning! But the album isn't all thrash-and-burn. "Playa del Ticia" and "Skeleton Coast" are both sunshine-infused pop numbers. Best of all is the closing self-titled epic, with the band finding an elevated plane of sonic conversation over the course of nearly 18 wonderfully transporting minutes. Magical. [April 16, 2018]
Aquarium Drunkard
"Kid Millions: 5 Unstoppable Jams Featuring Oneida's Superhuman Drummer"
online here
On the eve of the release of Oneida's masterful Romance last month, word came through that the long-running experimental rock group's drummer John Colpitts (who plays under the name Kid Millions) had been in a serious car accident. Fortunately, John is expected to make a full recovery, but medical bills are mounting, and Thrill Jockey has set up a GoFundMe page to help out. Give what you can. For more than two decades Kid Millions has proved himself one of the underground's most exploratory/explosive musicians, both technically adept and open to all kinds of approaches. No matter what the context, he's always finding new and exciting rhythmic possibilities. The dude is very prolific, as well. For just a small taste of what the Kid been up to recently, check out a few highlights released in the past year or so.
Charnel Ground – The High Price: An inspired team-up of Kid, Yo La Tengo's James McNew and guitarist Chris Brokaw (Come, Codeine), Charnel Ground's debut finds this power trio locking in and blasting off. "The High Price" is a total rager, with Brokaw wreaking glorious havoc above Kid and McNew's propulsive rhythms for 10 unstoppable minutes. Crank it. [April 23, 2018,
full article here
]
---
Chris is proud to release THE HAND THAT WROTE THIS LETTER, a cd of instrumental classical guitar versions of David Bowie and Prince songs.
This is Capitan Records 014, the first Capitan release in a few years. The album was recorded by Claudia Groom in Seattle, WA, in October and November 2016, and mastered by Matt Barnhart. This cd is available through this website and at Chris's shows. It's
for sale here
for $12 postagepaid (US), $14 (CAN), $16 (World). It is
also for sale as download
at Bandcamp. Track list: ASHES TO ASHES, THE MAN WHO SOLD THE WORLD, I WOULD DIE 4 U, LADY GRINNING SOUL, CONTROVERSY, MODERN LOVE, ANDY WARHOL, UNDER THE CHERRY MOON, WHEN YOU WERE MINE, LETTER TO HERMIONE.
Below is an interview Chris gave with Carsten Wohlfeld for Westzeit Magazine about the new cd.
1. Can you say a few words about how this album came about, something with a wedding, I recall?
---I was asked to play a friend's wedding in San Francisco in July 2016. I asked the bride what she'd like me to play, and she said "I'd really like if you played some David Bowie and Prince songs". I said "I wont sing them - I dont think your guests want that - but I'll try them as instrumentals". I did 4 or 5 at the wedding and when I got home just kept playing them obsessively. I decided to make it ten songs, and then an album.
2. I wouldn't have taken you for a huge Bowie or Prince fan, so how familiar were you with these songs? Most of them came out when you were a teenager, I seems?
---Ive been a big Bowie fan for many years, Prince somewhat less so. Some of these songs came out when I was a child, but I dont think that's especially important.
3. How did you select the songs out of the wealth of material that both artists have to offer?
---it was kind of intuitive. honestly, all these songs have different significances for me, many of them highly personal. three of the songs i never heard until after they each died, and i felt it important to include those, as so much great work is only learned after an artist's death. they're not necessarily my favorite songs of theirs, but important ones for me. the album is deliberately incomplete, as i feel the album is mostly about memory, which is inherently both highly personal and highly flawed.
4. I guess there's a few that kind of lend themselves more easily to an acoustic adaptation, like "Letter to Hermione" or "The Man Who Sold The World", but I'm wondering how you could possibly listen to "When You Were Mine" or "I Would Die 4 U" and think, "Yeah, just one acoustic guitar and no voice will do"?
----that was not always easy. some songs, like "heroes", were impossible to do solo acoustic and i discarded them. these ones seemed to work for me. again, much of this is personal in a way that is specific to the ways i play guitar.
5. Is there some kind of pattern you followed, when it came to pairing down the songs (if so, what was it)?
---no, and i didn't want to overthink it. as ive said, it's really not a complete take on these guys, and that was important to me. it's not a definitive statement on them, or on my feelings about their catalogs. i wanted it be half of each, but it ended up 6 Bowie 4 Prince. overall i have a stronger attachment to Bowie's songs. And even lumping these 2 guys together is a bit random, but they really felt connected in 2016.
6. You're obviously no stranger to solo instrumental music, but with your own stuff, the songs were intended to have no vocals. Did you ever find it difficult to just let go of that layer, that dimension of the originals?
----not at all, and mostly because those singers are so distinctive. like, i really dont want to hear anyone else singing them (including me). this album is like hearing someone humming along with the songs.
7. I love how much these songs sound like CB numbers, testament to how distinctive your guitar playing is, I guess. Was that an intention or did it just naturally turn out that way?
----just how it came out, but thank you! i felt like the versions were deliberately pretty faithful but allowing to taking in my own turns.
8. Silly one at the end: If you were to do a part two of this project: Which two other artists would you consider to be worthy of your time and effort?
---i dont know, probably plenty. hopefully no one else has to die to make the next record happen!
(See the article in Gaesteliste.de, a German online music magazine, that this interview was for.)
---
In December 2017, OMENTUM RECORDS of Pittsburgh released Chris' 2008 CD "CANARIS" on vinyl.
Black vinyl and limited edition goldenrod, plus new liner notes by Steve Lowenthal (VDSQ) and Wlad Drakkstein (Vlad Tepes).
For sale here!
---
"BARRACUDA," a feature film by Julia Halperin and Jason Cortlund with a film score by Chris, had its US release on October 6, 2017.
The movie was nominated for the SXSW Gamechanger Award and the SXSW Grand Jury Award at the SXSW Film Festival 2017, and won the Grand Jury Prize for Best Narrative Feature at the Oak Cliff Film Festival. See the
Hollywood Reporter review
and what the
filmmakers say about the movie
.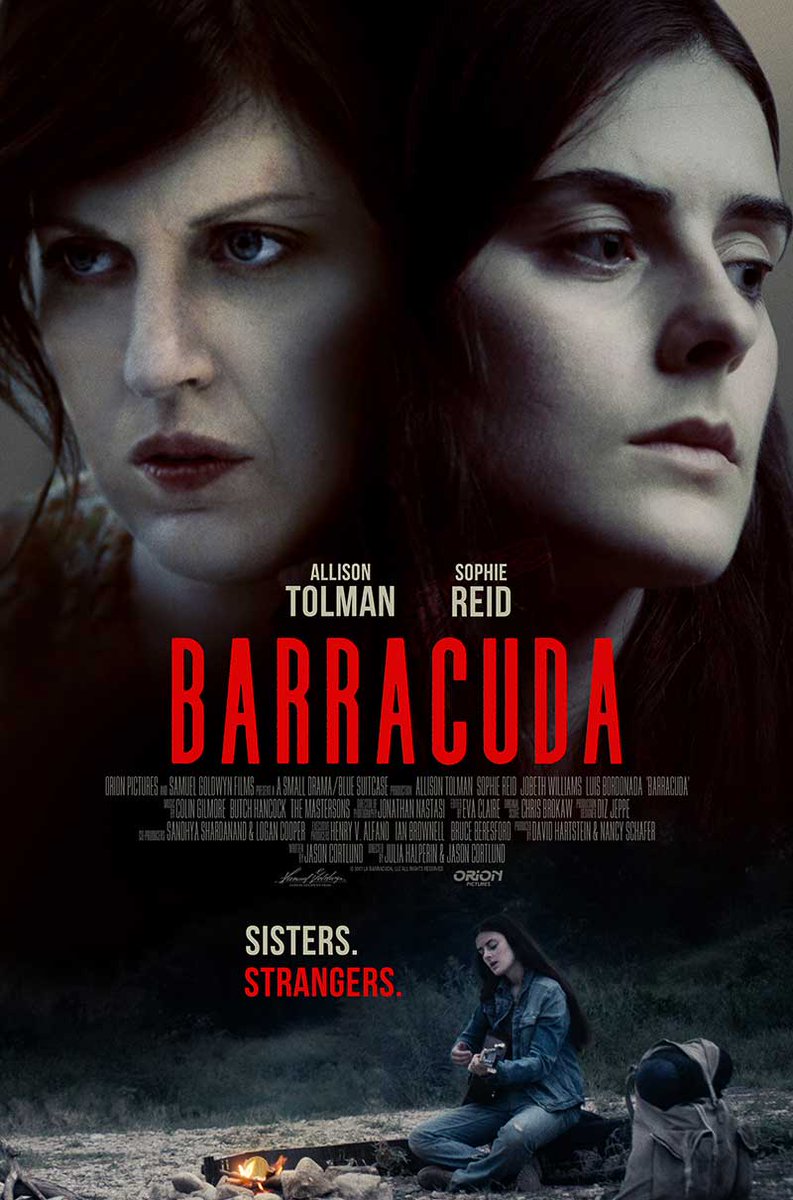 The feature film 'Barracuda,' with a film score by Chris, was released in October 2017 in the US (see this poster full size)
BARRACUDA is available in the US on video on demand from cable/satellite providers as well as from digital streaming services including
Amazon
,
iTunes (US & Canada)
,
Kanopy
,
Google Play
,
Vudu
,
Fandango Now
, and
Hoopla
.
---
In a duo with Jimena Bermejo, Chris performed new work for slide guitars and dance in August 2017 during an evening of NEW WORKS / NEW CONFIGURATIONS.
The program was part of the MOBIUS SUMMER SERIES. (
Watch their performance here
.) In September 2017, Chris presented 5 films of experimental filmmaker Peter Hutton (1944-2016) at the Brattle Theatre in Cambridge -- 3 with live scores, 2 in their original silent state -- with audience discussion after. Also in 2017, Chris wrote the soundtrack for the forthcoming feature film "BUCK RUN," scheduled for release in 2018. The movie stars James Le Gros and is directed by Nick Frangione.
---
THE NEW YEAR's first album in nine years, "SNOW," was released April 28, 2017.
The band features Matt and Bubba Kadane on guitars, Mike Donofrio on bass, and Chris on drums. The
Pitchfork review
calls it "a spare, deliberate record, judiciously paced and artfully arranged. With its wide-open vistas and vast expanses of negative space, the album lays claim to the territory the band staked out 25 years back while managing to turn over a couple new leaves."
The New Year's "Snow" was released in April, 2017
See
THE NEW YEAR website
for other reviews and purchasing info.
---
Please note: This page was not updated from 2013 through early 2017.
See the discography page, film scoring page, and shows pages for details about Chris' production work and touring schedules in those years.
---
MOJO
**** [four stars] Former Come guitarist's first vocal LP since 2005 asserts his mastery of mood shift. From garage rocker Danny Borracho to ruminative abstractions like Anacordia, Brokaw's weathered voice and reverberant playing make another rewarding set.
Don Yates, music director KEXP in Seattle
Now living in Seattle, the former Come guitarist and Codeine drummer has released a handful of fine solo vocal and instrumental albums since his 2002 debut Red Cities, while also guesting on numerous other records and composing music for soundtracks. His latest solo album is his first solo album with vocals since 2005's Incredible Love, and it's a rock-solid outing of brooding indie-rock with fuzzy, intricate guitar solos and dark lyrics.
Will Fitzpatrick, TheLineOfBestFit.com
online here
Whether best described as having a restless muse or an open mind, there's no denying Brokaw is a phenomenal musician. . . You can feel it from the very beginning; the crisp, murky bracken of dense, disorienting fuzz; a sense of purpose and deliberation that lasts until the very last note of the final track, pushing things forward and tying the album's eclectic strands together.
DAGGER ZINE
online here
. . . Right when I dropped the needle on the first song I knew this was going to be a keeper. First cut "Criminals" is three or so minutes of direct fuzz which leads right into the folkier "Crooked" then to the rip-roaring "Danny Borracho" to the New Year-ish "Into the Woods" to the subtly melodic "The Appetites." That is all of side 1 which is nearly flawless. The songs on side two are just as strong (including his cover of Wussy's "Crooked", which adds viola from David Michael Curry) and with Brokaw's penchant for experimenting and taking chances, most of the songs on GAMBLER'S ECSTASY are some of his most accessible yet. Brokaw is a lifer and GAMBLER'S ECSTASY might by favorite thing he's done yet.
STILL SINGLE
online here
. . . this one is a keeper all the way, with one of the finest post-Silkworm moments in rock music not made by any members of Silkworm in "Danny Borracho," an excellent, long exercise in tension called "The Appetites" that runs up through the major scales and back down in the minors enough times to recall a glorious bender, and stunning, ruminant blues-folk forms in "Anacordia" that stare into one's soul. . .
Sophie Roberts, thefourohfive.com
online here
. . . 'California' is a definite highlight of the album, being everything that you wouldn't expect from a song titled 'California'. No palm trees, sunny beaches or Hollywood glamour here, just an intense combination of shaky guitar strumming and folky vocals. The record comes to a dramatic conclusion in the form of 'Richard and Vanessa in the Box', [which] quickly becomes a gargantuan swarm of musical darkness, partially hidden behind a veil of fuzzy lo-fi quality that does little to dilute the deep nature of this song. . .
Chris Q&A with QRD magazine
In April 2013, QRD did an extensive
interview with Chris about his guitars and gear
. Chris notes that "the same issue of the print magazine includes similar fare with my buddy Jeff Barsky as well, the amazing Chris Summerlin (the sheriff of Nottingham), and the amazing Gregory Duby, aka JESUS IS MY SON, who made my favorite record last year."
---
popmatters
online here
Chris Brokaw and Geoff Farina may well be the two best guitarists indie rock has had to offer in the past two-plus decades. Brokaw's moody layering with slowcore pioneers Codeine and the brilliantly heavy Come made for the kind of expansive atmosphere new guitarists are still trying to figure out. Meanwhile, Farina's jazzy post-rock for Karate was all about the tangled solos, the crazy time signatures, and the raw edge of emotion. They're two styles that wouldn't necessarily mesh well, but these are also two players with a breadth of talent: Brokaw's solo acoustic work and Farina's folkier approach in his current band, Glorytellers, have shown they're capable of making any noise they want. So, when they joined forces to make The Angel's Message to Me, the two bombastic guitar players opted for something a bit more understated. . . . . . . what is refreshing about Brokaw and Farina's work here is that they don't bring some sort of savvy modern twist to these songs. They play them straight. They play them with a hushed intimacy. And they play them awfully well. As vocalists, the two were really built for this kind of singing. Brokaw, in particular, shines when his barely rasped voice takes on the road-weary narrator of the excellent 'Make Me a Pallet on Your Floor', or acts as the narrator to the deathly tale of 'Stagger Lee'. . . . . . .As for the concept of the album -- recasting pre-WWII songs for today's troubled times -- the duo smartly shy away from being too ham-handed with themes of economic depression. People sleep on their floor, they drink too much to fend off the worry, they got nothing but their baby left. But these are songs about love, about mortality, about more cosmic losses, and the economic worries just fill out the landscape around them. So while some might hope to find comfort in the knowledge that people have survived hardship before and come out stronger, the real comfort on The Angel's Message to Me is in the players themselves. Brokaw and Farina, so capable of blowing us away in the past, instead invite us in, and play a beautiful and timeless set of songs. And in the hands of such innovative musicians, it's easy to see why even the humblest of these songs has stuck around for so long.
adequacy.net
online here
. . . a collection that just seems to be about two friends passing through twelve old-timey songs and instrumentals with the glee of new discovery, as if they'd just learnt them off an old toothless but happy troubadour on a sun-kissed back porch.
Recorded entirely as a two-piece in apartment and home studios, with not much more than acoustic guitars and the twosome's cohesively complementing tones, this is a record that unfurls with freshness and fluidity throughout. With Brokaw's nifty finger-picking rubbing amicably against Farina's more languid six-string phrasing, the duo's intuitive interplay is the bedrock of the album's appeal.
. . . Although Brokaw possesses more gravelly vocal cords, he doesn't veer proceedings into unwanted darkness. In fact, he even turns the world-weary "Make Me A Pallet On Your Floor" and oft-made-over murder ballad "Stagger Lee" into positively joyful -- but crucially not cheesy -- campfire strummers. When the two compadres share the mic for the delightfully swinging "That'll Never Happen No More" -- another Blind Arthur Blake number -- the collection reaches its peak of harmonious unification.

the times of london
online here
. . . consummate artistry, good taste and obvious musical chemistry. The Angel's Message to Me feels like the duo just struck up in the corner at the tail end of the perfect party.
---
adequacy.net
online here
Whilst Chris Brokaw's collaborative roles, as both a full band member (in Codeine, Come, Pullman et al.) and an on-hire guest-player (for Evan Dando, Steve Wynn, Karate, ad infinitum), have been quite easily definable, his solo career -- which began around the turn of the decade -- has been far harder to pin-down and pigeon-hole. Zigzagging through wordless eclectic guitar/drum exhilaration (2002's
Red Cities
), warm unplugged singer-songwriter terrain (2003's
Wandering As Water
), murky soundtrack mood-setting (2004's
I Was Born But. . .
), curveball-throwing folk-rock (2005's
Incredible Love
), and most recently, inside-out electro-acoustic experimentation with a penchant for atonal dronescapes (2008's
Canaris
and 2009's
Gracias, Ghost Of The Future
), Brokaw hasn't make it easy to keep up with his seemingly still embryonic one-man journey. Although this latest LP, for an all-acoustic-guitar and vinyl/download-only series on a fledgling New York label (Vin Du Select Qualitite) may not be the definitive Brokaw collection it does at least come closer to boiling down his talents into a rich and well-rounded essence.
By rooting himself to one spot (his home studio) and one instrument (a 12-string acoustic guitar, albeit multi-tracked and sometimes heavily-treated), for this functionally-titled vocal-free album, Brokaw finds a renewed melodic focus as well as rediscovering his gifts for diversity. It's easy to make lazy connections with the post-folk wares of Pullman throughout the set, but Brokaw cuts deeper and wider than the long-dormant group's often more restrained and narrower reach. Side A's flickering meditative opener, "God's Forgotten Rooster," may pay a near-obligatory direct homage to the godhead of solo-acoustic exploration, John Fahey, but from thereon in it's a less straightforward ride. The joyous jangle-strum of "Out My Window" slides in some lovely Latin vibes that also reappear across a balmy cover of Spanish-Danish songstress Christina Rosenvinge's "Dream Room." Elsewhere, the desert-rock edginess of Red Cities reappears on the gripping rustics of "Spy Pond," the viciously-ragged "We'll See You All At Oki Dogs" flashes fleetingly back to Come's dense Don't Ask Don't Tell and the cyclical ruminations of "Midnight" cross-reference Jim O'Rourke's Bad Timing.
The flipside is equally unpredictably, yet still sturdily-underpinned, stretching the restrictive instrumentation remit to even more imaginative breaking-points. Hence, "The Rule Of Ten" merges urban '80s 4AD aesthetics with rural dread; the percussive "Undrum" imagines an irregular heartbeat heard through rotten floorboards; and "Russian White Bear" wades itself into desolate Dead Can Dance waters. To offset the encroaching darkness of the second side, lighter and more traditional tones come through a fresh take on oft-covered blues-folk standard "Death Don't Have No Mercy" and a heavily-deconstructed revision of Brokaw's own "Blues For The Moon" (previously heard with vocals attached on Incredible Love).
Overall, VDSQ: Solo Acoustic Volume Three benefits from an infectious intimacy that few others could sustain without slipping into self-indulgence. Moreover, by concluding his first full decade as a soloist with such a delicious and hearty stew of wordless yet lyrical nuggets, Chris Brokaw proves that his long-haul trajectory is well-worth following into the 2010s.

adequacy.net -- essay by chris
online here
"In 1977 I went to London with my mother and sister for a holiday. I turned 13 that summer. 'Pretty Vacant' by the Sex Pistols had just been released. I saw the huge posters for it on lorries. I went to the Virgin store and listened to it on headphones and the whole thing scared the hell out of me. . . "
That's from Chris' essay about Public Image Ltd.'s Metal Box/Second Edition (Virgin Records/Warner Brothers, 1979) for adequacy.net. The essay is part of a series called Artists-On-Artists. Here's more:
"'Never Mind The Bollocks' came out and I completely fell in love with everything about it. I listened to it every day, and collected every article and photo I could find about them. My father had been a jazz drummer, and his drums were in the basement, and I began to teach myself to play drums, modeling my drumming almost exclusively upon Paul Cook's drumming on Bollocks (my other drumming models at the time were The Buzzcocks, The Damned, and The Dead Boys).
"The Sex Pistols came to America, and every night I watched the news to see what they had done the night before in the Deep South. I tried to convince my parents to let their 13 year old son fly to Texas to see the Sex Pistols, and they weren't having it.
"Like everyone else, I heard the first PIL single 'Public Image' everywhere I went, and it was wonderful. . . "
Read the complete essay by chris about Public Image Ltd.'s Metal Box/Second Edition here.
---
other music
simply stunning -- heartfelt, deeply melancholic, but impossible to categorize.
still-single.tumblr.com
online here
. . . Side A features the tenor banjo exclusively, weaving in and out of a repeated theme with effects-laden, even withering compositions, where this thing is tricked out by teen goth flange ("Hiding Place") wall-of-fire distortocombustion tactics ("The Ghost") and field recordings of a heavy rainstorm ("Unknowable"). Flip it over for the sidelong piece "The Blue Ambulance," where Brokaw extends an electric guitar and melodic to sound like he's pulling on some harmonium the size of a train station, to beautiful, workmanlike effect.
---
time out new york
online here
If art is the communication of feeling, then on CANARIS, Chris Brokaw proves himself to be an artist in full...On the opening track, 'Exemptive,' he leans into a repeated chord with slight insistence, spinning an air of languor into something no lyric could describe or improve.
...the centerpiece of Canaris is the nearly 13-minute "Drink the Poetry of Celtic Disciple" -- remarkably, a cover of a song by arcane French black-metal band Vlad Tepes. This is Brokaw at his best: A pastoral figure draws you in, then breaks into a breathless run, evoking a dash with a new paramour through field and wood, all of it so vivid you can practically smell flowers. The occultish naturalism almost surely present in the original is reduced to hinted-at darkness, balanced with sunlight: a masterful transformation.
the chicago reader
online here
...Chris Brokaw has long been a sort of anti-guitar hero. (That is, when he's not drumming in bands like Codeine or the New Year.) Though he's a superb player, he never grandstands -- he favors a restrained, holistic approach that puts the song first. Half of his forthcoming solo guitar record, "Canaris: (Capitan), is acoustic, even the cover of "Drink the Poetry of Celtic Disciple" by French black metallers Vlad Tepes; throughout its gorgeous 13 minutes, he slaloms from simple fingerpicking to monolithic strumming, creating a near-cinematic narrative more nuanced and expressive than anything I've ever heard a metal band do...
dusted magazine
online here
...a fully-formed album with peaks and valleys, and a diversity of styles held together by a cohesive aesthetic...
prefix
online here
...deep in the heart of Canaris is the title track, a heroic slab of treated drone rock that sounds like Brokaw has been inhaled by a colossal black hole and is performing as all the atoms in his body slowly separate. At other times it sounds like he's cleaving through a colossal piece of metal with an industrial power saw. It's the type of song that needs to be played at punishing volume, and it undoubtedly takes Brokaw down some divergent paths when he plays it live...
haight ashbury beat
online here
...The album's cover -- depicting an animal eating its own tail -- suggests that Canaris is a cyclical and circular movement. This is further realized through the track sequence, which opens and closes with the songs "Exemptive" and "Exempted." These two tracks are dynamically distinctive from each other, but share a similar sentiment of released obligation... Most notable is the outstanding cover of obscure French metal ghouls Vlad Tepes's "Drink The Poetry of Celtic Disciple." Clocking in at just under 13 minutes, this rattling acoustic tour de force carries the listener through the mud and the mist...
delusions of adequacy (UK)
online here
This new -- wordless -- release should certainly add another interesting segment to Brokaw's far from myopic career mosaic. Connecting into the most challenging links in his sonic chains, the naked solo guitar workouts of Canaris revisit both the sparest edges of Pullman's avant-folk and the dissonant minimalism of the solitary "I Was Born, But..." soundtrack. Two lengthy epics dominate the six-track suite; "Drink The Poetry Of Celtic Discipline" (a meandering yet stirring acoustic cover of mid-'90s French black metal outfit Vlad Tepes) and the punishing title-track (a 17 or so-minute plugged-in dronefest). However, it's perhaps the four surrounding shorter-pieces that invite easier and greater affection; namely the John Fahey-meets-Rainer Ptacek meditations of "Exemptive" and "Watching The Clouds," the delicately-mournful "Sanguinary," and the all-too-short Eastern-scented "Exempted."
lazy comet blog
online here
...Like most great artists, Brokaw's skill lies in communicating bracingly real emotions, even when (sometimes especially if) going without his fine/sand vocals. And what he's transmitting is quintessentially American...
---
misc news 2006 - 2009
chris performed as one of 200 electric guitarists with RHYS CHATHAM on august 8 2009. the show, called A CRIMSON GRAIL, took place in new york, ny, at lincoln center (read the preview story in the nytimes and the review in the nytimes).
THE NEW YEAR played 4 shows in spain in may 2009, including the primavera festival in barcelona.
chris performed in vienna, austria on april 25, 2009, in a concert called "The Satellites of Love" -- an evening of the music of lou reed and the velvet underground. he played guitar in a band led by CHRIS ECKMAN (walkabouts, dirtmusic) and featuring members of TOSCA and SOFA SURFERS.
"i remember" from chris' solo record "INCREDIBLE LOVE" is on the soundtrack to the NBC tv show "friday night lights."
"i remember" was also used on the hbo tv show "east bound and down" on march 22 2009.
on the heels of their ebullient appearance at 2008's FESTIVAL AU DESERT, DIRTMUSIC (chris, HUGO RACE [ex-bad seeds] and CHRIS ECKMAN [ex-walkabouts]) returned to bamako, mali in january 2009 for 2 weeks to record their new album for glitterhouse records. they were joined in the studio by members of the malian band TAMIKREST. the album is slated for release in 2010. the band's "IN THE DESERT" is a live cd of DIRTMUSIC performing and rehersing in essakane and bamako, mali, january 2008. limited edition of 500 copies; some are still for sale at www.glitterhouse.com. the band also has a 2007 recording for sale.
COME REUNION -- on november 15, 2008, chris' old band COME reunited for one show at the tanned tin festival in castellon, spain. this was the line-up that appeared on COME's final album "gently down the stream": thalia zedek, winston braman, daniel coughlin, and chris brokaw. a video of "bitten" is online. COME played a surprise 2 song set in 2007 at a friend's birthday (nov 2007 video: "hurricane"); prior to that the band had not performed since april 2001. there are no plans at this point for COME to perform additional shows. more at the pitchfork blog. listen to COME on myspace. feb 2010 profile of COME at chunklet.com includes photos and mp3s.
2008 interviews of note: "Fortunate One" in the boston phoenix and "Chris Brokaw's Stormy Documentary" in the madison avenue journal. both interviews detail chris' recent projects, including his work on a documentary about STORM THORGERSON, a london-based graphic designer most well known for his PINK FLOYD album covers.
bob dylan night at lincoln center: chris did a one-night, one song performance with musician bob mould at the november 9 2006 lincoln center benefit show of music of bob dylan. they performed "if not for you." michael dorf's web site has posted reviews from the new york times, rolling stone, billboard, and new york magazine, as well as the full line-up of musicians and which song each artist performed.
---
winner! on june 11 2006, CHRIS won the award for best original film score (called the Certificate for Outstanding Achievement) at the brooklyn intl film festival for leslie mccleave's feature film "ROAD." the award was presented at a ceremony at the brooklyn museum.
in a preview of the festival, time out ny wrote that "One of our favorite musicians, Chris Brokaw, scored the film 'Road' ... We've seen only a trailer, but even there Brokaw's profoundly evocative guitar playing is moving."
synopsis: "in ROAD, margaret (catherine kellner), a freelance photographer on her first big job, uses the latest government-supplied technology to survey environmental disaster areas. jay (ebon moss-bachrach), her unemployed ex-boyfriend, is along for the ride. the trip does not go exactly as planned and through their own moral lapses, the act of a fickle God or maybe just a paranoid delusion, the couple are forced to confront their relationships to the environment, the world at large, and each other."
read about the movie's use of MySpace, in filmmaker magazine.
---
vinyl edition: on june 30, 2008 i and ear records released the deluxe 180 gram white vinyl edition of "INCREDIBLE LOVE", with heavy gatefold sleeve and one bonus track. this is a limited edition of 700 copies, and is available through i and ear records, and this website via paypal. paypal address is chrisbrokaw@yahoo.com. $23 postage paid (US/CAN), $30 (WORLD).
"i remember" from "INCREDIBLE LOVE" is on the soundtrack to the NBC tv show "friday night lights."
"i remember" also was used on the hbo tv show "east bound and down" on march 22 2009.
the improper bostonian's "boston's best" issue (july 12 - aug 1 2006) named "incredible love" the city's best album of 2006, writing that it is "an atmospheric, cinematic tour through some emotionally loaded terrain. affecting without being affected - a rarity in the indie-rock/folk realm in which he's staked his claim - the tunes are simple at their roots, augmented whimsically yet deftly with strings, synths and fuzzed-out guitar."
"their core - brokaw's voice - is solid, as he evinces sincerity and depth without resorting to vocal or musical cliches. codeine, brokaw's first band, used length to express depth, stretching songs out almost interminably. with 'incredible love,' it seems that brokaw's figured out how to do it the short way."
a 6-minute live video of the CHRIS BROKAW ROCK BAND playing in karlsruhe, germany in april 2006 is online at youtube. also at youtube is a 7-minute video interview with chris, complete with solo concert footage, from earlier this spring.
there are long interviews with chris at pennyblackmusic.com and neumu.com (excerpt: "Incredible Love was finished in the fall of 2004 and reflects Brokaw's growing frustration with the war in Iraq. 'The Information Age,' one of the album's most overt protest songs, emerged out of Brokaw's work with Highway Ulysses, an opera put on by the American Repertory Theater in Cambridge, Massachusetts.")
"INCREDIBLE LOVE" was named a top ten cd of 2005 by time out NY ("a talent that first appeared on the radar 15 years ago, this singer-songwriter and guitarist delivers his masterwork"), dustedmagazine.com ("At once countrified, intelligent, confident, complex and windswept, Brokaw is finding himself an active and bracing position between the best works of Lindsay Buckingham and one-time collaborator Steve Wynn, as well as harnessing the post-punk blues menace he's acutely known for to more subtle and effective means. The sleeper of 2005, easily"), and bob mould, in billboard.
bbc.co
by david sheppard, jan 16 2006, online here
svelte Bostonian guitarist Brokaw's fleeting solo career has thus far been restricted to austere instrumental reveries. Dividing the songs between atmospheric rockers and mid-tempo, acoustic-led detours, Incredible Love finally unveils his sandpapery voice, marrying it convincingly with the crisp combo arrangements. It's still his spidery lead lines that impress most, but when a winning vocal melody is demanded - as on the title track (a brisk cover of the Suicide classic) -- he handles it with the swagger of a veteran frontman.
london evening standard
by nadine mcbay, jan 16 2006, online here
[four stars] It would take a complex array of flow charts to do justice to the influence of American guitarist and composer Chris Brokaw. Hero to some, unknown to most, he kickstarted slowcore in the early 1990s with Codeine, helped launch the career of Liz Phair and more recently contributed to Evan Dando's solo debut. Now with Incredible Love, Brokaw has made his most realised and satisfying record to date. Where his previous output has been largely instrumental, here Brokaw proves himself as an intriguing, highly singular lyricist and vocalist as well as the most mesmerising indie guitarist since The Durutti Column's Vini Reilly.
the village voice
by bosler, jan 28 2006
Brokaw tours constantly as a solo act,singing over impeccable, finger-style acoustic guitar. You should remember him for the badass Ennio-Morricone-on-steroids ax work he broadast with his late-great band Come. Expect acoustic versions from most recent rock record, Incredible Love. Tonight he opens for Dando, who he often tours with as Dando's backup six-string slinger--no offense, Evan, but Chris' songs are the better zingers!
other music
by jm, nov 2005
Chris Brokaw has a long and storied musical past, having (among many other credits) founded and drummed in both Codeine and the New Year, founded and played guitar with seminal Matador rockers Come, Chicago instrumental post-folk ensemble Pullman, and more recently has been seen playing lead behind Evan Dando. But anyone who has seen his live solo shows in the past couple of years, or heard the excellent EP that he released last year, knows that Brokaw is perched on the precipice of a new phase of his career as a frontman and singer-songwriter. Released on Matador Records head-honcho Gerard Cosloy's other label, 12XU, the new Incredible Love album is one of the least affected and most affecting new albums I've heard in awhile.
Brokaw is first and foremost a fluid and emotional guitar player on both the acoustic and electric, and the guitars on this album, simple acoustic finger-picking or layered electric squall, are always beautiful and often thrilling. Brokaw the multi-instrumentalist fills in much of the rest of the tracks here himself, sometimes joined by a rotating cast of friends, and the band can rock or relax with equal conviction. But beyond all the great playing and subtle orchestration lie a batch of great, straightforward rock songs, sung in a world-weary yet tirelessly optimistic voice by an artist who seems to be just hitting his stride. Just listen.
the noise
by chris pearson, nov 2005, online here
Combining elements of his unique solo acoustic guitar work and more traditional rock elements, Incredible Love is a masterful blend of many styles, from rootsy Americana fare like "Whose Blood" to the minor-key excursions of the brilliant "The Information Age." The road-trip ramble of "Blues for the Moon" showcases not only Brokaw's rich, original voice, but his gift for words as well. "Move" is a rolling rocker with acoustic flourishes, and the reworking of the solo track "Cranberries" is presented here as an aggressive, full-band workout. The real standouts are the pensive, haunting pieces such as "X's for Eyes," the instrumental "Gringa," and the moody "100 Faces." A cool Suicide cover, "I Remember" is a nice counterpoint and further emphasizes the variety of sounds on this CD, which easily has the potential to appeal to a broad spectrum of tastes beyond the indie-rock pond in which he has such a rich history.
. . . After the quiet beauty of his previous LP, the all-acoustic Wandering as Water, (not counting the all-instrumental Red Cities and a film soundtrack), Incredible Love is a powerful, fully-textured outing that sweeps easy categorization under the rug and further solidifies Brokaw' eclectic reputation on his continuing musical journey.
popmatters
by jill labrack, jan 12 2006, online here
. . .every rock record would be better if only Chris Brokaw would play guitar on it. His fluidity, his heart, his precision and mastery of the instrument have made him a jewel in the overrun world of guitar-based music. . . Brokaw's playing references everything from Flatt & Scruggs to John Fahey to Kid Congo Powers (Gun Club). He has myriad skills but uses them tastefully, always letting the song come through first. . . There's a slight talking quality to the vocals, not going as far as someone like Lou Reed, but just enough to heighten the stories that are the songs. "I was wise, and smart as hell / Regaining all my senses / But I'd follow a certain smell / Instead of following suggestions" Brokaw says on "100 Faces". He stretches out some syllables, crushing others together, to get the right words into the song. The result sounds off at first, but quickly becomes natural. And that can sum up the whole of this record, too. There's a lo-fi quality that can be distracting until the listener hears what the subtlety is hiding. It's the way the notes hit sharply against one another ("Whose Blood") or space themselves away ("Gringa") that provide the texture that gives Incredible Love its range and depth. Chris Brokaw may be known as the guitar guy in some great bands, but now he should be heralded for what he has accomplished primarily by himself.
drownedinsound
by mike driver, jan 2006, online here
[7 of 10 stars] . . .a great country-rock album of an unusually sunny disposition. . .Its underside is as soft and malleable as its back is hunched and hardened, but the heart within beats pure and true.
artsjournal.com
by tim riley, online here
oddly tuneful, confidently sung, with understated yet intricate guitar. The ghost of Nick Drake hovers in the background -- if Drake had come up through Come, Consonant, etc.
carrieneumayer.blogspot.com
by carrie neumayer, nov 2005, online here
In the song "Blues for the Moon" Brokaw sings, "I hummed a Mexican tune / and swung you all around the room / til you turned red and the light outside turned to blue /and you'll be out of here tomorrow." Despite an upbeat tempo and lighthearted finger-picked melodies, something definitely seems awry in this image. This tension between hopefulness and hopelessness is the album's most compelling and recurring theme. . .
intro.de (german magazine)
dec 10 2003, online here
[this is a review, in german, of a show chris played in koln, germany, at the normal records store, way back on dec 8 2003. here's a translation:] Brokaw can play not only much, very well guitar, it is above all someone, which cultivated chord sequences, which go to the unbeteiligtsten listener to the heart in almost uncanny way; a permanent state of suspension, in which the melancholy feels wohlig like a warm bath.

by mike wolf, music editor, dec 29 2005 -- jan 4 2006, online here and nov 10-16 2005, online here

in the "Best of 2005" issue, time out new york music editor mike wolf named chris' "incredible love" the best album of 2005, saying "a talent that first appeared on the radar 15 years ago, this singer-songwriter and guitarist delivers his masterwork."
in nov, wolf profiled chris [image at right, click here to see the full text] "If his spacious lyrics entice listeners to import their own experiences, what fuels Brokaw's songs is his deceptively austere guitar playing. Many of his songs surge from nimble acoustic picking or strumming into electric riffs-like on the album's opener, 'Blues for the Moon' -- and the effect is one of simple yet ineffable power. 'Playing with Chris was freeing,' says [Thalia] Zedek of her friend and former bandmate, 'because he's so strong with rhythm. I would really have to push him to play leads, and even then he'd play them as rhythm leads-chords and melodies at the same time. That complexity has really come to the fore in his solo career. He has the talent to play very full arrangements with just one guitar and a tambourine strapped to his foot.'"

by robin young, nov 22 2005, online here

[this is an 8-minute radio interview/profile that was broadcast nationally. it weaves together conversation and excerpts from "incredible love," and can be streamed for free here:
http://www.here-now.org/shows/2005/11/20051122_17.asp
]

by michael brodeur, nov 2005, online here

Around these parts, Chris Brokaw requires no introduction "but Incredible Love sure feels like one. Does that sound bad? It's not supposed to. The quantity and variety of Brokaw's output over the years (from his early work with Codeine and Come, to the grindier textures of the New Year, and the sparse, folk-tinged beauty of his recent film scores and solo material) make it hard to say what Brokaw does best. Incredible Love offers 11 potential answers "with a selection of straight-up folk-rock tracks that draw from every point in his career without resulting in a mish-mash. "Whose Blood" shoots wry Western winks, while "Cranberries" tucks nice, discordant snarls into chugging guitars before opening up into beautifully determined abstractions. "My Idea" is a fresh take on the blame game, with its plaintively repeated "Have you told anyone? / Have you told anyone?" His cover of Suicide's "I Remember" (from which he plucks his "incredible love" for the title) is a welcome diversion, with its streaks of heavy phaser and guitar grit. Incredible Love sounds great, too. It's performed by an all-star ex-list of Brokaw's tightest collaborators "Jeff Goddard (ex-Karate), Kevin Coultas (ex-Rodan) and Matt Kadane (ex-Bedhead) among them. If you're new to Brokaw's work, consider this a high point from which you can survey the rest of the terrain.

by linda laban, nov 4 2005, online here

"I loosened up a bit and invited some other people to the party," said Brokaw. "Actually, when I went to do demos, there was this drum part I wanted for 'Cranberries,' and I thought, 'I just can't do it.' I wanted the last minute of that song to be like Steely Dan's 'Aja.' I knew my old friend Kevin Coultas knew that song, because he's one of the few people who enjoy Steely Dan as much as I do."
Would it have been a different record without the helping hands?
"No, but trying to get that drum part down would have driven me crazy."

by jennifer kelly, nov 2005, online here

. . . as Brokaw steps out in front, the result is low-key and excellent. These songs are unassuming and understated -- "Move" is the loudest, most rock-oriented acoustic you've ever heard . . . the subtler "X's for Eyes" may well be the disc's best, its lovely melody twining around picked guitar patterns. The song twists and turns around its subject, using body metaphors -- bones on a blanket, blood -- to evoke the end of a relationship. Brokaw nails the ending, terminating the song with its most effective image in the lines "While we got awoken / like bugs in the winter / Too dumb to rise / With no sense of proportion / Or thought of dimension / And both started walking / With X's for eyes."

by tom kielty, oct 21-27 2005, online here

It was a long way from Ohio, but an Oberlin College reunion of sorts took place when Liz Phair (Class of '89) reconnected with Chris Brokaw ('86) backstage at Avalon last Friday. Brokaw - the local indie-rock giant best known for his work in Codeine, Come, and Consonant, not to mention his current solo rock-band incarnation - hadn't seen his old friend in more than five years. But the wide-eyed look of recognition on Phair's face spoke volumes. Asked what she remembered about her former schoolmate, she said, "Basically, that I owe him my career."
Brokaw shrugged modestly; Phair gushed on. "At school his band, Pay the Man, was just the bomb. I'd just stand in the back and love them. They were the band of bands." After graduation, the two recalled, Brokaw visited Phair in San Francisco, where "she had the biggest dog on earth and kept going on about the latest Tad single." They remembered how Phair had shared the songs she'd been working on; Brokaw was so impressed that he dared Phair to record them and send him a tape. Soon after, a cassette of 14 originals arrived, followed two weeks later by another 14-track collection.
"A lot were songs that I had started in high school while house-sitting in these empty homes in Winnetka, Illinois," Phair said of the original drafts of such eventual Exile in Guyville tracks as "Stratford-on-Guy," "Glory," and "Flower." "People were always away, so I could make these tapes in quiet privacy." Brokaw, however, dismissed the indie-rock legend that he'd been the one to hip Matador's Gerard Cosloy to Phair's demos, which have come to be known among devotees as the "Girlysound Tapes": "I had no idea about anything with Matador until I read it in Tower Pulse or something."

by will spitz, august 12-18, 2005, online here

Fans and friends of Chris Brokaw packed into the Lizard Lounge on Saturday for the first local appearance of what's being billed as the Chris Brokaw Rock Band. That would be an unexceptional name if it weren't that "Chris Brokaw" and "rock band" haven't been uttered in the same breath all that often since Come, the band he fronted with Thalia Zedek, broke up in 2001. Although Brokaw, whose personal discography is miles long, hadn't given up rock music altogether -- in addition to his mostly instrumental acoustic solo work, he played guitar with Clint Conley's band Consonant and continues to play drums in the slowcore band the New Year -- this was the first time since Come that he'd played his own songs with a rock band. The trio -- former Karate bassist Jeff Goddard, former Rodan drummer Kevin Coultas, and Brokaw finger-picking a distorted electric guitar -- played a short but sweet set, mostly songs from Brokaw's new Incredible Love, which he says is his best album. After its October release, he plans to tour in the US and in Europe, alternating between solo gigs and shows with Goddard and Coultas.
"I wanted to make a record that was kind of a rock record that had acoustic guitar as the center of it," he explains over a tuna-salad sandwich at the High Rise Bakery in Cambridge, a few blocks from his house. "I like how that works for the album. And then I thought, to promote the record, I really should do some touring with a band, since that's how it is on the record."
So why the return to rock? "As I was playing solo gigs, I started singing more. I started envisioning the stuff with bass and drums." Also, after a few years of listening mostly to jazz, he rekindled his love for rock through bands like Joshua Fit for Battle, Converge, and Pig Destroyer. "It was just time to start playing rock music again."
---
this cd is the soundtrack for the film "i was born, but. . ." by roddy bogawa. in his liner notes, chris explains how he and roddy hooked up:

"my friend john engle called me up about ten years ago and said, 'i have a friend named roddy bogawa who's been working on a film for several years. it's very "avante-garde", and no one will ever make a dime from it, but he's going to call you in a couple of days and ask to license a Come song for the film, and you should say yes.' he did, and i did. the film was called 'Junk', and was a real delight.

"in november 2003 roddy came to a show i was doing in brooklyn and asked if i'd like to score a new film of his. i'd never scored a film before and was really eager to work on it. i didn't really know how it was done, but i felt very at ease with roddy and figured we could do this together.

"roddy and i really hit it off, i think in some part by having grown up around the same time, on opposite coasts, with punk rock becoming a really important part of our lives. i think we've each spent a lot of time deciding what exactly that means to us.

"i love the film. i love the fact that roddy will take the time to find a great shot, and just linger on it for a while. it's really refreshing to me. it feels brave. i love the fact that i still don't know exactly what the movie is 'about'. collaborating with roddy on this was a pleasure and a great privilege."
the film debuted at the chicago underground festival and the cd was released in nov 2004 by atavistic and 12XU.

by tom hughes, april 18 2005

Pick of the Week: Chris Brokaw: The ace former guitarist for ultra-melancholic 90s rockers Codeine and Come breaks out his (slightly) sunnier, folkier solo moves, touring his new "I Was Born, But . . ." album. Spirited pastoral pickings and a bit of backwoods spook, good stuff.

by david smith, february 22, 2005, online here

. . . In a time where movie soundtracks have become cross-promotional vehicles, where the songs chosen are meant to appeal to this or that hot demographic and move product, it's refreshing to hear 'I Was Born, But . . .', which feels like it was actually scored for the film. There's no 'I Was Born, But . . .' video game or breakfast cereal, in other words. The songs here are -- for the most part -- deliberately spare and simple. They are meant to complement the film, not intrude upon it needlessly . . .

by nolan gawron, february 16, 2005, online here

[this is from an interview with thalia zedek, chris' partner in crime in the band come]
Q: What's up with Brokaw? Why does he insist on being in 30 bands?
TZ: Yeah, even when I first met him, he was in 30 bands. He likes to be busy, and he likes to play. He plays two instruments, too, so he can fit in everywhere.
Q: Do you miss the old days at all?
TZ: Sometimes I do. I miss playing with Chris. He played a lot on my first solo record, and we did a bunch of gigs together; but, like you said, he's in like 30 bands, so we hardly ever get to do that anymore. Hopefully, one day all of us will be in town, and we can play together again.

by ted drozdowski, january 14-20 2005, online here

[three stars] Local guitarist Brokaw, who is currently on a national solo tour, remains one of the hardest-working musicians in anti-show-business. Besides playing in Pullman, Consonant, and other outfits, and cutting excellent albums including 2001's epic Red Cities (Atavistic) under his own name, the former Come co-leader has just turned in this soundtrack for filmmaker Roddy Bogawa's exploration of his own formative years as an Asian-American punk-rocker.
Rather than submit to punk's loud and fast rules, Brokaw has composed music that's the quiet, slowly evolving equivalent of Bogawa's visual style. Sometimes it's reminiscent of Hawaiian slack-key guitar, albeit played on electric. At others it splits the difference between the lapping sonic waves of Brian Eno's ambient textures and the buzz-and-hum of early Throbbing Gristle, plying industrial melodies that would seem equally right on an assembly line or in a concert hall. The disc opens with "Reeperbah," an acoustic-guitar number with ringing arpeggios and a stately cadence, and finishes with "Friendly Eyes," a stuttering electric improvisation. But the journey between is pure Zen.


by tom kielty, december 31 2004, online here

Chris Brokaw is truly one of the Boston music scene's underappreciated treasures. His innovative musicianship with both Come and Codeine ensure that his mark in the city's alternative rock legacy is indelible, but he has grown out of those projects to contribute and tour internationally with the likes of the New Year and Evan Dando. "I Was Born, But . . ." finds Brokaw successfully tackling another medium, the film score. His guitar work for this indie movie is never less than evocative. At times, such as on the sweeping and symphonic "Dust" and the outright scary "Chinatown," his playing suggests Radiohead recording its moody textures from an outpost in the American Southwest.
The album begins with the soothing meditation "Reeperbahn," and when juxtaposed with the cold relentlessness of "Golfing" or the brawny Neil Young-like snippet "Gristle," the tracks demonstrate Brokaw's dexterity remarkably. Although the composer's inspirations on this instrumental release may be eclectic, they do not hide the fact that he also can deliver an exquisite melody. If that was ever in doubt, the reflective "Huntington Beach Sunrise," with electric guitars resembling soft, sonic church bells, and the throbbing "GPS" would be dead giveaways.

by carsten wohlfeld, december 26, 2004, online here

[this is an interview / Q & A with chris about having a music career, touring, and song titles. It includes this exchange:]
Luna Kafe: Most of the songs seem to have titles linked to the scenes they were used for, but what about "Reeperbahn" (and more generally, how do you usually find names for your instrumental pieces)?
CB: Actually, that's a funny one . . . I was trying to write lyrics for that song while sitting on a train leaving hamburg at eight o'clock on a sunday morning. . . . The sun was rising on the Reeperbahn . . . but it started to turn into a "road song", you know, a song about being on the road, which I really did not want to do. I decided when I was about 13 years old that I never, ever wanted to write a song about how hard it is to be on the road. I think it was from listening to Jackson Browne's "Running On Empty", and my little punk rock brain saying: Fuck this rock star, what the fuck is he complaining about? -- nonetheless I kept thinking about it as that 'Reeperbahn' song. Usually the songs will actually have names that I attach very specifically to that music for specific reasons, but occasionally it's as random as this and just sticks with it.


by elaine beebe lapriore, november 28 2004, online here

When Roddy Bogawa needed music to score his autobiographical Asian American coming-of-age film "I Was Born, but . . ." he first looked to the bands that helped mold his youth in Los Angeles: local bands X and the Minutemen, plus punk and early hardcore bands such as the Dead Kennedys, the Clash, Buzzcocks and Minor Threat.
Licensing proved a hassle, so Bogawa approached a musician from two of his favorite bands to write and perform the score. Chris Brokaw played in Codeine and the intense Boston band Come, a group Bogawa would go see every chance he got and a song of whose he licensed for an earlier film.
In Brokaw, Bogawa chose a peer; though they grew up on separate coasts, it was to the same punk soundtrack. The score Brokaw wrote and performed, his first venture into writing music for film, hints of nonconformity burnished by the introspection of maturity -- a punk sensibility that's grown up and turned inward.
All instrumental and nearly all solo guitar, the songs share a woodshedding tone. You can easily imagine Brokaw watching a film, clutching a guitar and bursting forth with the Asian-inflected "Gristle" or "GPS," which nods to X's "Johny Hit and Run Paulene." The best of the batch, "Damon's Hawaiian Blues," blends slack-key sounds with a dash of Mississippi Delta.
Brokaw's fiddling with feedback works best when done briefly. The 11-minute "Chinatown" may enhance a visual backdrop but fails to truly compel on its own. On the swirling "Dust," however, Brokaw crafts a four-minute sonic dust devil, one of those capricious sand tornadoes so common in the desert Southwest: no film necessary.



by ronnie scheib, august 8 2004, online here

Roddy Bogawa's third feature reps the filmmaker's entry into the personal diary genre, though few helmers would delve so far into minimalism as to film themselves leafing through an old L.A. Weekly for lengthy minutes on end. Unlikely to venture beyond fringe and/or Asian venues, "I Was Born, But ... " is a welcome addition to the underground canon.

by roo simpson, august 18 2004, online here

[this is an interview with chris at the evan dando website about playing with evan, his current favorite music, and musical plans.]

may 6 2004

Brokaw is the Boston indie guitar slinger who's been in and recorded with a laundry list of bands during the past 15 years, but mainly with anti-blues group Come. He's on a never-ending world solo tour. . .



by chris rediske, march 2004, online here
[this is a profile of the band karate. chris played guitar on two tracks of the karate record "pockets," which was released in the fall of 2004. in this pitchfork story, karate's geoff farina says this about working with chris: "His guitar style is really unique and idiosyncratic. Come was one of my all-time favorite bands, so I just kind of laid back and enjoyed the ride when Chris played. His guitar is a bit more up-front than mine, which was great because I could concentrate on the singing. Neither of the songs that we did with Chris have guitar solos. Gavin and Jeff and I really respect Chris' approach and tried to let it guide the songs, rather than asking him to play rhythm guitar under my solos."]

---

by douglas wolk, july 28 2004

Brokaw's played at one time or another with Codeine, Come, Consonant, and Cobra Verde (sense a pattern?); his own songs are haunted and blasted, sustained by the precise violence of his guitar playing.


by rob devlin, july 2004, online here

. . . easily the most electrifying work Brokaw has ever produced. His interpretation of these songs is full of strong choices and a clear vision, with his own twists and turns thrown in just for fun. The update of the title track is the way the song was meant to be heard: multi-tracked guitars, powerhouse drums, and a confident yet slightly flawed vocal. It blows the previous version away easily. Brokaw has chosen artists he greatly respects as well as songs that he loves, and his partnership with Zedek in Come produced some great songs and records, so it's a fitting choice as well as a straightforward interpretation. On Zedek's "1000 MPH," a punked-up energy level suffers only slightly without the vocal presence of its author. "In Love With Yourself" predates Phair's seminal Exile in Guyville and it shows, as it's a cheeky and almost corny song that's just clever enough to be amusing, which she'd never dare approach today. It benefits from this re-envisioning of just guitar and voice, and it even shows a little sense of humor on Brokaw's side. It is the last song that is the cornerstone, though, as "Across the Blue" is grandiose and labored, with a relaxed performance with great guitar lines and atmospherics.
[you can also find, toward the top of the page where this review resides, a link to The New Year video "disease" and another link a 22-minute Quicktime streaming video interview with The New Year.]

by matt ashare, july 9 2004, online here

[this is an interview with matt kadane about the new year, and an item about "my confidante + 3":]
Along with playing drums in The New Year, guitar in Consonant, and regularly touring with the likes of Evan Dando and Steve Wynn, Chris Brokaw has continued to keep himself in the running as one of Boston's hardest-working indie-rockers with the release of a new four-song EP, My Confidante + 3 (12XU). Brokaw first started making solo recordings when he was still a member of Come and was in the process of becoming fast friends with Chicago post-rock guru Doug McCombs. He also recorded with the more experimental, largely Chicago-based group Brokeback. But My Confidante + 3 is a totally different beast that finds him safely back in the guitar rock fold . . .

june 10 2004

Chris Brokaw has quietly taken his place as one of the best performers in the country -- so quietly, in fact, that we'll yell it as often as we need to. The onetime drummer for Codeine and guitarist for Come is now making the rounds as a folkie -- one with a satchel of songs that range from white-knuckle intensity to coy humor.

by bosler, voice choice for june 13 2004

Brokaw tours constantly as a solo act -- impeccable finger-style acoustic guitar and vocals -- and with others: lead guitar in Consonant, Even Dando, Pullman; plays drums with the New Year; and still finds time to do a movie soundtrack or two. A true troubadour and guitar genius whose shows are always inspiring. For Come fans (his old band) who miss his electric side, check out his superb new EP, "My Confidante + 3."


editors' pick for june 4 2004

"It's so good, I almost wept," said Liz Phair backstage at the KISS 108 concert a couple of weeks ago about her old pal Chris Brokaw's rendition of her early, unreleased song "In Love with Yourself." Brokaw's version appears on his new EP, "Commandante + 3" [sic] (on 12XU, the label run by Gerard Cosloy, whose Matador imprint issued seminal records by Phair and Brokaw's most noted band, Come). . . . "I wouldn't be in this business if it weren't for Chris," Phair said, recalling that 10 years ago, Brokaw dared her to write her first songs and then passed the tape (now widely bootlegged as "The Girlysound Demos") along to Cosloy. A lost gem, "In Love with Yourself" sketches the kind of ambiguous, emotionally complex encounter (loveless lovers caught in a nasty bout of make-up sex) that Phair excels at. "I'd forgotten the lyrics to that song," Phair said, "but he got the tone of voice exactly right."

by eric f., early 2004, online here

[this is a long interview in french, where chris talks about his early influences ("Kiss, Jeff Beck et des New York Dolls"), his collaboration with Thalia Zedek, and who he's listening to now (Cecil Taylor, Misha Mengelberg, Franco D'Andrea, Bud Powell, Andrew Hill, Thomas Brinkman, among others).]

april 23 2004, online here

[this is a preview story about chris in catalan.]


by jam albarracin, april 17 2004, online here

[this is an interview in spanish. The same interview also appears at the spanish web site mucia rock.]

by domenico grio, spring 2004, online here

[this is an interview in italian, at a site that dubbed chris "underground hero".]

by walter kraus, april 12 2004, online here

["my confidante" is named "beat of the week" (see KW 16)]


by javier becerra, april 2004, online here

[this is a long interview/profile of chris, in spanish]


by chris pearson, review of march 12 2004 show, online here

As a musician myself, seeing Mr. C.B. play usually makes me wanna go home and destroy my guitar or chop off my fingers because he is just that good. . . . Brokaw proceeded to ROCK THE HOUSE with an acoustic guitar, a jerry-rigged tambourine bungee corded to his foot, and a couple of effects. Period. . . .

by adrian, april 19 2004, online here

. . . Showing off both his fluent instrumental prowess (with 2002's one-man and wordless debut "Red Cities") and his power as an instinctive troubadour (on last yearÕs exceptional vocal-led "Wandering as Water"), Brokaw has revealed that his years as a solid sideman have been well spent on creative grooming. Now comes this more than substantial -- but crucially not overfilling -- interim snack to further emphasis this self-awakening. [The song "My Confidante" is] a classic tale of betrayal, defiance, and revenge straight from the darkest end of the Brokaw songbook. . . . But the undoubted key delight of this bittersweet four-part collection is saved to last with "Across the Blue," a song part-authored by Boston poet, visual artist, and Mission of Burma collaborator Holly Anderson. Over a wash of shimmering, tremulous, and twangy guitars, ocean-bed trawling bass, and a gentle percussion patter, Brokaw proves himself as a master of understated dream-like beauty, with a lyric he truly makes his own . . .

by megan milks, march 20 2004, online here

At the Red-Eyed Fly [at South by Southwest, March 20 2004] Brokaw . . . pulled out a Liz Phair cover: "In Love with Yourself" off her 1992 Girlysounds demos. I'd never heard the song before, but could hear her voice in his. Originating from a project that asked men to cover songs written by women, Brokaw's rendition brought out the triptych of anger, vulnerability and humor nestled in the chorus, "Don't be so in love with yourself/ 'Cause I'm not." I hung on every word, bought the EP and have been listening to it ever since . . .

by walter kraus, april 2004, online here

[this is a review in german of 'my confidant' -- the web site named the ep the "beat of the week"]

by moritz hoffmann, 2004, online here

[this is a review, in german, of "my confidante + 3." given an 8 out of 10. rough translation of the beginning of the review, courtesy of altavista's babel fish: "The man is world experienced. It gave to the melancholy with Codeine a new face and with Evan Dando the relaxation of the Songwritings invented. And itself with all a good reputation production. Chris Brokaw is one the large ones. . . ."]

april 8 2004, online here

[this is a preview -- in spanish -- of chris' april 16 show in murcia, spain. includes a nice publicity photo.]

by carsten wohlfeld, 2004, online here

[this is a review, in german, of "my confidante + 3."]

2004, online here

[this is a three-star review, in italian, of "my confidante + 3." beware: this is a long page and very slow-loading.]

by christian spiess, ullrich maurer, and carsten wohlfeld, dec 2003, online here

[this is a collection -- in german -- of three reviews of live solo shows chris did in germany in december, 2003. includes a fabulous photo gallery of 17 pictures from his club performance at kampnagel in hamburg, his in-store performance at normal records in koln and his house concert at carsten's in essen]
---
chris' "wandering as water" solo record was named one of the top ten records of the year by gerard cosloy of matador and 12xu, and pitchfork media calls the cd "one of the most overlooked gems of the past year."
"highway ulysses," the theater production that the EMPTY HOUSE COOPERATIVE co-wrote music to and performed live at in march 2003, was called "the best production of the year" by The Boston Globe's ed siegel in a dec 28 year-end review, and one of the ten best productions of 2003 by The Boston Phoenix's carolyn clay. the full text of the play and an interview with playwright rinde eckert were featured in the sept 2003 issue of american theatre magazine. said rinde: "Empty House is the perfect band for this process. I'm a schooled musician who reads music and writes notes on paper when I need to; Empty House is dedicated to improvisational music, pays attention to the moment and keeps away from academic protocol. . . . it was just very refreshing all around." the story of how ehc became involved in the production (along with a photo of chris and david michael curry) is online at the american repertory theatre site.
EVAN DANDO's "baby i'm bored" was named one of the top ten records of the year by the uk's mojo magazine.
CONSONANT's 2003 record "love and affliction" was in the top ten best boston rock cds list of The Boston Phoenix's brett milano: "This is a harsher, louder, and more Burma-like sequel to the homonymous debut that topped my list last year. In some ways, it's also a better album, since Consonant sound more like a fully realized band and guitarist Chris Brokaw has found his rightful place in the mix. . . . " profiles of consonant appeared august 2003 in the boston herald and boston phoenix. the band's writeup in the all music guide database links to background information on all the musicians.
---

by stewart lee, april 11 2004

*** (three stars = outstanding, the highest ranking)
THE GUITARIST Chris Brokaw has threaded his way through the best American music of the past 15 years, yet remains as anonymous as William Hague. In the 1980s, he kick-started the slow-core genre with the somnambulistic sound of Codeine, then crossed grunge with the blues in Thalia Zedek's Come. Recently, he has enlivened Dream Syndicate frontman Steve Wynn's acclaimed solo albums, created a jazzy acoustic folk with Pullman and co-written Evan Dando's Lazarus-like comeback record. Brokaw's first solo release, 2002's Red Cities, showcased searing, amplified instrumentals. His second finds him in acoustic troubadour mode, stripping back his twisted extrapolations and quietly sinister songs to more primitive, and oddly more affecting, states. Like Brokaw himself, Wandering as Water is a quietly special proposition -- and it's limited to 2,000 copies.


by brandon stosuy, december 9th, 2003, online here

One of the most overlooked gems of the past year, Chris Brokaw's second solo full-length showcases the songwriter's commitment to dreamy Americana and stunning acoustic explorations. . . . Brokaw inhabits an unassuming, almost anonymous space with his quiet acoustic strums, warm voice, wordy vocal lines, and single foot-tapped tambourine. Like his previous all-instrumental Red Cities 2002), this largely vocal offering creeps along an unadorned path towards anachronistic purity, opening up and gathering detail with each repeated listen. Recorded live, it's breezy and intensely focused. . .
The splintery, patient acoustic interpretations of Come's "Shoot Me First", "Recidivist" and "German Song" are gorgeous. "My Idea", a track he wrote with Lemonheads collaborator Tom Morgan that ended up on Dando's Baby I'm Bored, stands out as better enunciated and intoned than Dando's slacker version . . . the prairie instrumentals are especially strong, each evoking a well-drawn visual sequence. "La Playa" and "Calimoxcho" tackle subtle rhythmic variations, evoking at times the pace of a silent but emphatic one-step across the damp hay of a darkened barn or a jangling horse ride through the night to a dozing loved one . . .
Brokaw continuously dances nimbly through these sorts of unexpected shifts; his acuity with control and complexity creates a subtle, unspoken poetry . . .

preview of new york solo show november 21 at north 6
by mike wolf, november 20, 2003, online here

Early in Chris Brokaw's recent show at Tonic, he offered that people in the audience should actually turn their cell phones ON for the performance. But don't take Brokaw to be your typical self-deprecating guy with a guitar. For the duration of his solo acoustic set, through emotions ranging from grim regret to placid hopefulness, the one thing the Boston artist projected consistently was a simple confidence that reflected his easygoing mastery. . . . Both onstage and on Wandering, he moves gracefully from harrowing moments--especially on "My Confidente" and "Recidivist," the latter perhaps the best of Come's many great songs--to extended passages of knotted yet lovely picking and strumming . . .

preview of new york solo show november 21 at north 6
By D. Shawn Bosler, november 2003

Brokaw is an underground guitar hero, though he might prefer to be categorized in the singer-songwriter vein. His excellent most recent CD, Wandering in Water, is a bow to Fahey and Spanish guitar, which also does some acoustical re-workings of his late-great band, Come.

by julia kussius, december 2003, online here

[this is a review Ð in german Ð of chris' dec 6 2003 show in hamburg for the german online music site pop frontal. includes photos!]
. . . A long-time admirer of the songwriter Townes Van Zandt, now Brokaw has an opportunity to let his own songwriting shine on Wandering As Water. If you've seen Brokaw live, you know how much staid energy can come from one man. Armed with his guitar and a lone tapping tambourine, these recordings echo those performances in both their simplicity and in their power. Instrumental pieces embued with harmony and coated in emotive grace. Brokaw's vocals come just as easily as the slide on his guitar, and soon enough, the listener is drawn into the kitchen, where he's found a place to play and a few sympathetic ears. Like Van Zandt, Brokaw already has a wide swath of experience from which to draw pointed observations and gruff realities. People shift, things change, life goes on. But that guitar sound and tapping tambourine seem to remain. Constant. Another stripped-down gem from Return To Sender.

carly carioli, july 17, 2003, online here

On the final two Come albums, Chris Brokaw stepped forward to take lead vocals on the occasional tune, and those efforts ranked alongside the band's finest. Although Brokaw's solo debut was an all-instrumental affair, his new album, "Wandering As Water" (on Germany's Normal Records), recorded live by Paul Kolderie earlier this year, parallels the live solo sets he's been performing while touring with (and opening for) Evan Dando lately -- a mix of instrumentals and vocal tunes played on acoustic guitar, including superb, stripped-down renditions of Come's "Shoot Me First," "Recidivist," and "German Song," plus "My Idea," a song he wrote with Lemonheads collaborator Tom Morgan that ended up on Dando's "Baby I'm Bored," and covers of enlightened folkies Fred Neil and Jorma Kaukonen.

by marco delsoldato, online here

This is the umpteenth gem from one of the cornerstones of the American indie scene . . . Nowadays Chris plays around with the particulars, conjuring up acoustic tracks which lie somewhere between the purest of folk and the intimate, desolate ballad ("My Ideas", "Bricks"). Among the fifteen treasures there's a version of "Embryonic Journey" by Jorma Kaukonen and some tracks from the Come days, the unforgettable "Recidivist" and "Shoot Me First" among others . . .

by carsten wohfeld, june 2003, online here
[this is a long profile in german of chris and his musical career, posted as a web exclusive for the german edition of rolling stone. if you don't know german, a mostly incomprehensible but occasionally hilarious computer-generated translation is here. sample translated quote from chris: "At the time I had begun straight to play Soloshows with the tambourine at the foot, which besides still from a microphone was removed. I had the feeling, which thought people before the stage, I am ripe for the flips!"]

by carsten wohfeld, july 2003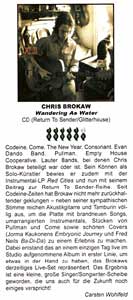 [the cd review on the right appeared in DNAsix, a monthly music mag in germany. the live review on the left, of chris' solo show may 26 at the mousounturm in frankfurt, appeared in westzeit, another monthly music magazine in germany. you can see them upclose online here.]

by ullrich maurer, summer 2003, online here
[this is an interview with chris by a german internet magazine. during the interview, chris is asked to identify and comment on songs by Mission Of Burma, Tom Liwa, Neil Young, The White Stripes, The Rolling Stones, M. Ward, Richard Thompson and Low. this interview is in german but somewhat intelligible even if you don't know the language.]


by joan anderman, march 14, 2003

[this is a profile of the the empty house cooperative during their stint with the american repertory theatre. photo by dominic chavez. left to right: chris, playwright rinde eckert, jonah sacks and david michael curry with his coat rack bass.]
". . . "'This is the sound,'" recalls Eckert of hearing Empty House's music. 'There was an unusual timbre, a sense of openness. Something that sounded contemporary and ancient, out of the ordinary but accessible. We got together a couple of times, and there was a brightness in the room. Once I met them, I didn't have much doubt . . .'"
-- see the full story as published in the boston globe
---

by ullrich maurer, 2002, online here

[this is an interview with chris by a german internet magazine. in german. includes these two cool photos by ullrich. ]

by carsten wohfeld, 2002, online here

[this is a review of "red cities" by the same german internet magazine, which terms him "a man - a legend."]

by justin sinkovich, september 6 2002, online here

Chris Brokaw's fluid, melodic, and crisp guitar playing is easily recognizable. That Jaguar/Jazzmaster-meets-Fender Twin has been cutting cleanly through one great album after another. . . . The new millennium has seen Chris Brokaw distinctly contribute to two different new bands. He returned to the drum kit for the Kadane brothers' post-Bedhead work in The New Year. Then he and Matt Kadane both joined former Mission Of Burma member Clint Conley's new band Consonant, this time with Brokaw on guitar, delivering that patented tremolo swagger again. So in 2002, at a time when Brokaw's contributions to indie music have taken on an entirely new identity, amazingly he delivered his first entirely solo album, entitled Red CitiesÉHis instrumental pieces build, braiding the instruments together wonderfully. Chris Brokaw has consistently proven that he is an extremely talented fellow, providing us with hours and hours of some of the best indie music available.


by jorge peláez, 2002, online here
[this is an interview with chris by a spanish internet magazine. in spanish.]

interview by jon langmead, oct 2002

". . . It's hard to say how [my] playing has changed over the years. At least in the context of playing in rock bands, it's become very familiar and very comfortable to me. I feel like I know what I'm doing. Some times I feel like I sort of slip into a role, which can get boring, and so I've really enjoyed the challenge of playing solo which is completely different from playing with a band. Much scarier, much more of a challenge. I don't know . . . it's still different every night, thank god. It's still really exciting to me. If anything, I try to take in the environment, that day and night, as much as I can, and try to apply it or have it inform the show that night. . . ."
-- see the full interview

preview of london solo show august 7
by sharon o'connell, august 6, 2002

Chris Brokaw's heritage is so impressive he should really have his own coat of arms. . . . His live show this week is to promote his recent solo debut Red Cities, an astonishingly potent brew of guitar and percussion, played solely by Brokaw in what must have been endless studio sessions, so densely layered are his compositions. The resultant landscapes are ravaged but beautiful beyond belief, reflecting both the dark, blues-strung grief of Come, and the lean-lined, horizon-fixed heft of Codeine . . .
-- see the full story as published in time out london

by eric snider, july 31 2002, online here

Possessing an impressive post-rock resume that includes stints with Codeine, Come, Pullman and The New Year, Boston's Chris Brokaw is a guitarist of a different stripe. He also happens to be a drummer of some repute, which he uses to help shape and color his solo disc, Red Cities, an eclectic and eminently listenable outing that's long on melody and layered texture and virtually devoid of improvisation, stunt-like or otherwise. Brokaw glides through a variety of moods: the slow, building arpeggios of The Fields; the corrosive chords on Gauntlet, which call to mind The Beatles' I Want You (She's So Heavy); the spaghetti Western feel of Calimoxcho; the controlled cacophony of Bath House. Two of the best songs showcase his postmodern take on roots styles. Topsfield State Fair, is, on the surface, a twangy two-step, but the ominous chord sequence is just a bit off, as are the crashing intrusion of occasional rock power chords. At the Crossroads repeats a simple, slurry slide figure, evoking the Delta by way of the desert, as dissonant atmospherics well up in the background. On Red Cities, Brokaw proves himself to be more a composer and sound sculptor than out-and-out ax man, but one suspects he's got some hidden guitar slinger in him too. [three and a half planets]

by mark keresman, online here

Some listeners/readers familiar with less-commercial variants on what's come to be know as "alternative rock" (a phrase about as useful these days as "progressive jazz," as that's been applied to Stan Kenton, Teddy Charles and Anthony Braxton) might know the guitarist Chris Brokaw. Brokaw has been in the indie-rock bands Come and Codeine as well as the John Fahey-inspired instrumental collective Pullman - here, he steps out on his own. Playing all electric and acoustic guitars and percussion, Brokaw weaves a dense, languid, cinematic-sounding spell that's equal parts Henry Mancini, Bill Frisell, John Barry, Ennio Morricone, The Tornadoes, Les Paul, Chet Atkins and Jimi Hendrix (the latter in his more restrained moments), mixing tremolo, surf/noir-twang, smoldering leads, spry country-ish picking, evocative, haunting melodies and shimmering-sunset-on-the-wide-open-plains textures. Brokaw is no virtuoso, but that's the point, or part of the point: while a fine guitarist, Brokaw seems more interested in drawing listeners' attention to the "whole" of the Song - the Mood, rather than The (showy) Technique. Red Cities is a good one for the Guitar/Instrumental Fan. (Plus: there's a REALLY nice treatment of Burt B's "The Look of Love" here.)

preview of the nyc red cities orchestra show at tonic july 7
by mike wolf, july 4, 2002

As indie-rock artists go, Chris Brokaw has a resume that's beyond reproach. . . . All of Brokaw's skills (besides singing) are displayed on his new full-length solo debut, Red Cities (Atavisitic), an enthralling spread of guitar-and-percussion instrumentals that have as much emotional power as - and greater range than - any of his previous outings . . .
-- see the full story

by leon mcdermott

Chris Brokaw is one of those people who has been floating around on the edges of American music for a good decade and a half, quietly making good music whilst all around him people scramble for the next big thing . . .
-- see the full story

by carly carioli, july 4 2002

Chris Brokaw strolls into the Paradise looking more tired than usual. Even when he's at his most alert, a certain weariness clings to him. Back when he was the drummer in the slo-core indie outfit Codeine, one might have written that off as an occupational hazard. But as the lead guitarist in Come, peeling off howling weathers of chords, he also maintained a rumpled composure. Now, as Brokaw comes upon the other members of Clint Conley's band Consonant, they take him in, smiling. They haven't seen him in more than a week. After playing guitar with Consonant and drums with the New Year (his band with the Bedhead brothers, Bubba and Matt Kadane) at England's All Tomorrow's Parties festival, Brokaw stayed on to play a round of dates accompanying Evan Dando on guitar and opening the shows with his own solo set. He also got into a car accident: he and a friend emerged unharmed, but their rental van, with just 31 miles on it, didn't fare as well . . .
. . . He cites recent shows by Dutch cellist Ernst Reijseger, horn player and jazz innovator Joe McPhee, and acoustic bluesman Chris Smither as having affected his idea of what a solo performance could be: "People who went up on stage with one instrument and just create a whole fucking galaxy. That's what I'm aspiring to do . . ."
--see the full story


by patrick jennings, july 2002

. . . Brokaw played all instruments on the album, but, surprisingly, was keen not to use computer-based-recording, preferring to commit everything to two-inch tape. "I know it seems slower, but with computers you can endlessly correct everything," he claims. "I set myself a certain amount of days to finish each track and challenged myself to make it work . . ."
. . . Alongside a couple of Fender Twins and a bunch of overdrive and reverb units, Brokaw's gear collection also includes a Jaguar, treasured for its ambient feedback. However, a '56 Jazzmaster has elbowed it aside as his main squeeze in the past couple years. "It has a thicker sound, especially since I put 0.011s on it," he explains . . .
--see the full story
-
see the full story
as published in
boston magazine
july 2002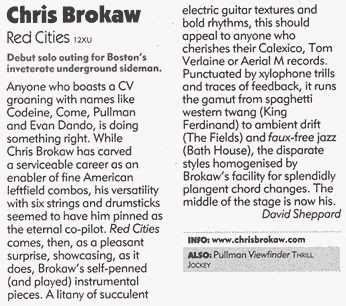 by josh madell, june 6 2002, online here with real audio links

. . . Brokaw has made a beautiful, varied debut as a solo recording artist with his new album, "Red Cities," on Atavistic. In some ways, this instrumental record is an amalgam of all his previous work. But if I had to narrow it down I would say that this reminds me most of a mix between Pullman and the New Year -- a melodic, textured soundscape of guitars and percussion that touches on many moods. This is soundtrack music that is not afraid to rock, and rock and roll that takes a relaxed, contemplative approach to its unfolding sounds. A great debut that should be of interest to fans of Brokaw's excellent playing and more generally anyone with an ear for great instrumental pop.

june 2, 2002, online for a fee at www.chicagotribune.com

. . . where Pullman favors a back-porch ambience and Come mined a particularly black-hearted variant of the blues, "Red Cities" has a western tinge that evokes desert vistas and open highways. The best tracks' stirring melodies stand quite well on their own, but the tight, riff-oriented structures of others beg for a singer.

by david keenan, june 2002 online at www.thewire.co.uk

. . . a series of brooding instrumental sketches propelled by sparse percussion and dominated by (Brokaw's) skeletal guitar tone. . . . a moonlit trawl through some blasted desert rock that is as singleminded and lonesome as some of John Fahey's electric material.

by tim perry, may 25, 2002


july 2002



by graeme rowland, writing in "the brainwashed brain" V05I20 - 05262002, a weekly digest from the staff and contributors of brainwashed.com
. . . There's a western-noir feel to most of it and the most effective tracks build in emotional intensity just like Come, every note heavy with mysterious longing and deep enough to flip your stomach over. After a short intro, the longest track "The Fields (Part II)" takes a trip deep into the city night where events are unfolding outside the upstairs window, each note delivering ever more irreversible immanence. Chris really knows how to pack a sledge full of raw emotion into every note, and this is a stunningly dense dark cinematic ride. Only lighter track is the more playful "Topsfield State Fair," which perhaps skirts closer to Pullman campfire folkiness than the deeper Come shadows the rest of the album so satisfyingly evokes. I'm not sure if the title of the album was in any way inspired by the W.S. Burroughs classic 'Cities of the Red Night' but if anyone was ever ambitious enough to try to make a film of that book, this would make a perfect soundtrack.

issue no. 4 summer 2002


by stewart lee, june 2, 2002
Brokaw is the shadowy standout figure of other people's recordings. Among the cult figures who lean on his guitar playing for support are the former Lemonhead Evan Dando and Come's Thalia Zedek, while as a member of Codeine he pioneered the dense, bulldozer riffs that today seem commonplace in the American underground. His first solo album, comprising 14 instrumentals on which he plays everything, features fuzzedup flamenco guitar figures, the kind of psychedelic spaghetti-western sounds favored by Calexico, and seismic shifts in mood, from the apocalyptic to the whimsical, the brilliant to the banal. Regrettably, the finest track, the 10 minute "Field pt. II" is scheduled rather too early. Programme your CD player accordingly to avoid disappointment.