Nov 18 --
Chris Brokaw Solo
Warren, RI, at Upside Bar (new club, connected to In Your Ear Records), w/Paper Jays
This mini tour brings the band to the Washington, Oregon, and California
Codeine US West Coast 2023
December, 2023
Codeine returns to the West Coast after playing the Numero Twenty festival in Los Angeles in February, and after thrilling tours of Europe and the U.K. in August and September and the US East Coast in November.

Dec 4 -- Codeine
Seattle, WA, at Barboza; tickets here
Dec 5 -- Codeine
Portland, OR, at Mississippi Studios; tickets here
Dec 7 -- Codeine
San Francisco, CA, at Rickshaw Stop; tickets here
Dec 8 -- Codeine
Los Angeles, CA, at Echo; tickets here
Dec 9 -- Codeine
San Diego, CA, at Soda Bar; tickets here
Codeine: John Engle, Chris Brokaw, Stephen Immerwahr, Feb 11 2023

Dec 17 -- Chris Brokaw Solo
Somerville, MA, at The Burren, as part of the Very Fuzzy Fundraising X-mas, a benefit for HORIZONS FOR HOMELESS CHILDREN (www.horizonschildren.org). Christmas songs by Boston rock luminaries including Jim Buni, The Handymen, Fuzzy, Chris Colbourn, Merrie Amsterburg, David Fredette & Fredette, Aaron Perrino, Drew O'Doherty and Family, Other Girls, The Shang Hi Lo's, Jon Berhardt, Brian Goobie, Township, and Pat McDonald. All ages, 5pm, good friends, good times.

Coming in 2024: Codeine shows in Australia and Japan! Details TBA.
---
Chris is teaching guitar and drums by video and in person.
Email him at redcities2002@yahoo.com for details.
---
Contributions for online shows
can be made via PayPal (chrisbrokaw@yahoo.com) and Venmo (@Christopher-Brokaw-2).
---
Read a recent interview
Chris did with Dmitry Samarov.
Follow Chris on Instagram and Facebook for the most up-to-date news.
This website can be a few weeks behind.
---
[updated Nov 18, 2023]

After an exhilarating tour of Europe and the U.K. in August and September,
Codeine
is performing in the U.S. this fall, on the East Coast and then the West Coast. The shows feature original band members Stephen Immerwahr, John Engle, and Chris Brokaw. The tours are in celebration of "Dessau," a previously unreleased studio album from 1992. It came out September 9, 2022 on Numero Group. It's for sale at
Numero Group
and at the
Codeine Bandcamp page
.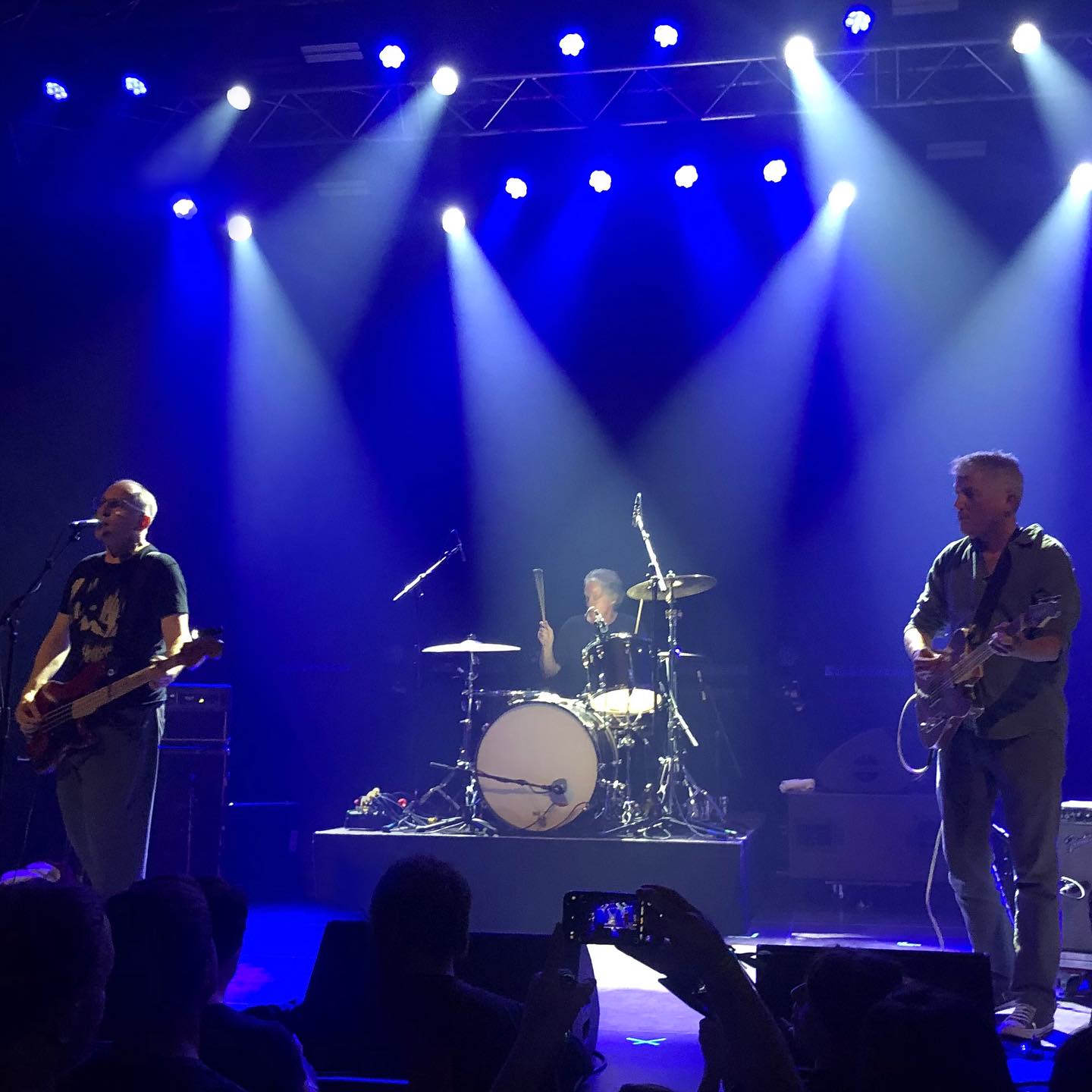 Codeine in Berlin, Sept 1 2023
Read a profile in The Guardian of Codeine and "the glacial pleasures of slowcore."
NPR notes the originality
of the music when it was created: "There was quite simply nothing else like it."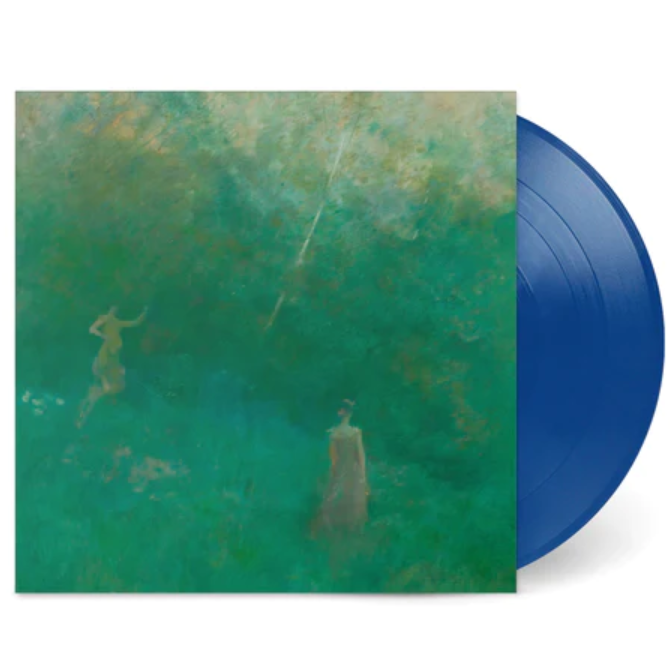 The New Yorker writes
, "During its original incarnation, in the early-nineties underground, the doom-laden New York band Codeine issued two LPs, "Frigid Stars" and "The White Birch." Listen to Stephen Immerwahr's dour poetry, John Engle's tolling guitars, and Chris Brokaw's glacial drumming, and picture falling snow."
Treble says
"Dessau is the band's codex, a monument to their own aural navigation of sadness, contemplative, crushing, and finally complete." See Codeine's full
discography
. In an
interview with Brooklyn Vegan
, Chris said of 'Dessau': "It was heartbreaking, for me anyway, when we shelved it. I thought it was the best thing we'd done."
---
Over the last three years, Fire Records of London has reissued the entire catalog of
Come
, the Boston-based band that toured the globe in the 1990s. "
NEAR LIFE EXPERIENCE
" (from 1996) was released June 2, 2023 and includes 3 extra songs (which Chris says "I think not only compliment but complete the album"). It joins "
GENTLY DOWN THE STREAM
" (from 1998), released April 22; "
PEEL SESSIONS
" recorded live at the BBC in 1992 and 1993, which came out in 2022; and the first reissue, "
DON'T ASK DON'T TELL
" (from 1994), which came out in 2021.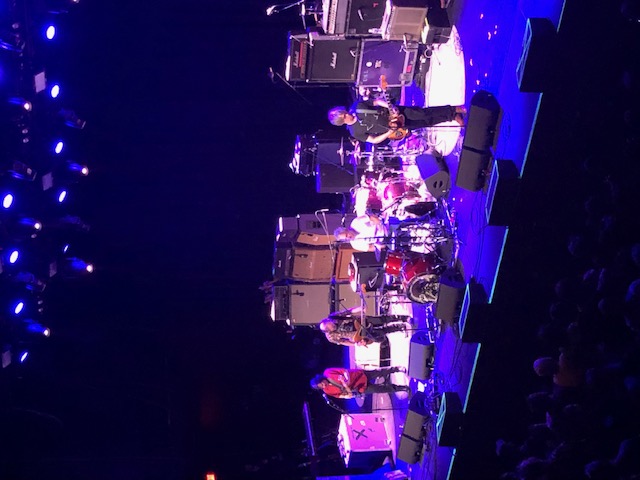 Come in Boston, May 13 2023
The original lineup of the band (Thalia Zedek, Arthur Johnson, Sean O'Brien, and Chris) regrouped to celebrate the releases and spent much of 2023 touring Europe, the UK, and the US.
---
Chris began playing drums in a trio last year called
Lupo Citta
. The band recorded its first LP in Jan 2023 with Pete Weiss at Bluetone Studio, Somerville. The LP will be released on 12XU Records of Austin, Texas, in January 2024. Lupo Citta is Jennifer Gori, Sarah Black, and Chris Brokaw.
---
Chris played drums on the new album "Austere" by
Ativin
, with Dan Burton (Early Day Miners) and Chris Carothers (Hunting People, Grizzly Daughter), and a guest appearance by Alison Chesley. They worked together in New Orleans and recorded in Chicago with Steve Albini producing. The record was released June 23, 2023, on Joyful Noise.
Listen
to a track and
buy it here
.
---
Chris traveled to Norway in June 2022 to perform a solo electric show at a small festival at a decommissioned power station in Florli. Chris writes: "The 'festival' turned out to be more like an artists' retreat, combined with the wedding of Iver and Marit. My involvement was kinda last minute but I was very happy to be there. I met some great artists, experienced some cool and unusual performances; and played 2 solo sets, one electric in this giant decommissioned power plant, and one acoustic in the living room of a cabin. Both were thrilling for me; my new friend Jim Dawson recorded the electric one."
The recording was released by 12XU January 19, 2023. The cassette (limited edition, 150) and digital download are
for sale at 12XU's Bandcamp
. "As 'post covid rejuvenation get togethers' go this one was pretty great," Chris writes. "The tape a good memento to an inspiring weekend." Watch a
short video clip
of the performance by Victoria Heggelund.
---
Chris has been
scoring a new film by Julia Halperin and Jason Cortlund, "Crookedfinger."
Chris' other movie work
includes Halperin and Cortlund's "Barracuda," a 2017 feature film that was nominated for the SXSW Gamechanger Award and the SXSW Grand Jury Award.
---
Reuss Musical Instruments of Copenhagen has collaborated with Chris on a guitar pedal
, the
Reuss Recidivist Chris Brokaw signature pedal
. Both the first edition and second editions have sold out, but there are plans for a third batch, hopefully later in 2023.
---
Other projects:
Chris' duo with Jeff Barsky,
Sunset To The Sea
, released its second cassette, "LOT COP," in 2022.
Find it at Chris' Bandcamp page
.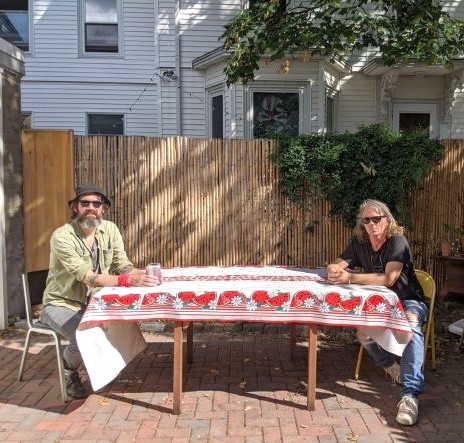 Chris and Jeff's first tape
, from 2016, is long out of print but available as a digital download. "There's a bleak dystopian feel in places that recalls the most probing and exploratory corners of industrial zones, but also a crackly warmth and humanity that only two skilled improvisers like these could add. Dark and hypnotic in the best way possible." Also in the works: A project called
Dark Money
, where Chris plays drums and bass with Mark Morgan (guitar) and Greg Kelley (trumpet). The band recorded and mixed its first batch of music at Oddfellows in Weymouth, MA, in October 2021.
---

COME "NEAR LIFE EXPERIENCE" lp
-- Fire Records, June 2, 2023 -- Originally released in 1996, now with three bonus tracks from the same era. This reissue includes additional liner notes and photographs. Limited edition pink vinyl. CMJ New Music Monthly wrote: "Near-Life Experience is heavier, and at the same time prettier, than Come has ever sounded." With Chris Brokaw (guitar and vocals), Thalia Zedek (guitar and vocals), Mac McNeilly (drums), Bundy K. Brown (bass), Kevin Coultas (drums), and Tara Jane O'Neil (bass).
---
COME "GENTLY DOWN THE STREAM" double lp
-- Fire Records, April 22, 2023 -- Originally released in 1998, the band for this record is Chris Brokaw (guitar and vocals), Thalia Zedek (guitar and vocals), Winston Bramen (bass), and Daniel Coughlin (drums). This reissue by Fire Records of London comes on 2 lps, 180g vinyl, in a gatefold sleeve, with new liner notes. Edition of 1000 copies. Includes digital download.
---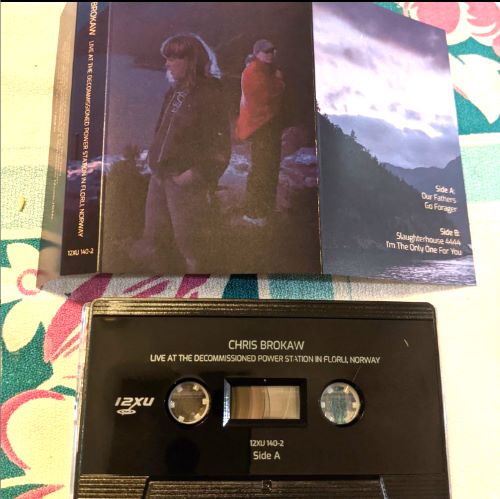 CHRIS BROKAW "LIVE AT THE DECOMMISSIONED POWER STATION IN FLORLI, NORWAY" cassette and digital download
-- 12XU, January 19, 2023 -- This transcendent solo electric set was recorded June 2022 at Rimi/Imir's fest in Florli, Norway. Edition of 150.
Available at Chris' Bandcamp page
.
---
CODEINE "DESSAU" lp and digital download
-- Numero Group, September 9, 2022 -- "Dessau" is a previously unreleased studio album from 1992 featuring Codeine's original line up of Stephen Immerwahr, John Engle, and Chris. "The sound, which typified the slowcore indie-rock subgenre, is so chilling, precise, and beguilingly extreme — shy, then crashing — that it recalibrates the vast spaces around each inquisitive note,"
says The New Yorker
. The album is
available in blue vinyl, green vinyl, or black vinyl
.
---
SUNSET TO THE SEA "LOT COP" cassette and digital download
-- Tape Drift, March 4, 2022 -- This duo of Chris and Jeff Barsky weaves "a heavy and dense magic, with repetition and depth...[and] a crackly warmth and humanity" says Tape Drift. Studio recording, made in Maryland, featuring guitars and electronics. Edition of 50.
Find it at Chris' Bandcamp page
.
---
COME "PEEL SESSIONS" lp
-- Fire Records, February 25, 2022 -- Live sessions recorded for the BBC's John Peel in 1992 and 1993 which "
showcases the magnificent guitar interplay
between Chris Brokaw (Codeine) and Thalia Zedek (Live Skull)." Second release of Come's catalog, in a project running through 2023.
Details from Fire Records
.
---
COME "DON'T ASK DON'T TELL" double lp/double cd
-- Fire Records, October 22, 2021 -- This is the first release of the reissue of Come's entire catalog from the 1990s. The package includes the 1994 album, extra singles, b-sides, and a few previously unreleased gems from that era. The reissue landed on "Best of 2021" lists, with MOJO giving the reissue four stars.
Read more at Pitchfork
and
Fire Records
.
---
CHRIS BROKAW "PURITAN" lp, cassette, and digital download
-- 12XU, January 15, 2021 -- Many years in the making, "Puritan" is Chris' first all-out rock album since "Gambler's Ecstasy." It features bassist Dave Carlson and drummer Pete Koeplin. LP and cassette for sale at
Chris' Bandcamp page
; digital at
12XU
.
Read about Puritan
.
---
THE MARTHA'S VINEYARD FERRIES "SUNS OUT GUNS OUT" lp and digital download
-- EJRC, February 26, 2021 -- Third release by guitarist/vocalist Elisha Wiesner (Kahoots), bassist/vocalist Bob Weston (Shellac, Mission Of Burma) and drummer/vocalist Chris Brokaw. The
Ferries' Bandcamp page
includes videos and links.
---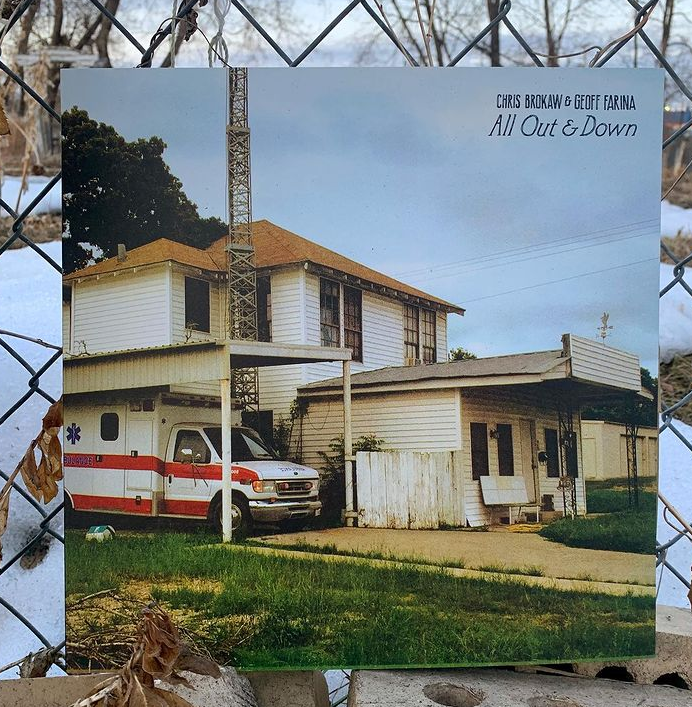 CHRIS BROKAW AND GEOFF FARINA "ALL OUT & DOWN" lp
-- Landland Colportage, 2021 -- A 2016 collaboration of guitars and vocals by Chris and Geoff Farina (Karate). This reissue is a deluxe silkscreened edition, the 3rd version of the album, created by Dan Black and Landland Colportage. The album includes covers of the Carter Family, Gun Club and more. Numbered edition of 145 copies; for sale at
Landland
.
---
CHRIS BROKAW "END OF THE NIGHT" lp and cd
-- VDSQ and tak:til/Glitterbeat, May 24, 2019 -- Chris and Steve Lowenthal came up with the idea: create the perfect last record of the night.
Chris explains the evolution
. MOJO gave the record 4 stars ("pensive mood-mastery") and Uncut hailed its "flinty, deep-breathing guitar." For sale at
VDSQ
(U.S., LP) and
tak:til/Glitterbeat
(Europe, CD, and digital).
Read about End of the Night
.
---
LEMONHEADS "VARSHONS 2" cd and lp
-- Fire Records, February, 2019 -- As with "Varshons 1," this album is a set of covers of 13 artists, from Nick Cave & The Bad Seeds to Lucinda Williams. Chris played guitar on the album, including "
Can't Forget
" by Yo La Tengo.
Track list here
.
---
"CHARNEL GROUND" lp
-- 12XU, April 6, 2018 -- Charnel Ground's debut release was recorded in Brooklyn, NY, and features Kid Millions (Oneida/Boredoms) on drums, Chris on electric guitar, and James McNew (Yo La Tengo) on bass and organ.
Listen on Bandcamp
. Described as going from "white-hot feedback" to "sunshine-infused pop numbers."
For sale here
with download code.
Read about Charnel Ground
.
---
CHRIS BROKAW "THE HAND THAT WROTE THIS LETTER" cd
-- Capitan Records, November 28, 2017 -- A friend asked Chris to play her wedding, requesting David Bowie and Prince covers. Chris turned some of their songs into classical guitar instrumentals and decided to make an album. Tracks include THE MAN WHO SOLD THE WORLD, I WOULD DIE 4 U, and CONTROVERSY.
Read about The Hand That Wrote This Letter
.
---
Chris' Bandcamp page
sells many of these recordings along with "Puritan" t-shirts made by Chris Kelley in Providence, Rhode Island, and other lp's, cd's, and test pressings.
---