To celebrate the reissue of their discography by Fire Records of London, Come is performing throughout 2022 with their original 1991 line-up: Chris and Thalia Zedek on guitars, Arthur Johnson on drums, and Sean O'Brien on bass. They're playing 17 nights in Europe, starting Sept 29 in Brussels and ending Oct 17 in London.
Chris began playing solo in late 1999. His shows feature solo electric guitar and tambourine, vocals, and acoustic guitar. His solo records include "
Red Cities
" (2002), "
Wandering as Water
" (2003), "
My Confidante + 3
" (2004), the original film score "
I was Born, But. . .
" (2004), "
Incredible Love
" (2005), "
Canaris
" (2008), "
VDSQ Solo Acoustic Volume Three
" (2009), "
Gambler's Ecstasy
" (2012), "
'Now, Forager' Soundtrack
" (2014), "
The Periscope Twins
" (2015), "
The Hand That Wrote This Letter
" (2017), "
The End Of The Night
" (2019), and "
Puritan
" (2021). Since 2005, he has performed with the
CHRIS BROKAW ROCK BAND
with a variety of musicians. The current band is Chris, bassist Dave Carlson and drummer Pete Koeplin.
COME
Chris recorded and performed with Come from 1991 through 1999, releasing a body of work on Sub Pop and Matador Records and performing around the world. Fire Records of London, England, has begun reissuing Come's entire catalog, a project that will run from 2021 to 2023. The band's original lineup has joined for a series of shows. A tour of Europe is planned for September-October 2022.
MARTHA'S VINEYARD FERRIES
MVF is a punk rock trio of Elisha Weisner (Kahoots) on guitar + vocals, Bob Weston (Shellac + Mission of Burma) on bass + vocals, and Chris on drums + vocals. Their 2010 record, "IN THE POND" is a 4 song, 1-sided 12" ep, with etching on side 2 by their pal Rosie. Their 2013 "MASS GRAVE" lp and cd is on Kiam and African Tape Records. Their most recent relase is "
Suns Out Guns Out
" (2021).
Listen and buy at Kiam
and at
MVF on Bandcamp
.
Chris and GEOFF FARINA (ex-Karate) have been performing together since late 2006. Their "THE ANGEL'S MESSAGE TO ME" is an album comprised almost entirely of pre-WWII blues songs. It was released on
Damnably Records
in the UK + Europe March 18 2010 and in the US on Chris's Label CAPITAN RECORDS on april 27 2010. It's
for sale here
. Their cd "THE BOARDER'S DOOR" was released in the autumn of 2010. Their LP "ALL OUT & DOWN" (2016) was re-released in a handmade/silkscreened edition with a new gatefold jacket in 2021.
The Lilypad is an intimate performance space in Inman Square, Cambridge, MA.
Lille, France, is part of Chris' February 2022 European tour.
Chris and Thalia will be performing a number of times together throughout 2022, including at the Barcelona Minifestival in March 2022.
Poster for New Haven show by Chris Brokaw and Jeff Mueller; Jeff was formerly in RODAN and is now in JUNE OF 44, and this is his first solo performance.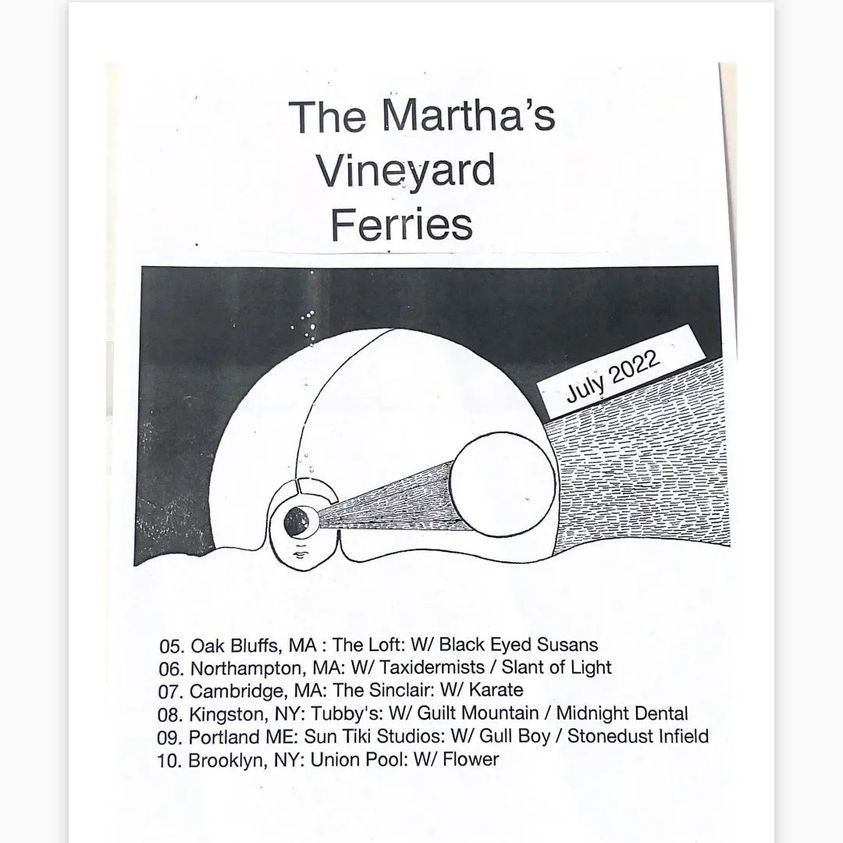 The Martha's Vineyard Ferries are Bob Weston (Shellac) on bass; Chris Brokaw (Come, Codeine) on drums; Elisha Wiesner (Kahoots) on guitar.
Lupa Citta is Jennifer Gori, Sarah Black, and Chris Brokaw.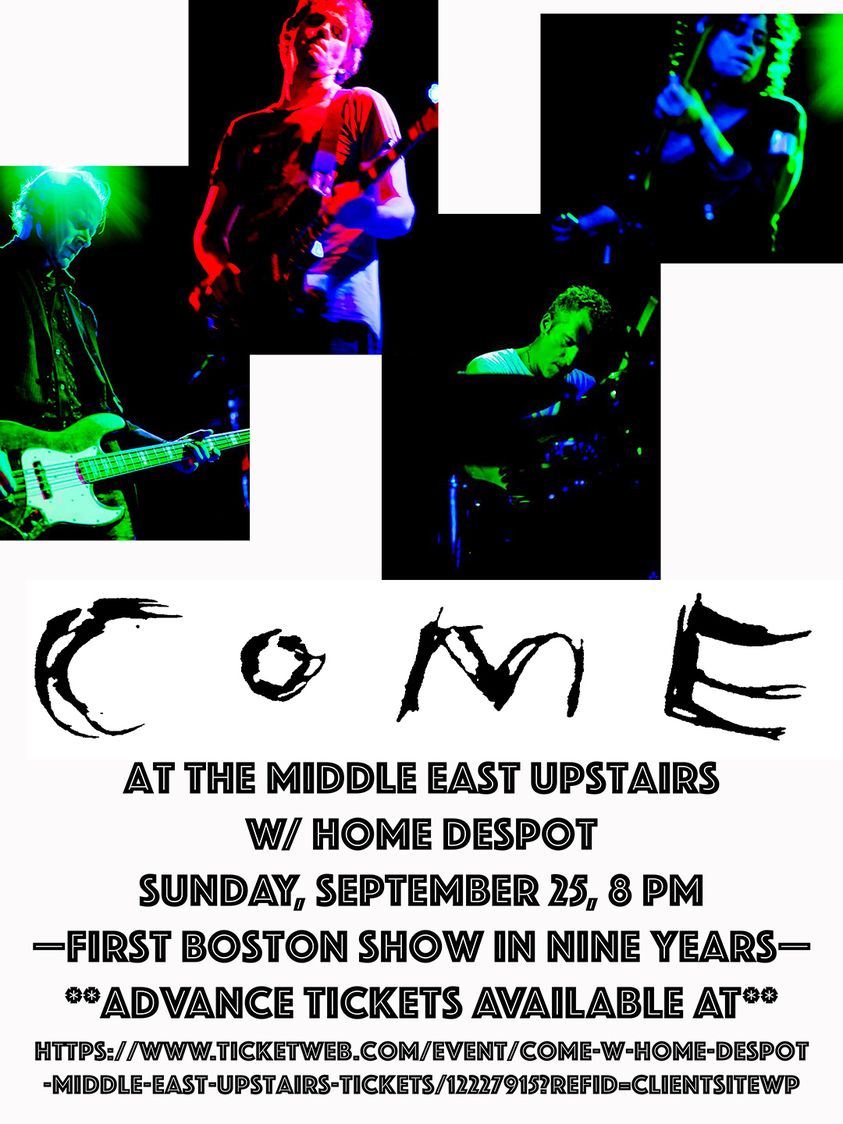 Come's September 25, 2022 show was their first Boston performance in nine years -- and on the stage where they debuted with their first ever show in 1991. Photos on this Middle East poster (Sean O'Brien, Chris, Arthur Johnson, and Thalia Zedek) by Paul Janovitz. See "In/Out" from Sept 25 2022.
Come performing Oct 1, 2022, in Dilksmuide, Belgium. Photo by Barretea/Lapasin.
Come's fall 2022 touring schedule included five shows opening for Kurt Vile and the Violators, including at the Columbus Theatre in Providence, RI, on Oct 29, 2022.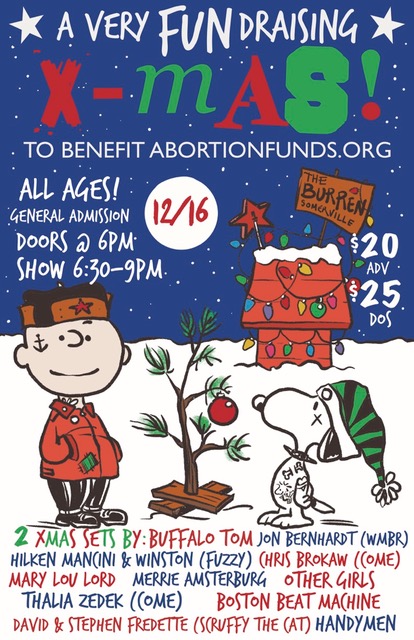 The Dec 16 show at The Burren was a fundraiser for Abortion Funds, which works to remove financial and logistical barriers to abortion access.