time out new york
online here
If art is the communication of feeling, then on CANARIS, Chris Brokaw proves himself to be an artist in full...On the opening track, 'Exemptive,' he leans into a repeated chord with slight insistence, spinning an air of languor into something no lyric could describe or improve.

...the centerpiece of Canaris is the nearly 13-minute "Drink the Poetry of Celtic Disciple" -- remarkably, a cover of a song by arcane French black-metal band Vlad Tepes. This is Brokaw at his best: A pastoral figure draws you in, then breaks into a breathless run, evoking a dash with a new paramour through field and wood, all of it so vivid you can practically smell flowers. The occultish naturalism almost surely present in the original is reduced to hinted-at darkness, balanced with sunlight: a masterful transformation.

the chicago reader
online here
...Chris Brokaw has long been a sort of anti-guitar hero. (That is, when he's not drumming in bands like Codeine or the New Year.) Though he's a superb player, he never grandstands -- he favors a restrained, holistic approach that puts the song first. Half of his forthcoming solo guitar record, "Canaris: (Capitan), is acoustic, even the cover of "Drink the Poetry of Celtic Disciple" by French black metallers Vlad Tepes; throughout its gorgeous 13 minutes, he slaloms from simple fingerpicking to monolithic strumming, creating a near-cinematic narrative more nuanced and expressive than anything I've ever heard a metal band do...

dusted magazine
online here
...a fully-formed album with peaks and valleys, and a diversity of styles held together by a cohesive aesthetic...

prefix
online here
...deep in the heart of Canaris is the title track, a heroic slab of treated drone rock that sounds like Brokaw has been inhaled by a colossal black hole and is performing as all the atoms in his body slowly separate. At other times it sounds like he's cleaving through a colossal piece of metal with an industrial power saw. It's the type of song that needs to be played at punishing volume, and it undoubtedly takes Brokaw down some divergent paths when he plays it live...

haight ashbury beat
online here
...The album's cover -- depicting an animal eating its own tail -- suggests that Canaris is a cyclical and circular movement. This is further realized through the track sequence, which opens and closes with the songs "Exemptive" and "Exempted." These two tracks are dynamically distinctive from each other, but share a similar sentiment of released obligation... Most notable is the outstanding cover of obscure French metal ghouls Vlad Tepes's "Drink The Poetry of Celtic Disciple." Clocking in at just under 13 minutes, this rattling acoustic tour de force carries the listener through the mud and the mist...

delusions of adequacy (UK)
online here
This new -- wordless -- release should certainly add another interesting segment to Brokaw's far from myopic career mosaic. Connecting into the most challenging links in his sonic chains, the naked solo guitar workouts of Canaris revisit both the sparest edges of Pullman's avant-folk and the dissonant minimalism of the solitary "I Was Born, But..." soundtrack. Two lengthy epics dominate the six-track suite; "Drink The Poetry Of Celtic Discipline" (a meandering yet stirring acoustic cover of mid-'90s French black metal outfit Vlad Tepes) and the punishing title-track (a 17 or so-minute plugged-in dronefest). However, it's perhaps the four surrounding shorter-pieces that invite easier and greater affection; namely the John Fahey-meets-Rainer Ptacek meditations of "Exemptive" and "Watching The Clouds," the delicately-mournful "Sanguinary," and the all-too-short Eastern-scented "Exempted."

lazy comet blog
online here
...Like most great artists, Brokaw's skill lies in communicating bracingly real emotions, even when (sometimes especially if) going without his fine/sand vocals. And what he's transmitting is quintessentially American...



---
misc news 2006 - 2009
chris performed as one of 200 electric guitarists with RHYS CHATHAM on august 8 2009. the show, called A CRIMSON GRAIL, took place in new york, ny, at lincoln center (read the preview story in the nytimes and the review in the nytimes).
THE NEW YEAR played 4 shows in spain in may 2009, including the primavera festival in barcelona.
chris performed in vienna, austria on april 25, 2009, in a concert called "The Satellites of Love" -- an evening of the music of lou reed and the velvet underground. he played guitar in a band led by CHRIS ECKMAN (walkabouts, dirtmusic) and featuring members of TOSCA and SOFA SURFERS.
"i remember" from chris' solo record "INCREDIBLE LOVE" is on the soundtrack to the NBC tv show "friday night lights."
"i remember" was also used on the hbo tv show "east bound and down" on march 22 2009.
on the heels of their ebullient appearance at 2008's FESTIVAL AU DESERT, DIRTMUSIC (chris, HUGO RACE [ex-bad seeds] and CHRIS ECKMAN [ex-walkabouts]) returned to bamako, mali in january 2009 for 2 weeks to record their new album for glitterhouse records. they were joined in the studio by members of the malian band TAMIKREST. the album is slated for release in 2010. the band's "IN THE DESERT" is a live cd of DIRTMUSIC performing and rehersing in essakane and bamako, mali, january 2008. limited edition of 500 copies; some are still for sale at www.glitterhouse.com. the band also has a 2007 recording for sale.
COME REUNION -- on november 15, 2008, chris' old band COME reunited for one show at the tanned tin festival in castellon, spain. this was the line-up that appeared on COME's final album "gently down the stream": thalia zedek, winston braman, daniel coughlin, and chris brokaw. a video of "bitten" is online. COME played a surprise 2 song set in 2007 at a friend's birthday (nov 2007 video: "hurricane"); prior to that the band had not performed since april 2001. there are no plans at this point for COME to perform additional shows. more at the pitchfork blog. listen to COME on myspace. feb 2010 profile of COME at chunklet.com includes photos and mp3s.
2008 interviews of note: "Fortunate One" in the boston phoenix and "Chris Brokaw's Stormy Documentary" in the madison avenue journal. both interviews detail chris' recent projects, including his work on a documentary about STORM THORGERSON, a london-based graphic designer most well known for his PINK FLOYD album covers.
bob dylan night at lincoln center: chris did a one-night, one song performance with musician bob mould at the november 9 2006 lincoln center benefit show of music of bob dylan. they performed "if not for you." michael dorf's web site has posted reviews from the new york times, rolling stone, billboard, and new york magazine, as well as the full line-up of musicians and which song each artist performed.
---
"ROAD" is a feature film written and directed by leslie mccleave and scored by chris. "ROAD" premiered at the los angeles film festival in june 2005, where it won the jury prize for outstanding performance for actors catherine kellner and ebon moss-bachrach.

chris won the award for best original film score at the brooklyn intl film festival.

watch the ROAD trailer, or read more at www.roadthemovie.com and at myspace.com/roadthemovie.

the "ROAD" dvd is for sale here, $15 postage paid (US/CAN), $20 (World), paypal address: chrisbrokaw@yahoo.com. it includes leslie's 3 shorts: 'AVENUE X', 'BLIXA BARGELD STOLE MY COWBOY BOOTS', and 'MEETING MARTY'. "ROAD" is also available at iTunes in widescreen format for $9.99 to buy and $2.99 to rent.


winner! on june 11 2006, CHRIS won the award for best original film score (called the Certificate for Outstanding Achievement) at the brooklyn intl film festival for leslie mccleave's feature film "ROAD." the award was presented at a ceremony at the brooklyn museum.
in a preview of the festival, time out ny wrote that "One of our favorite musicians, Chris Brokaw, scored the film 'Road' ... We've seen only a trailer, but even there Brokaw's profoundly evocative guitar playing is moving."
synopsis: "in ROAD, margaret (catherine kellner), a freelance photographer on her first big job, uses the latest government-supplied technology to survey environmental disaster areas. jay (ebon moss-bachrach), her unemployed ex-boyfriend, is along for the ride. the trip does not go exactly as planned and through their own moral lapses, the act of a fickle God or maybe just a paranoid delusion, the couple are forced to confront their relationships to the environment, the world at large, and each other."
read about the movie's use of MySpace, in filmmaker magazine.
---
"INCREDIBLE LOVE" is a full-length rock cd, released october 25 2005 on 12XU;(it's distributed in europe on acuarela and the UK on rock action). the album contains 11 songs -- 10 vocal and 1 instrumental -- and was recorded and mixed by paul kolderie at camp street in cambridge. a 28-page booklet accompanies the cd, featuring lyrics and 15 photographs by chris. special guests on the album include noah chasin, kevin coultas, dave curry, jeff goddard, matt kadane and jonah sacks. chris has been touring in support of the record both solo and with the CHRIS BROKAW ROCK BAND, which features jeff goddard (ex-karate) on bass and kevin coultas (ex-rodan) on drums.

time out new york music editor mike wolf named "incredible love" the best album of 2005, saying "a talent that first appeared on the radar 15 years ago, this singer-songwriter and guitarist delivers his masterwork."
vinyl edition: on june 30, 2008 i and ear records released the deluxe 180 gram white vinyl edition of "INCREDIBLE LOVE", with heavy gatefold sleeve and one bonus track. this is a limited edition of 700 copies, and is available through i and ear records, and this website via paypal. paypal address is chrisbrokaw@yahoo.com. $23 postage paid (US/CAN), $30 (WORLD).
"i remember" from "INCREDIBLE LOVE" is on the soundtrack to the NBC tv show "friday night lights."
"i remember" also was used on the hbo tv show "east bound and down" on march 22 2009.
the improper bostonian's "boston's best" issue (july 12 - aug 1 2006) named "incredible love" the city's best album of 2006, writing that it is "an atmospheric, cinematic tour through some emotionally loaded terrain. affecting without being affected - a rarity in the indie-rock/folk realm in which he's staked his claim - the tunes are simple at their roots, augmented whimsically yet deftly with strings, synths and fuzzed-out guitar."
"their core - brokaw's voice - is solid, as he evinces sincerity and depth without resorting to vocal or musical cliches. codeine, brokaw's first band, used length to express depth, stretching songs out almost interminably. with 'incredible love,' it seems that brokaw's figured out how to do it the short way."
a 6-minute live video of the CHRIS BROKAW ROCK BAND playing in karlsruhe, germany in april 2006 is online at youtube. also at youtube is a 7-minute video interview with chris, complete with solo concert footage, from earlier this spring.
there are long interviews with chris at pennyblackmusic.com and neumu.com (excerpt: "Incredible Love was finished in the fall of 2004 and reflects Brokaw's growing frustration with the war in Iraq. 'The Information Age,' one of the album's most overt protest songs, emerged out of Brokaw's work with Highway Ulysses, an opera put on by the American Repertory Theater in Cambridge, Massachusetts.")
"INCREDIBLE LOVE" was named a top ten cd of 2005 by time out NY ("a talent that first appeared on the radar 15 years ago, this singer-songwriter and guitarist delivers his masterwork"), dustedmagazine.com ("At once countrified, intelligent, confident, complex and windswept, Brokaw is finding himself an active and bracing position between the best works of Lindsay Buckingham and one-time collaborator Steve Wynn, as well as harnessing the post-punk blues menace he's acutely known for to more subtle and effective means. The sleeper of 2005, easily"), and bob mould, in billboard.
bbc.co
by david sheppard, jan 16 2006, online here
svelte Bostonian guitarist Brokaw's fleeting solo career has thus far been restricted to austere instrumental reveries. Dividing the songs between atmospheric rockers and mid-tempo, acoustic-led detours, Incredible Love finally unveils his sandpapery voice, marrying it convincingly with the crisp combo arrangements. It's still his spidery lead lines that impress most, but when a winning vocal melody is demanded - as on the title track (a brisk cover of the Suicide classic) -- he handles it with the swagger of a veteran frontman.
london evening standard
by nadine mcbay, jan 16 2006, online here
[four stars] It would take a complex array of flow charts to do justice to the influence of American guitarist and composer Chris Brokaw. Hero to some, unknown to most, he kickstarted slowcore in the early 1990s with Codeine, helped launch the career of Liz Phair and more recently contributed to Evan Dando's solo debut. Now with Incredible Love, Brokaw has made his most realised and satisfying record to date. Where his previous output has been largely instrumental, here Brokaw proves himself as an intriguing, highly singular lyricist and vocalist as well as the most mesmerising indie guitarist since The Durutti Column's Vini Reilly.
the village voice
by bosler, jan 28 2006
Brokaw tours constantly as a solo act,singing over impeccable, finger-style acoustic guitar. You should remember him for the badass Ennio-Morricone-on-steroids ax work he broadast with his late-great band Come. Expect acoustic versions from most recent rock record, Incredible Love. Tonight he opens for Dando, who he often tours with as Dando's backup six-string slinger--no offense, Evan, but Chris' songs are the better zingers!
other music
by jm, nov 2005
Chris Brokaw has a long and storied musical past, having (among many other credits) founded and drummed in both Codeine and the New Year, founded and played guitar with seminal Matador rockers Come, Chicago instrumental post-folk ensemble Pullman, and more recently has been seen playing lead behind Evan Dando. But anyone who has seen his live solo shows in the past couple of years, or heard the excellent EP that he released last year, knows that Brokaw is perched on the precipice of a new phase of his career as a frontman and singer-songwriter. Released on Matador Records head-honcho Gerard Cosloy's other label, 12XU, the new Incredible Love album is one of the least affected and most affecting new albums I've heard in awhile.
Brokaw is first and foremost a fluid and emotional guitar player on both the acoustic and electric, and the guitars on this album, simple acoustic finger-picking or layered electric squall, are always beautiful and often thrilling. Brokaw the multi-instrumentalist fills in much of the rest of the tracks here himself, sometimes joined by a rotating cast of friends, and the band can rock or relax with equal conviction. But beyond all the great playing and subtle orchestration lie a batch of great, straightforward rock songs, sung in a world-weary yet tirelessly optimistic voice by an artist who seems to be just hitting his stride. Just listen.
the noise
by chris pearson, nov 2005, online here
Combining elements of his unique solo acoustic guitar work and more traditional rock elements, Incredible Love is a masterful blend of many styles, from rootsy Americana fare like "Whose Blood" to the minor-key excursions of the brilliant "The Information Age." The road-trip ramble of "Blues for the Moon" showcases not only Brokaw's rich, original voice, but his gift for words as well. "Move" is a rolling rocker with acoustic flourishes, and the reworking of the solo track "Cranberries" is presented here as an aggressive, full-band workout. The real standouts are the pensive, haunting pieces such as "X's for Eyes," the instrumental "Gringa," and the moody "100 Faces." A cool Suicide cover, "I Remember" is a nice counterpoint and further emphasizes the variety of sounds on this CD, which easily has the potential to appeal to a broad spectrum of tastes beyond the indie-rock pond in which he has such a rich history.
. . . After the quiet beauty of his previous LP, the all-acoustic Wandering as Water, (not counting the all-instrumental Red Cities and a film soundtrack), Incredible Love is a powerful, fully-textured outing that sweeps easy categorization under the rug and further solidifies Brokaw' eclectic reputation on his continuing musical journey.
popmatters
by jill labrack, jan 12 2006, online here
. . .every rock record would be better if only Chris Brokaw would play guitar on it. His fluidity, his heart, his precision and mastery of the instrument have made him a jewel in the overrun world of guitar-based music. . . Brokaw's playing references everything from Flatt & Scruggs to John Fahey to Kid Congo Powers (Gun Club). He has myriad skills but uses them tastefully, always letting the song come through first. . . There's a slight talking quality to the vocals, not going as far as someone like Lou Reed, but just enough to heighten the stories that are the songs. "I was wise, and smart as hell / Regaining all my senses / But I'd follow a certain smell / Instead of following suggestions" Brokaw says on "100 Faces". He stretches out some syllables, crushing others together, to get the right words into the song. The result sounds off at first, but quickly becomes natural. And that can sum up the whole of this record, too. There's a lo-fi quality that can be distracting until the listener hears what the subtlety is hiding. It's the way the notes hit sharply against one another ("Whose Blood") or space themselves away ("Gringa") that provide the texture that gives Incredible Love its range and depth. Chris Brokaw may be known as the guitar guy in some great bands, but now he should be heralded for what he has accomplished primarily by himself.
drownedinsound
by mike driver, jan 2006, online here
[7 of 10 stars] . . .a great country-rock album of an unusually sunny disposition. . .Its underside is as soft and malleable as its back is hunched and hardened, but the heart within beats pure and true.
artsjournal.com
by tim riley, online here
oddly tuneful, confidently sung, with understated yet intricate guitar. The ghost of Nick Drake hovers in the background -- if Drake had come up through Come, Consonant, etc.
carrieneumayer.blogspot.com
by carrie neumayer, nov 2005, online here
In the song "Blues for the Moon" Brokaw sings, "I hummed a Mexican tune / and swung you all around the room / til you turned red and the light outside turned to blue /and you'll be out of here tomorrow." Despite an upbeat tempo and lighthearted finger-picked melodies, something definitely seems awry in this image. This tension between hopefulness and hopelessness is the album's most compelling and recurring theme. . .
intro.de (german magazine)
dec 10 2003, online here
[this is a review, in german, of a show chris played in koln, germany, at the normal records store, way back on dec 8 2003. here's a translation:] Brokaw can play not only much, very well guitar, it is above all someone, which cultivated chord sequences, which go to the unbeteiligtsten listener to the heart in almost uncanny way; a permanent state of suspension, in which the melancholy feels wohlig like a warm bath.


by mike wolf, music editor, dec 29 2005 -- jan 4 2006, online here and nov 10-16 2005, online here

in the "Best of 2005" issue, time out new york music editor mike wolf named chris' "incredible love" the best album of 2005, saying "a talent that first appeared on the radar 15 years ago, this singer-songwriter and guitarist delivers his masterwork."

in nov, wolf profiled chris [image at right, click here to see the full text] "If his spacious lyrics entice listeners to import their own experiences, what fuels Brokaw's songs is his deceptively austere guitar playing. Many of his songs surge from nimble acoustic picking or strumming into electric riffs-like on the album's opener, 'Blues for the Moon' -- and the effect is one of simple yet ineffable power. 'Playing with Chris was freeing,' says [Thalia] Zedek of her friend and former bandmate, 'because he's so strong with rhythm. I would really have to push him to play leads, and even then he'd play them as rhythm leads-chords and melodies at the same time. That complexity has really come to the fore in his solo career. He has the talent to play very full arrangements with just one guitar and a tambourine strapped to his foot.'"
| | |
| --- | --- |
| | |

by robin young, nov 22 2005, online here



by michael brodeur, nov 2005, online here

Around these parts, Chris Brokaw requires no introduction "but Incredible Love sure feels like one. Does that sound bad? It's not supposed to. The quantity and variety of Brokaw's output over the years (from his early work with Codeine and Come, to the grindier textures of the New Year, and the sparse, folk-tinged beauty of his recent film scores and solo material) make it hard to say what Brokaw does best. Incredible Love offers 11 potential answers "with a selection of straight-up folk-rock tracks that draw from every point in his career without resulting in a mish-mash. "Whose Blood" shoots wry Western winks, while "Cranberries" tucks nice, discordant snarls into chugging guitars before opening up into beautifully determined abstractions. "My Idea" is a fresh take on the blame game, with its plaintively repeated "Have you told anyone? / Have you told anyone?" His cover of Suicide's "I Remember" (from which he plucks his "incredible love" for the title) is a welcome diversion, with its streaks of heavy phaser and guitar grit. Incredible Love sounds great, too. It's performed by an all-star ex-list of Brokaw's tightest collaborators "Jeff Goddard (ex-Karate), Kevin Coultas (ex-Rodan) and Matt Kadane (ex-Bedhead) among them. If you're new to Brokaw's work, consider this a high point from which you can survey the rest of the terrain.


by linda laban, nov 4 2005, online here

"I loosened up a bit and invited some other people to the party," said Brokaw. "Actually, when I went to do demos, there was this drum part I wanted for 'Cranberries,' and I thought, 'I just can't do it.' I wanted the last minute of that song to be like Steely Dan's 'Aja.' I knew my old friend Kevin Coultas knew that song, because he's one of the few people who enjoy Steely Dan as much as I do."

Would it have been a different record without the helping hands?

"No, but trying to get that drum part down would have driven me crazy."


by jennifer kelly, nov 2005, online here

. . . as Brokaw steps out in front, the result is low-key and excellent. These songs are unassuming and understated -- "Move" is the loudest, most rock-oriented acoustic you've ever heard . . . the subtler "X's for Eyes" may well be the disc's best, its lovely melody twining around picked guitar patterns. The song twists and turns around its subject, using body metaphors -- bones on a blanket, blood -- to evoke the end of a relationship. Brokaw nails the ending, terminating the song with its most effective image in the lines "While we got awoken / like bugs in the winter / Too dumb to rise / With no sense of proportion / Or thought of dimension / And both started walking / With X's for eyes."


by tom kielty, oct 21-27 2005, online here

It was a long way from Ohio, but an Oberlin College reunion of sorts took place when Liz Phair (Class of '89) reconnected with Chris Brokaw ('86) backstage at Avalon last Friday. Brokaw - the local indie-rock giant best known for his work in Codeine, Come, and Consonant, not to mention his current solo rock-band incarnation - hadn't seen his old friend in more than five years. But the wide-eyed look of recognition on Phair's face spoke volumes. Asked what she remembered about her former schoolmate, she said, "Basically, that I owe him my career."

Brokaw shrugged modestly; Phair gushed on. "At school his band, Pay the Man, was just the bomb. I'd just stand in the back and love them. They were the band of bands." After graduation, the two recalled, Brokaw visited Phair in San Francisco, where "she had the biggest dog on earth and kept going on about the latest Tad single." They remembered how Phair had shared the songs she'd been working on; Brokaw was so impressed that he dared Phair to record them and send him a tape. Soon after, a cassette of 14 originals arrived, followed two weeks later by another 14-track collection.

"A lot were songs that I had started in high school while house-sitting in these empty homes in Winnetka, Illinois," Phair said of the original drafts of such eventual Exile in Guyville tracks as "Stratford-on-Guy," "Glory," and "Flower." "People were always away, so I could make these tapes in quiet privacy." Brokaw, however, dismissed the indie-rock legend that he'd been the one to hip Matador's Gerard Cosloy to Phair's demos, which have come to be known among devotees as the "Girlysound Tapes": "I had no idea about anything with Matador until I read it in Tower Pulse or something."


by will spitz, august 12-18, 2005, online here

Fans and friends of Chris Brokaw packed into the Lizard Lounge on Saturday for the first local appearance of what's being billed as the Chris Brokaw Rock Band. That would be an unexceptional name if it weren't that "Chris Brokaw" and "rock band" haven't been uttered in the same breath all that often since Come, the band he fronted with Thalia Zedek, broke up in 2001. Although Brokaw, whose personal discography is miles long, hadn't given up rock music altogether -- in addition to his mostly instrumental acoustic solo work, he played guitar with Clint Conley's band Consonant and continues to play drums in the slowcore band the New Year -- this was the first time since Come that he'd played his own songs with a rock band. The trio -- former Karate bassist Jeff Goddard, former Rodan drummer Kevin Coultas, and Brokaw finger-picking a distorted electric guitar -- played a short but sweet set, mostly songs from Brokaw's new Incredible Love, which he says is his best album. After its October release, he plans to tour in the US and in Europe, alternating between solo gigs and shows with Goddard and Coultas.

"I wanted to make a record that was kind of a rock record that had acoustic guitar as the center of it," he explains over a tuna-salad sandwich at the High Rise Bakery in Cambridge, a few blocks from his house. "I like how that works for the album. And then I thought, to promote the record, I really should do some touring with a band, since that's how it is on the record."

So why the return to rock? "As I was playing solo gigs, I started singing more. I started envisioning the stuff with bass and drums." Also, after a few years of listening mostly to jazz, he rekindled his love for rock through bands like Joshua Fit for Battle, Converge, and Pig Destroyer. "It was just time to start playing rock music again."
---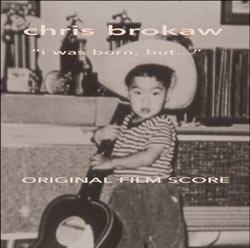 this cd is the soundtrack for the film "i was born, but. . ." by roddy bogawa. in his liner notes, chris explains how he and roddy hooked up:

"my friend john engle called me up about ten years ago and said, 'i have a friend named roddy bogawa who's been working on a film for several years. it's very "avante-garde", and no one will ever make a dime from it, but he's going to call you in a couple of days and ask to license a Come song for the film, and you should say yes.' he did, and i did. the film was called 'Junk', and was a real delight.

"in november 2003 roddy came to a show i was doing in brooklyn and asked if i'd like to score a new film of his. i'd never scored a film before and was really eager to work on it. i didn't really know how it was done, but i felt very at ease with roddy and figured we could do this together.

"roddy and i really hit it off, i think in some part by having grown up around the same time, on opposite coasts, with punk rock becoming a really important part of our lives. i think we've each spent a lot of time deciding what exactly that means to us.

"i love the film. i love the fact that roddy will take the time to find a great shot, and just linger on it for a while. it's really refreshing to me. it feels brave. i love the fact that i still don't know exactly what the movie is 'about'. collaborating with roddy on this was a pleasure and a great privilege."
the film debuted at the chicago underground festival and the cd was released in nov 2004 by atavistic and 12XU.


by tom hughes, april 18 2005

Pick of the Week: Chris Brokaw: The ace former guitarist for ultra-melancholic 90s rockers Codeine and Come breaks out his (slightly) sunnier, folkier solo moves, touring his new "I Was Born, But . . ." album. Spirited pastoral pickings and a bit of backwoods spook, good stuff.

by david smith, february 22, 2005, online here

. . . In a time where movie soundtracks have become cross-promotional vehicles, where the songs chosen are meant to appeal to this or that hot demographic and move product, it's refreshing to hear 'I Was Born, But . . .', which feels like it was actually scored for the film. There's no 'I Was Born, But . . .' video game or breakfast cereal, in other words. The songs here are -- for the most part -- deliberately spare and simple. They are meant to complement the film, not intrude upon it needlessly . . .


by nolan gawron, february 16, 2005, online here

[this is from an interview with thalia zedek, chris' partner in crime in the band come]

Q: What's up with Brokaw? Why does he insist on being in 30 bands?
TZ: Yeah, even when I first met him, he was in 30 bands. He likes to be busy, and he likes to play. He plays two instruments, too, so he can fit in everywhere.
Q: Do you miss the old days at all?
TZ: Sometimes I do. I miss playing with Chris. He played a lot on my first solo record, and we did a bunch of gigs together; but, like you said, he's in like 30 bands, so we hardly ever get to do that anymore. Hopefully, one day all of us will be in town, and we can play together again.


by ted drozdowski, january 14-20 2005, online here

[three stars] Local guitarist Brokaw, who is currently on a national solo tour, remains one of the hardest-working musicians in anti-show-business. Besides playing in Pullman, Consonant, and other outfits, and cutting excellent albums including 2001's epic Red Cities (Atavistic) under his own name, the former Come co-leader has just turned in this soundtrack for filmmaker Roddy Bogawa's exploration of his own formative years as an Asian-American punk-rocker.

Rather than submit to punk's loud and fast rules, Brokaw has composed music that's the quiet, slowly evolving equivalent of Bogawa's visual style. Sometimes it's reminiscent of Hawaiian slack-key guitar, albeit played on electric. At others it splits the difference between the lapping sonic waves of Brian Eno's ambient textures and the buzz-and-hum of early Throbbing Gristle, plying industrial melodies that would seem equally right on an assembly line or in a concert hall. The disc opens with "Reeperbah," an acoustic-guitar number with ringing arpeggios and a stately cadence, and finishes with "Friendly Eyes," a stuttering electric improvisation. But the journey between is pure Zen.


by tom kielty, december 31 2004, online here

Chris Brokaw is truly one of the Boston music scene's underappreciated treasures. His innovative musicianship with both Come and Codeine ensure that his mark in the city's alternative rock legacy is indelible, but he has grown out of those projects to contribute and tour internationally with the likes of the New Year and Evan Dando. "I Was Born, But . . ." finds Brokaw successfully tackling another medium, the film score. His guitar work for this indie movie is never less than evocative. At times, such as on the sweeping and symphonic "Dust" and the outright scary "Chinatown," his playing suggests Radiohead recording its moody textures from an outpost in the American Southwest.

The album begins with the soothing meditation "Reeperbahn," and when juxtaposed with the cold relentlessness of "Golfing" or the brawny Neil Young-like snippet "Gristle," the tracks demonstrate Brokaw's dexterity remarkably. Although the composer's inspirations on this instrumental release may be eclectic, they do not hide the fact that he also can deliver an exquisite melody. If that was ever in doubt, the reflective "Huntington Beach Sunrise," with electric guitars resembling soft, sonic church bells, and the throbbing "GPS" would be dead giveaways.

by carsten wohlfeld, december 26, 2004, online here

[this is an interview / Q & A with chris about having a music career, touring, and song titles. It includes this exchange:]

Luna Kafe: Most of the songs seem to have titles linked to the scenes they were used for, but what about "Reeperbahn" (and more generally, how do you usually find names for your instrumental pieces)?

CB: Actually, that's a funny one . . . I was trying to write lyrics for that song while sitting on a train leaving hamburg at eight o'clock on a sunday morning. . . . The sun was rising on the Reeperbahn . . . but it started to turn into a "road song", you know, a song about being on the road, which I really did not want to do. I decided when I was about 13 years old that I never, ever wanted to write a song about how hard it is to be on the road. I think it was from listening to Jackson Browne's "Running On Empty", and my little punk rock brain saying: Fuck this rock star, what the fuck is he complaining about? -- nonetheless I kept thinking about it as that 'Reeperbahn' song. Usually the songs will actually have names that I attach very specifically to that music for specific reasons, but occasionally it's as random as this and just sticks with it.

by elaine beebe lapriore, november 28 2004, online here

When Roddy Bogawa needed music to score his autobiographical Asian American coming-of-age film "I Was Born, but . . ." he first looked to the bands that helped mold his youth in Los Angeles: local bands X and the Minutemen, plus punk and early hardcore bands such as the Dead Kennedys, the Clash, Buzzcocks and Minor Threat.

Licensing proved a hassle, so Bogawa approached a musician from two of his favorite bands to write and perform the score. Chris Brokaw played in Codeine and the intense Boston band Come, a group Bogawa would go see every chance he got and a song of whose he licensed for an earlier film.

In Brokaw, Bogawa chose a peer; though they grew up on separate coasts, it was to the same punk soundtrack. The score Brokaw wrote and performed, his first venture into writing music for film, hints of nonconformity burnished by the introspection of maturity -- a punk sensibility that's grown up and turned inward.

All instrumental and nearly all solo guitar, the songs share a woodshedding tone. You can easily imagine Brokaw watching a film, clutching a guitar and bursting forth with the Asian-inflected "Gristle" or "GPS," which nods to X's "Johny Hit and Run Paulene." The best of the batch, "Damon's Hawaiian Blues," blends slack-key sounds with a dash of Mississippi Delta.

Brokaw's fiddling with feedback works best when done briefly. The 11-minute "Chinatown" may enhance a visual backdrop but fails to truly compel on its own. On the swirling "Dust," however, Brokaw crafts a four-minute sonic dust devil, one of those capricious sand tornadoes so common in the desert Southwest: no film necessary.


by ronnie scheib, august 8 2004, online here

Roddy Bogawa's third feature reps the filmmaker's entry into the personal diary genre, though few helmers would delve so far into minimalism as to film themselves leafing through an old L.A. Weekly for lengthy minutes on end. Unlikely to venture beyond fringe and/or Asian venues, "I Was Born, But ... " is a welcome addition to the underground canon.


by roo simpson, august 18 2004, online here

[this is an interview with chris at the evan dando website about playing with evan, his current favorite music, and musical plans.]


may 6 2004

Brokaw is the Boston indie guitar slinger who's been in and recorded with a laundry list of bands during the past 15 years, but mainly with anti-blues group Come. He's on a never-ending world solo tour. . .

by chris rediske, march 2004, online here

[this is a profile of the band karate. chris played guitar on two tracks of the karate record "pockets," which was released in the fall of 2004. in this pitchfork story, karate's geoff farina says this about working with chris: "His guitar style is really unique and idiosyncratic. Come was one of my all-time favorite bands, so I just kind of laid back and enjoyed the ride when Chris played. His guitar is a bit more up-front than mine, which was great because I could concentrate on the singing. Neither of the songs that we did with Chris have guitar solos. Gavin and Jeff and I really respect Chris' approach and tried to let it guide the songs, rather than asking him to play rhythm guitar under my solos."]
---
"so here's what happened: about a year ago i met this guy named greg weeks at a festival we played together in spain. nice guy. about six months later he emailed me and asked if i'd be interested in participating in a compilation cd of men covering songs written by women. i started thinking about all the songs i'd like to cover . . . and then more specifically about songs written by women i'm friends with that i'd like to cover. . . and then even more specifically about songs of theirs that have never been released <ETH> in some cases, songs i'd heard tapes of that have been stuck in my head for years. i decided i wanted to do something outside the scope of the compilation. i ended up piecing together one song by me, and these three covers. my great thanks, then, to the ladies, and to mr. weeks." -- from the liner notes
"my confidante + 3" features a rock version of "my confidante" by chris, "1000 mph" by thalia zedek, "in love with yourself" by liz phair, and "across the blue" by holly anderson and lisa burns. it was recorded in october and december of 2003 by andy hong in cambridge, and was released in april 2004 by 12xu. e-mail chris at redcities2002@yahoo.com with any questions. below is recent press.


by douglas wolk, july 28 2004

Brokaw's played at one time or another with Codeine, Come, Consonant, and Cobra Verde (sense a pattern?); his own songs are haunted and blasted, sustained by the precise violence of his guitar playing.


by rob devlin, july 2004, online here

. . . easily the most electrifying work Brokaw has ever produced. His interpretation of these songs is full of strong choices and a clear vision, with his own twists and turns thrown in just for fun. The update of the title track is the way the song was meant to be heard: multi-tracked guitars, powerhouse drums, and a confident yet slightly flawed vocal. It blows the previous version away easily. Brokaw has chosen artists he greatly respects as well as songs that he loves, and his partnership with Zedek in Come produced some great songs and records, so it's a fitting choice as well as a straightforward interpretation. On Zedek's "1000 MPH," a punked-up energy level suffers only slightly without the vocal presence of its author. "In Love With Yourself" predates Phair's seminal Exile in Guyville and it shows, as it's a cheeky and almost corny song that's just clever enough to be amusing, which she'd never dare approach today. It benefits from this re-envisioning of just guitar and voice, and it even shows a little sense of humor on Brokaw's side. It is the last song that is the cornerstone, though, as "Across the Blue" is grandiose and labored, with a relaxed performance with great guitar lines and atmospherics.

[you can also find, toward the top of the page where this review resides, a link to The New Year video "disease" and another link a 22-minute Quicktime streaming video interview with The New Year.]


by matt ashare, july 9 2004, online here

[this is an interview with matt kadane about the new year, and an item about "my confidante + 3":]

Along with playing drums in The New Year, guitar in Consonant, and regularly touring with the likes of Evan Dando and Steve Wynn, Chris Brokaw has continued to keep himself in the running as one of Boston's hardest-working indie-rockers with the release of a new four-song EP, My Confidante + 3 (12XU). Brokaw first started making solo recordings when he was still a member of Come and was in the process of becoming fast friends with Chicago post-rock guru Doug McCombs. He also recorded with the more experimental, largely Chicago-based group Brokeback. But My Confidante + 3 is a totally different beast that finds him safely back in the guitar rock fold . . .


The New Year: Mike, Josh, Peter, Bubba, Matt, Chris


june 10 2004

Chris Brokaw has quietly taken his place as one of the best performers in the country -- so quietly, in fact, that we'll yell it as often as we need to. The onetime drummer for Codeine and guitarist for Come is now making the rounds as a folkie -- one with a satchel of songs that range from white-knuckle intensity to coy humor.


by bosler, voice choice for june 13 2004

Brokaw tours constantly as a solo act -- impeccable finger-style acoustic guitar and vocals -- and with others: lead guitar in Consonant, Even Dando, Pullman; plays drums with the New Year; and still finds time to do a movie soundtrack or two. A true troubadour and guitar genius whose shows are always inspiring. For Come fans (his old band) who miss his electric side, check out his superb new EP, "My Confidante + 3."


editors' pick for june 4 2004

"It's so good, I almost wept," said Liz Phair backstage at the KISS 108 concert a couple of weeks ago about her old pal Chris Brokaw's rendition of her early, unreleased song "In Love with Yourself." Brokaw's version appears on his new EP, "Commandante + 3" [sic] (on 12XU, the label run by Gerard Cosloy, whose Matador imprint issued seminal records by Phair and Brokaw's most noted band, Come). . . . "I wouldn't be in this business if it weren't for Chris," Phair said, recalling that 10 years ago, Brokaw dared her to write her first songs and then passed the tape (now widely bootlegged as "The Girlysound Demos") along to Cosloy. A lost gem, "In Love with Yourself" sketches the kind of ambiguous, emotionally complex encounter (loveless lovers caught in a nasty bout of make-up sex) that Phair excels at. "I'd forgotten the lyrics to that song," Phair said, "but he got the tone of voice exactly right."


by eric f., early 2004, online here

[this is a long interview in french, where chris talks about his early influences ("Kiss, Jeff Beck et des New York Dolls"), his collaboration with Thalia Zedek, and who he's listening to now (Cecil Taylor, Misha Mengelberg, Franco D'Andrea, Bud Powell, Andrew Hill, Thomas Brinkman, among others).]


april 23 2004, online here

[this is a preview story about chris in catalan.]

by jam albarracin, april 17 2004, online here

[this is an interview in spanish. The same interview also appears at the spanish web site mucia rock.]


by domenico grio, spring 2004, online here

[this is an interview in italian, at a site that dubbed chris "underground hero".]


by walter kraus, april 12 2004, online here

["my confidante" is named "beat of the week" (see KW 16)]

by javier becerra, april 2004, online here

[this is a long interview/profile of chris, in spanish]


by chris pearson, review of march 12 2004 show, online here

As a musician myself, seeing Mr. C.B. play usually makes me wanna go home and destroy my guitar or chop off my fingers because he is just that good. . . . Brokaw proceeded to ROCK THE HOUSE with an acoustic guitar, a jerry-rigged tambourine bungee corded to his foot, and a couple of effects. Period. . . .

by adrian, april 19 2004, online here

. . . Showing off both his fluent instrumental prowess (with 2002's one-man and wordless debut "Red Cities") and his power as an instinctive troubadour (on last yearÕs exceptional vocal-led "Wandering as Water"), Brokaw has revealed that his years as a solid sideman have been well spent on creative grooming. Now comes this more than substantial -- but crucially not overfilling -- interim snack to further emphasis this self-awakening. [The song "My Confidante" is] a classic tale of betrayal, defiance, and revenge straight from the darkest end of the Brokaw songbook. . . . But the undoubted key delight of this bittersweet four-part collection is saved to last with "Across the Blue," a song part-authored by Boston poet, visual artist, and Mission of Burma collaborator Holly Anderson. Over a wash of shimmering, tremulous, and twangy guitars, ocean-bed trawling bass, and a gentle percussion patter, Brokaw proves himself as a master of understated dream-like beauty, with a lyric he truly makes his own . . .


by megan milks, march 20 2004, online here

At the Red-Eyed Fly [at South by Southwest, March 20 2004] Brokaw . . . pulled out a Liz Phair cover: "In Love with Yourself" off her 1992 Girlysounds demos. I'd never heard the song before, but could hear her voice in his. Originating from a project that asked men to cover songs written by women, Brokaw's rendition brought out the triptych of anger, vulnerability and humor nestled in the chorus, "Don't be so in love with yourself/ 'Cause I'm not." I hung on every word, bought the EP and have been listening to it ever since . . .


by walter kraus, april 2004, online here

[this is a review in german of 'my confidant' -- the web site named the ep the "beat of the week"]


by moritz hoffmann, 2004, online here

[this is a review, in german, of "my confidante + 3." given an 8 out of 10. rough translation of the beginning of the review, courtesy of altavista's babel fish: "The man is world experienced. It gave to the melancholy with Codeine a new face and with Evan Dando the relaxation of the Songwritings invented. And itself with all a good reputation production. Chris Brokaw is one the large ones. . . ."]


april 8 2004, online here

[this is a preview -- in spanish -- of chris' april 16 show in murcia, spain. includes a nice publicity photo.]


by carsten wohlfeld, 2004, online here

[this is a review, in german, of "my confidante + 3."]

2004, online here

[this is a three-star review, in italian, of "my confidante + 3." beware: this is a long page and very slow-loading.]


by christian spiess, ullrich maurer, and carsten wohlfeld, dec 2003, online here

[this is a collection -- in german -- of three reviews of live solo shows chris did in germany in december, 2003. includes a fabulous photo gallery of 17 pictures from his club performance at kampnagel in hamburg, his in-store performance at normal records in koln and his house concert at carsten's in essen]
---

| | | | |
| --- | --- | --- | --- |
| "wandering" | highway ulysses | evan and chris (photo by joerg conrad) | consonant |

chris' "wandering as water" solo record was named one of the top ten records of the year by gerard cosloy of matador and 12xu, and pitchfork media calls the cd "one of the most overlooked gems of the past year."

"highway ulysses," the theater production that the EMPTY HOUSE COOPERATIVE co-wrote music to and performed live at in march 2003, was called "the best production of the year" by The Boston Globe's ed siegel in a dec 28 year-end review, and one of the ten best productions of 2003 by The Boston Phoenix's carolyn clay. the full text of the play and an interview with playwright rinde eckert were featured in the sept 2003 issue of american theatre magazine. said rinde: "Empty House is the perfect band for this process. I'm a schooled musician who reads music and writes notes on paper when I need to; Empty House is dedicated to improvisational music, pays attention to the moment and keeps away from academic protocol. . . . it was just very refreshing all around." the story of how ehc became involved in the production (along with a photo of chris and david michael curry) is online at the american repertory theatre site.

EVAN DANDO's "baby i'm bored" was named one of the top ten records of the year by the uk's mojo magazine.

CONSONANT's 2003 record "love and affliction" was in the top ten best boston rock cds list of The Boston Phoenix's brett milano: "This is a harsher, louder, and more Burma-like sequel to the homonymous debut that topped my list last year. In some ways, it's also a better album, since Consonant sound more like a fully realized band and guitarist Chris Brokaw has found his rightful place in the mix. . . . " profiles of consonant appeared august 2003 in the boston herald and boston phoenix. the band's writeup in the all music guide database links to background information on all the musicians.



---
chris' solo acoustic lp "wandering as water" was recorded in february 2003. it is part of the "return to sender" series of normal records of bonn, germany, and is a limited edition of 2000 copies. it may be obtained by sending $15 (cash or check made out to chris brokaw) to: chris brokaw, 69 chilton street, cambridge ma, 02138. the cd is also available through normal and forced exposure. e-mail chris at redcities2002@yahoo.com with any questions. below is press from 2003 about the cd.

by stewart lee, april 11 2004

*** (three stars = outstanding, the highest ranking)

THE GUITARIST Chris Brokaw has threaded his way through the best American music of the past 15 years, yet remains as anonymous as William Hague. In the 1980s, he kick-started the slow-core genre with the somnambulistic sound of Codeine, then crossed grunge with the blues in Thalia Zedek's Come. Recently, he has enlivened Dream Syndicate frontman Steve Wynn's acclaimed solo albums, created a jazzy acoustic folk with Pullman and co-written Evan Dando's Lazarus-like comeback record. Brokaw's first solo release, 2002's Red Cities, showcased searing, amplified instrumentals. His second finds him in acoustic troubadour mode, stripping back his twisted extrapolations and quietly sinister songs to more primitive, and oddly more affecting, states. Like Brokaw himself, Wandering as Water is a quietly special proposition -- and it's limited to 2,000 copies.

by brandon stosuy, december 9th, 2003, online here

One of the most overlooked gems of the past year, Chris Brokaw's second solo full-length showcases the songwriter's commitment to dreamy Americana and stunning acoustic explorations. . . . Brokaw inhabits an unassuming, almost anonymous space with his quiet acoustic strums, warm voice, wordy vocal lines, and single foot-tapped tambourine. Like his previous all-instrumental Red Cities 2002), this largely vocal offering creeps along an unadorned path towards anachronistic purity, opening up and gathering detail with each repeated listen. Recorded live, it's breezy and intensely focused. . .

The splintery, patient acoustic interpretations of Come's "Shoot Me First", "Recidivist" and "German Song" are gorgeous. "My Idea", a track he wrote with Lemonheads collaborator Tom Morgan that ended up on Dando's Baby I'm Bored, stands out as better enunciated and intoned than Dando's slacker version . . . the prairie instrumentals are especially strong, each evoking a well-drawn visual sequence. "La Playa" and "Calimoxcho" tackle subtle rhythmic variations, evoking at times the pace of a silent but emphatic one-step across the damp hay of a darkened barn or a jangling horse ride through the night to a dozing loved one . . .

Brokaw continuously dances nimbly through these sorts of unexpected shifts; his acuity with control and complexity creates a subtle, unspoken poetry . . .


preview of new york solo show november 21 at north 6
by mike wolf, november 20, 2003, online here

Early in Chris Brokaw's recent show at Tonic, he offered that people in the audience should actually turn their cell phones ON for the performance. But don't take Brokaw to be your typical self-deprecating guy with a guitar. For the duration of his solo acoustic set, through emotions ranging from grim regret to placid hopefulness, the one thing the Boston artist projected consistently was a simple confidence that reflected his easygoing mastery. . . . Both onstage and on Wandering, he moves gracefully from harrowing moments--especially on "My Confidente" and "Recidivist," the latter perhaps the best of Come's many great songs--to extended passages of knotted yet lovely picking and strumming . . .


preview of new york solo show november 21 at north 6
By D. Shawn Bosler, november 2003

Brokaw is an underground guitar hero, though he might prefer to be categorized in the singer-songwriter vein. His excellent most recent CD, Wandering in Water, is a bow to Fahey and Spanish guitar, which also does some acoustical re-workings of his late-great band, Come.


by julia kussius, december 2003, online here

[this is a review Ð in german Ð of chris' dec 6 2003 show in hamburg for the german online music site pop frontal. includes photos!]
. . . A long-time admirer of the songwriter Townes Van Zandt, now Brokaw has an opportunity to let his own songwriting shine on Wandering As Water. If you've seen Brokaw live, you know how much staid energy can come from one man. Armed with his guitar and a lone tapping tambourine, these recordings echo those performances in both their simplicity and in their power. Instrumental pieces embued with harmony and coated in emotive grace. Brokaw's vocals come just as easily as the slide on his guitar, and soon enough, the listener is drawn into the kitchen, where he's found a place to play and a few sympathetic ears. Like Van Zandt, Brokaw already has a wide swath of experience from which to draw pointed observations and gruff realities. People shift, things change, life goes on. But that guitar sound and tapping tambourine seem to remain. Constant. Another stripped-down gem from Return To Sender.


carly carioli, july 17, 2003, online here

On the final two Come albums, Chris Brokaw stepped forward to take lead vocals on the occasional tune, and those efforts ranked alongside the band's finest. Although Brokaw's solo debut was an all-instrumental affair, his new album, "Wandering As Water" (on Germany's Normal Records), recorded live by Paul Kolderie earlier this year, parallels the live solo sets he's been performing while touring with (and opening for) Evan Dando lately -- a mix of instrumentals and vocal tunes played on acoustic guitar, including superb, stripped-down renditions of Come's "Shoot Me First," "Recidivist," and "German Song," plus "My Idea," a song he wrote with Lemonheads collaborator Tom Morgan that ended up on Dando's "Baby I'm Bored," and covers of enlightened folkies Fred Neil and Jorma Kaukonen.

by marco delsoldato, online here

This is the umpteenth gem from one of the cornerstones of the American indie scene . . . Nowadays Chris plays around with the particulars, conjuring up acoustic tracks which lie somewhere between the purest of folk and the intimate, desolate ballad ("My Ideas", "Bricks"). Among the fifteen treasures there's a version of "Embryonic Journey" by Jorma Kaukonen and some tracks from the Come days, the unforgettable "Recidivist" and "Shoot Me First" among others . . .

by carsten wohfeld, june 2003, online here
[this is a long profile in german of chris and his musical career, posted as a web exclusive for the german edition of rolling stone. if you don't know german, a mostly incomprehensible but occasionally hilarious computer-generated translation is here. sample translated quote from chris: "At the time I had begun straight to play Soloshows with the tambourine at the foot, which besides still from a microphone was removed. I had the feeling, which thought people before the stage, I am ripe for the flips!"]


by carsten wohfeld, july 2003


[the cd review on the right appeared in DNAsix, a monthly music mag in germany. the live review on the left, of chris' solo show may 26 at the mousounturm in frankfurt, appeared in westzeit, another monthly music magazine in germany. you can see them upclose online here.]


by ullrich maurer, summer 2003, online here
[this is an interview with chris by a german internet magazine. during the interview, chris is asked to identify and comment on songs by Mission Of Burma, Tom Liwa, Neil Young, The White Stripes, The Rolling Stones, M. Ward, Richard Thompson and Low. this interview is in german but somewhat intelligible even if you don't know the language.]


by joan anderman, march 14, 2003

[this is a profile of the the empty house cooperative during their stint with the american repertory theatre. photo by dominic chavez. left to right: chris, playwright rinde eckert, jonah sacks and david michael curry with his coat rack bass.]

". . . "'This is the sound,'" recalls Eckert of hearing Empty House's music. 'There was an unusual timbre, a sense of openness. Something that sounded contemporary and ancient, out of the ordinary but accessible. We got together a couple of times, and there was a brightness in the room. Once I met them, I didn't have much doubt . . .'"
-- see the full story as published in the boston globe
---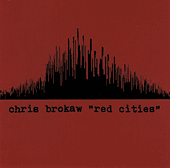 chris' debut album, "red cities," was released june 2002 on atavistic records (chicago) in the US and on 12XU (london) in europe and the UK. the album, all instrumental and performed entirely by chris, was recorded by pete weiss at zippah recording and mixed by pete with paul q. kolderie. "red cities" is also issued on black vinyl by boston's kimchee records. during 2002, chris was occasionally joined in performance by "the red cities orchestra" -- chris on guitar, matt kadane on guitar / percussion, david michael curry on guitar / percussion, milo jones on guitar, winston bramen on bass and arthur johnson on drums. below is press from 2002 about the record.


by ullrich maurer, 2002, online here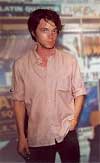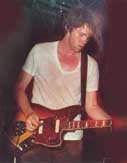 [this is an interview with chris by a german internet magazine. in german. includes these two cool photos by ullrich. ]


by carsten wohfeld, 2002, online here
[this is a review of "red cities" by the same german internet magazine, which terms him "a man - a legend."]

by justin sinkovich, september 6 2002, online here

Chris Brokaw's fluid, melodic, and crisp guitar playing is easily recognizable. That Jaguar/Jazzmaster-meets-Fender Twin has been cutting cleanly through one great album after another. . . . The new millennium has seen Chris Brokaw distinctly contribute to two different new bands. He returned to the drum kit for the Kadane brothers' post-Bedhead work in The New Year. Then he and Matt Kadane both joined former Mission Of Burma member Clint Conley's new band Consonant, this time with Brokaw on guitar, delivering that patented tremolo swagger again. So in 2002, at a time when Brokaw's contributions to indie music have taken on an entirely new identity, amazingly he delivered his first entirely solo album, entitled Red CitiesÉHis instrumental pieces build, braiding the instruments together wonderfully. Chris Brokaw has consistently proven that he is an extremely talented fellow, providing us with hours and hours of some of the best indie music available.


by jorge peláez, 2002, online here
[this is an interview with chris by a spanish internet magazine. in spanish.]

interview by jon langmead, oct 2002

". . . It's hard to say how [my] playing has changed over the years. At least in the context of playing in rock bands, it's become very familiar and very comfortable to me. I feel like I know what I'm doing. Some times I feel like I sort of slip into a role, which can get boring, and so I've really enjoyed the challenge of playing solo which is completely different from playing with a band. Much scarier, much more of a challenge. I don't know . . . it's still different every night, thank god. It's still really exciting to me. If anything, I try to take in the environment, that day and night, as much as I can, and try to apply it or have it inform the show that night. . . ."
-- see the full interview


preview of london solo show august 7
by sharon o'connell, august 6, 2002

Chris Brokaw's heritage is so impressive he should really have his own coat of arms. . . . His live show this week is to promote his recent solo debut Red Cities, an astonishingly potent brew of guitar and percussion, played solely by Brokaw in what must have been endless studio sessions, so densely layered are his compositions. The resultant landscapes are ravaged but beautiful beyond belief, reflecting both the dark, blues-strung grief of Come, and the lean-lined, horizon-fixed heft of Codeine . . .
-- see the full story as published in time out london


by eric snider, july 31 2002, online here

Possessing an impressive post-rock resume that includes stints with Codeine, Come, Pullman and The New Year, Boston's Chris Brokaw is a guitarist of a different stripe. He also happens to be a drummer of some repute, which he uses to help shape and color his solo disc, Red Cities, an eclectic and eminently listenable outing that's long on melody and layered texture and virtually devoid of improvisation, stunt-like or otherwise. Brokaw glides through a variety of moods: the slow, building arpeggios of The Fields; the corrosive chords on Gauntlet, which call to mind The Beatles' I Want You (She's So Heavy); the spaghetti Western feel of Calimoxcho; the controlled cacophony of Bath House. Two of the best songs showcase his postmodern take on roots styles. Topsfield State Fair, is, on the surface, a twangy two-step, but the ominous chord sequence is just a bit off, as are the crashing intrusion of occasional rock power chords. At the Crossroads repeats a simple, slurry slide figure, evoking the Delta by way of the desert, as dissonant atmospherics well up in the background. On Red Cities, Brokaw proves himself to be more a composer and sound sculptor than out-and-out ax man, but one suspects he's got some hidden guitar slinger in him too. [three and a half planets]


by mark keresman, online here

Some listeners/readers familiar with less-commercial variants on what's come to be know as "alternative rock" (a phrase about as useful these days as "progressive jazz," as that's been applied to Stan Kenton, Teddy Charles and Anthony Braxton) might know the guitarist Chris Brokaw. Brokaw has been in the indie-rock bands Come and Codeine as well as the John Fahey-inspired instrumental collective Pullman - here, he steps out on his own. Playing all electric and acoustic guitars and percussion, Brokaw weaves a dense, languid, cinematic-sounding spell that's equal parts Henry Mancini, Bill Frisell, John Barry, Ennio Morricone, The Tornadoes, Les Paul, Chet Atkins and Jimi Hendrix (the latter in his more restrained moments), mixing tremolo, surf/noir-twang, smoldering leads, spry country-ish picking, evocative, haunting melodies and shimmering-sunset-on-the-wide-open-plains textures. Brokaw is no virtuoso, but that's the point, or part of the point: while a fine guitarist, Brokaw seems more interested in drawing listeners' attention to the "whole" of the Song - the Mood, rather than The (showy) Technique. Red Cities is a good one for the Guitar/Instrumental Fan. (Plus: there's a REALLY nice treatment of Burt B's "The Look of Love" here.)


preview of the nyc red cities orchestra show at tonic july 7
by mike wolf, july 4, 2002

As indie-rock artists go, Chris Brokaw has a resume that's beyond reproach. . . . All of Brokaw's skills (besides singing) are displayed on his new full-length solo debut, Red Cities (Atavisitic), an enthralling spread of guitar-and-percussion instrumentals that have as much emotional power as - and greater range than - any of his previous outings . . .
-- see the full story

by leon mcdermott

Chris Brokaw is one of those people who has been floating around on the edges of American music for a good decade and a half, quietly making good music whilst all around him people scramble for the next big thing . . .
-- see the full story


by carly carioli, july 4 2002

Chris Brokaw strolls into the Paradise looking more tired than usual. Even when he's at his most alert, a certain weariness clings to him. Back when he was the drummer in the slo-core indie outfit Codeine, one might have written that off as an occupational hazard. But as the lead guitarist in Come, peeling off howling weathers of chords, he also maintained a rumpled composure. Now, as Brokaw comes upon the other members of Clint Conley's band Consonant, they take him in, smiling. They haven't seen him in more than a week. After playing guitar with Consonant and drums with the New Year (his band with the Bedhead brothers, Bubba and Matt Kadane) at England's All Tomorrow's Parties festival, Brokaw stayed on to play a round of dates accompanying Evan Dando on guitar and opening the shows with his own solo set. He also got into a car accident: he and a friend emerged unharmed, but their rental van, with just 31 miles on it, didn't fare as well . . .

. . . He cites recent shows by Dutch cellist Ernst Reijseger, horn player and jazz innovator Joe McPhee, and acoustic bluesman Chris Smither as having affected his idea of what a solo performance could be: "People who went up on stage with one instrument and just create a whole fucking galaxy. That's what I'm aspiring to do . . ."
--see the full story

by patrick jennings, july 2002

. . . Brokaw played all instruments on the album, but, surprisingly, was keen not to use computer-based-recording, preferring to commit everything to two-inch tape. "I know it seems slower, but with computers you can endlessly correct everything," he claims. "I set myself a certain amount of days to finish each track and challenged myself to make it work . . ."

. . . Alongside a couple of Fender Twins and a bunch of overdrive and reverb units, Brokaw's gear collection also includes a Jaguar, treasured for its ambient feedback. However, a '56 Jazzmaster has elbowed it aside as his main squeeze in the past couple years. "It has a thicker sound, especially since I put 0.011s on it," he explains . . .
--see the full story
". . . A lot of the album came to me on tour. I've been fascinated with cities, and when you drive to a city at night from a rural area, you see this red glow coming from the city. It's exciting and sometimes a little scary because every place has a specific energy, positive or negative . . . "
-see the full story as published in boston magazine

july 2002



by josh madell, june 6 2002, online here with real audio links

. . . Brokaw has made a beautiful, varied debut as a solo recording artist with his new album, "Red Cities," on Atavistic. In some ways, this instrumental record is an amalgam of all his previous work. But if I had to narrow it down I would say that this reminds me most of a mix between Pullman and the New Year -- a melodic, textured soundscape of guitars and percussion that touches on many moods. This is soundtrack music that is not afraid to rock, and rock and roll that takes a relaxed, contemplative approach to its unfolding sounds. A great debut that should be of interest to fans of Brokaw's excellent playing and more generally anyone with an ear for great instrumental pop.


june 2, 2002, online for a fee at www.chicagotribune.com

. . . where Pullman favors a back-porch ambience and Come mined a particularly black-hearted variant of the blues, "Red Cities" has a western tinge that evokes desert vistas and open highways. The best tracks' stirring melodies stand quite well on their own, but the tight, riff-oriented structures of others beg for a singer.

by david keenan, june 2002 online at www.thewire.co.uk

. . . a series of brooding instrumental sketches propelled by sparse percussion and dominated by (Brokaw's) skeletal guitar tone. . . . a moonlit trawl through some blasted desert rock that is as singleminded and lonesome as some of John Fahey's electric material.


by tim perry, may 25, 2002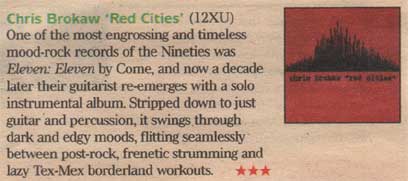 july 2002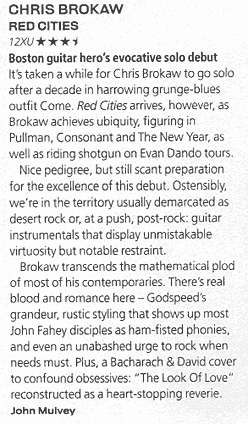 by graeme rowland, writing in "the brainwashed brain" V05I20 - 05262002, a weekly digest from the staff and contributors of brainwashed.com
. . . There's a western-noir feel to most of it and the most effective tracks build in emotional intensity just like Come, every note heavy with mysterious longing and deep enough to flip your stomach over. After a short intro, the longest track "The Fields (Part II)" takes a trip deep into the city night where events are unfolding outside the upstairs window, each note delivering ever more irreversible immanence. Chris really knows how to pack a sledge full of raw emotion into every note, and this is a stunningly dense dark cinematic ride. Only lighter track is the more playful "Topsfield State Fair," which perhaps skirts closer to Pullman campfire folkiness than the deeper Come shadows the rest of the album so satisfyingly evokes. I'm not sure if the title of the album was in any way inspired by the W.S. Burroughs classic 'Cities of the Red Night' but if anyone was ever ambitious enough to try to make a film of that book, this would make a perfect soundtrack.


issue no. 4 summer 2002


by stewart lee, june 2, 2002
Brokaw is the shadowy standout figure of other people's recordings. Among the cult figures who lean on his guitar playing for support are the former Lemonhead Evan Dando and Come's Thalia Zedek, while as a member of Codeine he pioneered the dense, bulldozer riffs that today seem commonplace in the American underground. His first solo album, comprising 14 instrumentals on which he plays everything, features fuzzedup flamenco guitar figures, the kind of psychedelic spaghetti-western sounds favored by Calexico, and seismic shifts in mood, from the apocalyptic to the whimsical, the brilliant to the banal. Regrettably, the finest track, the 10 minute "Field pt. II" is scheduled rather too early. Programme your CD player accordingly to avoid disappointment.