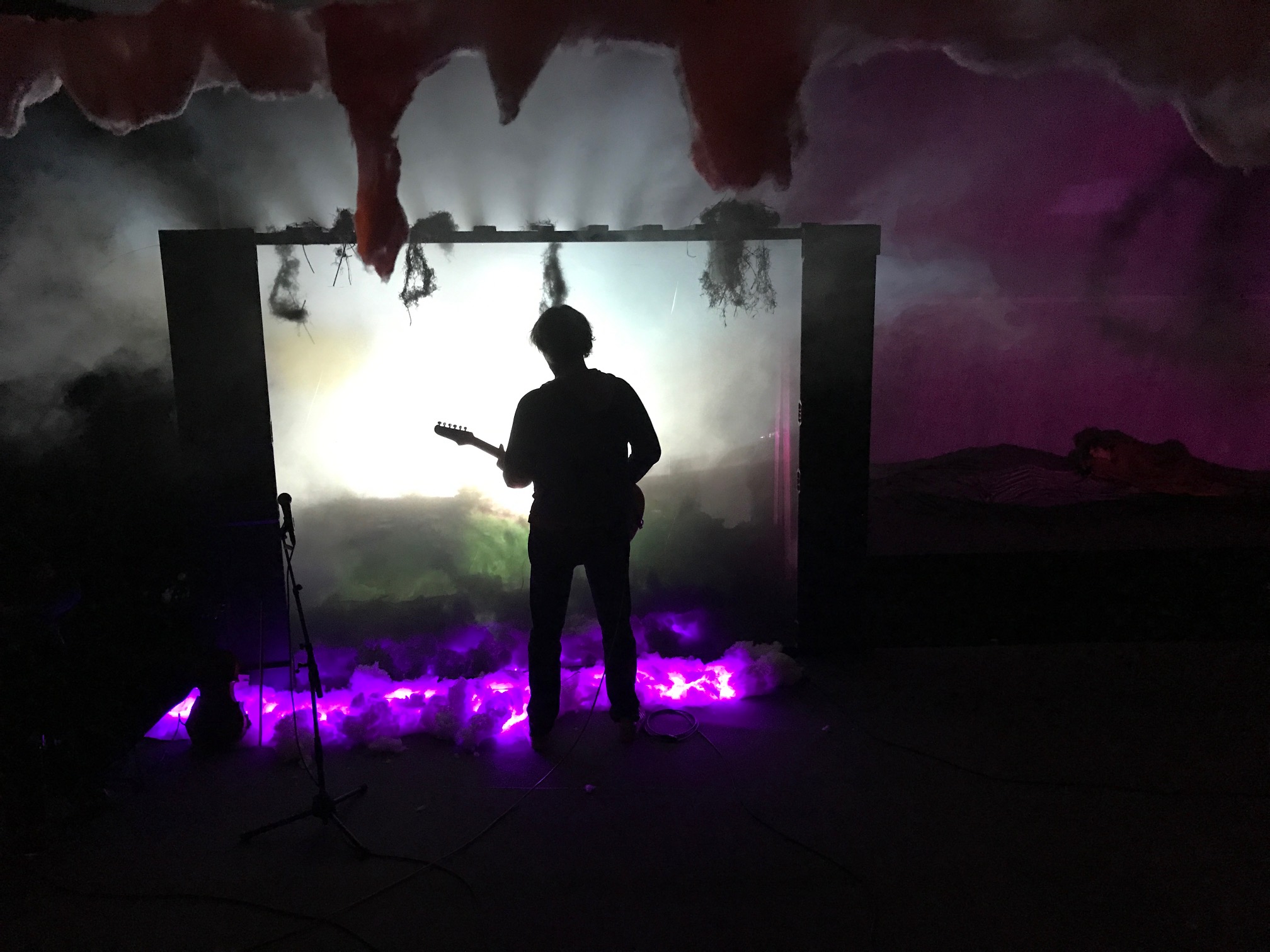 Performing in Norway, March, 2019

April 5 -- Chris Brokaw Solo
Cambridge MA, at Lilypad, w/Dmitry Samarov, Thalia Zedek, Mel Lederman
April 7 -- Chris Brokaw Solo
Somerville, MA, at Aeronaut, w/Possum
April 9 -- Hidden Tooth (Chris Brokaw + Dave Curry)
Brookline, MA, at Cafe Fixe, 7pm


April 16 -- Charnel Ground (Chris Brokaw, Kid Millions, Doug McCombs)
Cambridge, MA, at Lilypad; listen and read more here
April 17 -- Charnel Ground (Chris Brokaw, Kid Millions, Doug McCombs)
Brooklyn, NY, at Union Pool
April 18 -- Charnel Ground (Chris Brokaw, Kid Millions, Doug McCombs)
Washington, DC, at Rhizome
April 19 -- Charnel Ground (Chris Brokaw, Kid Millions, Doug McCombs)
Philadelphia, PA, at Jerry's


April 25 -- Chris Brokaw/Thalia Zedek + Jennifer O'Connor
Jersey City, NJ, at Pet Shop, playing a mix of solo and duo material
April 26 -- Chris Brokaw/Thalia Zedek + Jennifer O'Connor
Montpelier, VT, house concert at Mike + Kelly's, playing a mix of solo and duo material; details here
April 27 -- Chris Brokaw/Thalia Zedek + Jennifer O'Connor
Allston, MA, house concert at Brad + Amie's, playing a mix of solo and duo material


[last updated March 18, 2019]
---

Chris and Findlay//Sandsmark, a Norway-based performance company working in dance, theater, video art, and live music, collabored on the development of a new multimedia piece called "Florida (lowlands)." They presented the work in four shows in March, 2019, at Rimi/Imir SceneKunst in Stavanger, Norway, and at the Oslo Internasjonale Teaterfestival 2019.
Details here
about the project.
---
Chris is proud to announce the release of a new LEMONHEADS album, in February 2019. The album is a set of covers of songs by 13 artists. Chris played guitar on some of it, including the lead off track, "Can't Forget" by Yo La Tengo.
Track list here
. The band toured Europe January and February 2019, with Lee Falco, Evan Dando, Farley Glavin, and Chris.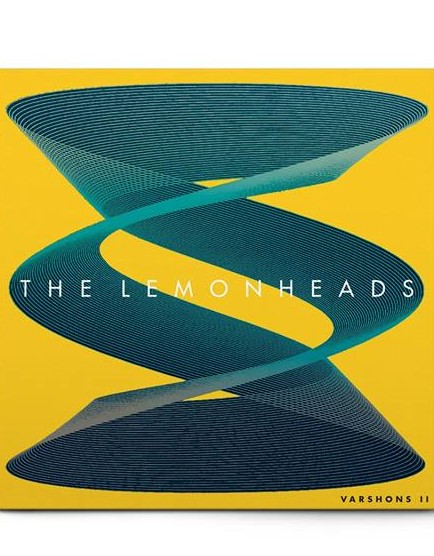 ---
The feature film "Buck Run" had its world premiere at the Palm Springs International Film Festival in January, 2019. Chris composed the film score. The movie is directed by Nick Frangione and stars James Le Gros.
Variety says
: "The drifting electric guitar of Chris Brokaw's score further amplifies a timelessly melancholy air."
---
Chris's music for Peter Hutton, composed to be performed with the filmmaker's short films, was released in a limited edition on
Tape Drift Records
in 2018. Chris presented the work in 2017 and 2018 in screenings of Hutton's films, including a show in June, 2018, in Norway. Also in 2018, Chris reworked/remixed a recent film score piece for compilation VIII on ALREADY DEAD TAPES of Kalamazoo, Michigan. It was released August 31.
Details here
.
---
The debut LP of Charnel Ground was released April 6, 2018. Charnel Ground are Chris Brokaw (guitars), Kid Millions (drums) and James McNew (bass).
Spin says
: "Charnel Ground's real treasure is its 18-minute album-closing title track, the kind of elegantly sprawling feedback jam that often crops up near the end of a Yo La Tengo album. Brokaw plays with real tenderness as McNew and Millions patiently keep time behind him—a reminder that improvised noise rock, when played well, is fully capable of touching your heart as well as melting your face." The band will play four shows in April 2019, featuring Doug McCombs (Tortoise) on bass.
For sale here
!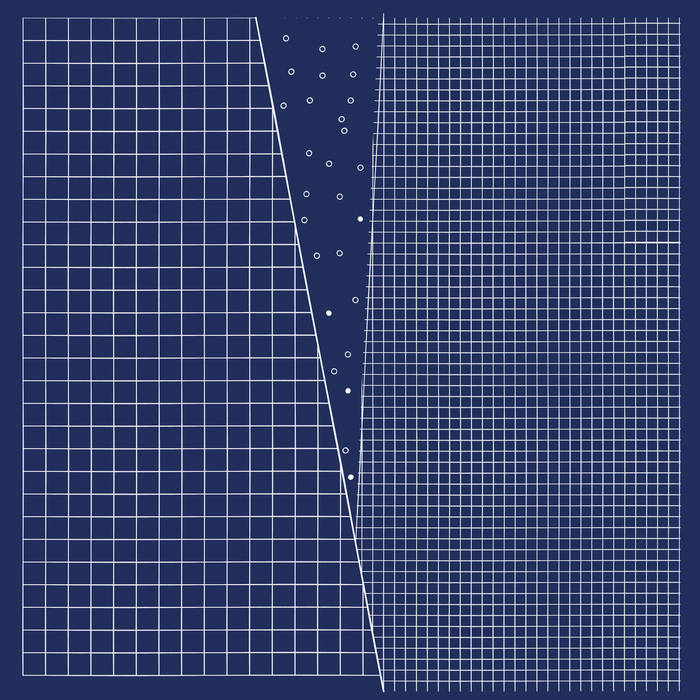 ---
Chris is proud to release THE HAND THAT WROTE THIS LETTER, a cd of instrumental classical guitar versions of David Bowie and Prince songs. This is Capitan Records 014, the first Capitan release in a few years. The album was recorded by Claudia Groom in Seattle, WA, in October and November 2016, and mastered by Matt Barnhart. This cd is available through this website and at Chris's shows. It's
for sale here
for $12 postagepaid (US), $14 (CAN), $16 (World). It is
also for sale as download
at Bandcamp. Track list: ASHES TO ASHES, THE MAN WHO SOLD THE WORLD, I WOULD DIE 4 U, LADY GRINNING SOUL, CONTROVERSY, MODERN LOVE, ANDY WARHOL, UNDER THE CHERRY MOON, WHEN YOU WERE MINE, LETTER TO HERMIONE.
Below is an interview Chris gave with Carsten Wohlfeld for Westzeit Magazine about the new cd.
1. Can you say a few words about how this album came about, something with a wedding, I recall?
---I was asked to play a friend's wedding in San Francisco in July 2016. I asked the bride what she'd like me to play, and she said "I'd really like if you played some David Bowie and Prince songs". I said "I wont sing them - I dont think your guests want that - but I'll try them as instrumentals". I did 4 or 5 at the wedding and when I got home just kept playing them obsessively. I decided to make it ten songs, and then an album.
2. I wouldn't have taken you for a huge Bowie or Prince fan, so how familiar were you with these songs? Most of them came out when you were a teenager, I seems?
---Ive been a big Bowie fan for many years, Prince somewhat less so. Some of these songs came out when I was a child, but I dont think that's especially important.
3. How did you select the songs out of the wealth of material that both artists have to offer?
---it was kind of intuitive. honestly, all these songs have different significances for me, many of them highly personal. three of the songs i never heard until after they each died, and i felt it important to include those, as so much great work is only learned after an artist's death. they're not necessarily my favorite songs of theirs, but important ones for me. the album is deliberately incomplete, as i feel the album is mostly about memory, which is inherently both highly personal and highly flawed.
4. I guess there's a few that kind of lend themselves more easily to an acoustic adaptation, like "Letter to Hermione" or "The Man Who Sold The World", but I'm wondering how you could possibly listen to "When You Were Mine" or "I Would Die 4 U" and think, "Yeah, just one acoustic guitar and no voice will do"?
----that was not always easy. some songs, like "heroes", were impossible to do solo acoustic and i discarded them. these ones seemed to work for me. again, much of this is personal in a way that is specific to the ways i play guitar.
5. Is there some kind of pattern you followed, when it came to pairing down the songs (if so, what was it)?
---no, and i didn't want to overthink it. as ive said, it's really not a complete take on these guys, and that was important to me. it's not a definitive statement on them, or on my feelings about their catalogs. i wanted it be half of each, but it ended up 6 Bowie 4 Prince. overall i have a stronger attachment to Bowie's songs. And even lumping these 2 guys together is a bit random, but they really felt connected in 2016.
6. You're obviously no stranger to solo instrumental music, but with your own stuff, the songs were intended to have no vocals. Did you ever find it difficult to just let go of that layer, that dimension of the originals?
----not at all, and mostly because those singers are so distinctive. like, i really dont want to hear anyone else singing them (including me). this album is like hearing someone humming along with the songs.
7. I love how much these songs sound like CB numbers, testament to how distinctive your guitar playing is, I guess. Was that an intention or did it just naturally turn out that way?
----just how it came out, but thank you! i felt like the versions were deliberately pretty faithful but allowing to taking in my own turns.
8. Silly one at the end: If you were to do a part two of this project: Which two other artists would you consider to be worthy of your time and effort?
---i dont know, probably plenty. hopefully no one else has to die to make the next record happen!
(See the article in Gaesteliste.de, a German online music magazine, that this interview was for.)
---
In December 2017, OMENTUM RECORDS of Pittsburgh released Chris' 2008 CD "CANARIS" on vinyl. Black vinyl and limited edition goldenrod, plus new liner notes by Steve Lowenthal (VDSQ) and Wlad Drakkstein (Vlad Tepes).
For sale here!
---
"BARRACUDA," a feature film by Julia Halperin and Jason Cortlund with a film score by Chris, had its US release on October 6, 2017. The movie was nominated for the SXSW Gamechanger Award and the SXSW Grand Jury Award at the SXSW Film Festival 2017, and won the Grand Jury Prize for Best Narrative Feature at the Oak Cliff Film Festival. See the
Hollywood Reporter review
and what the
filmmakers say about the movie
.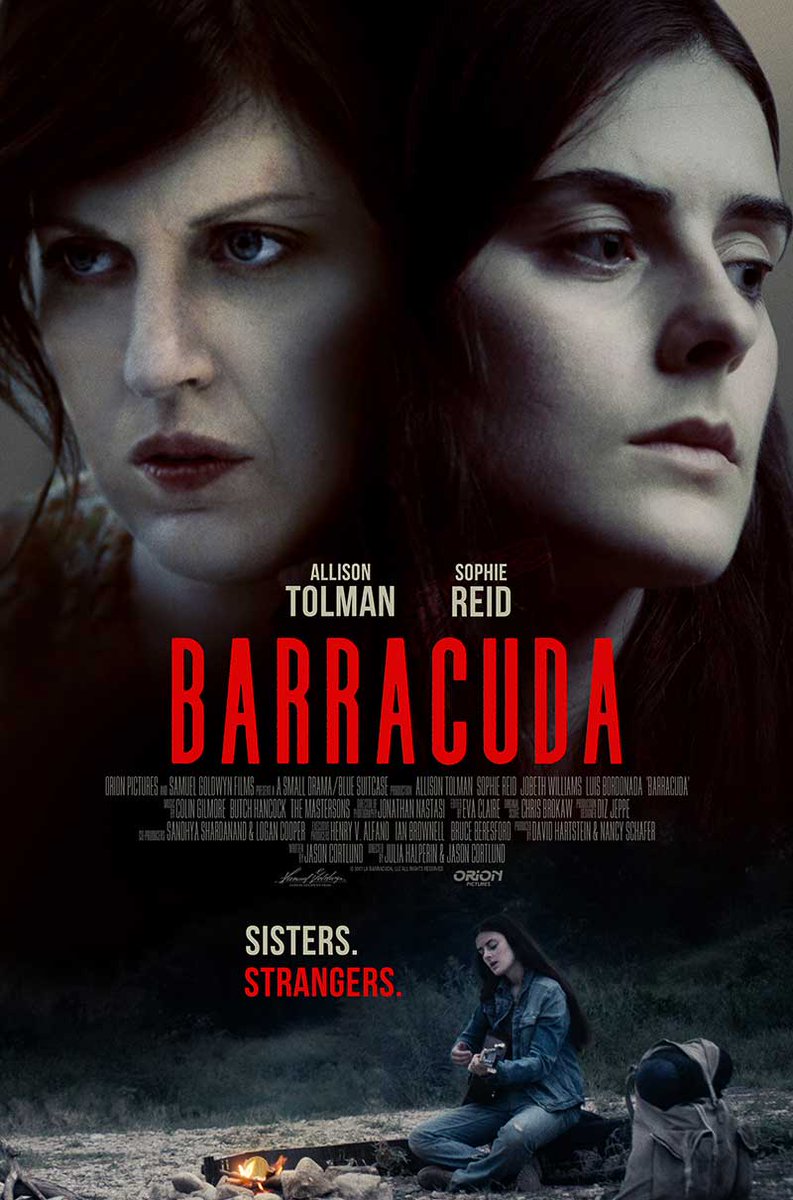 The feature film 'Barracuda,' with a film score by Chris, was released in October 2017 in the US (see this poster full size)
BARRACUDA is available in the US on video on demand from cable/satellite providers as well as from digital streaming services including
Amazon
,
iTunes (US & Canada)
,
Kanopy
,
Google Play
,
Vudu
,
Fandango Now
, and
Hoopla
.
---
In a duo with Jimena Bermejo, Chris performed new work for slide guitars and dance in August 2017 during an evening of NEW WORKS / NEW CONFIGURATIONS. The program was part of the MOBIUS SUMMER SERIES. (
Watch their performance here
.) In September 2017, Chris presented 5 films of experimental filmmaker Peter Hutton (1944-2016) at the Brattle Theatre in Cambridge -- 3 with live scores, 2 in their original silent state -- with audience discussion after. Also in 2017, Chris wrote the soundtrack for the forthcoming feature film "BUCK RUN," scheduled for release in 2018. The movie stars James Le Gros and is directed by Nick Frangione.
---
THE NEW YEAR's first album in nine years, "SNOW," was released April 28, 2017. The band features Matt and Bubba Kadane on guitars, Mike Donofrio on bass, and Chris on drums. The
Pitchfork review
calls it "a spare, deliberate record, judiciously paced and artfully arranged. With its wide-open vistas and vast expanses of negative space, the album lays claim to the territory the band staked out 25 years back while managing to turn over a couple new leaves."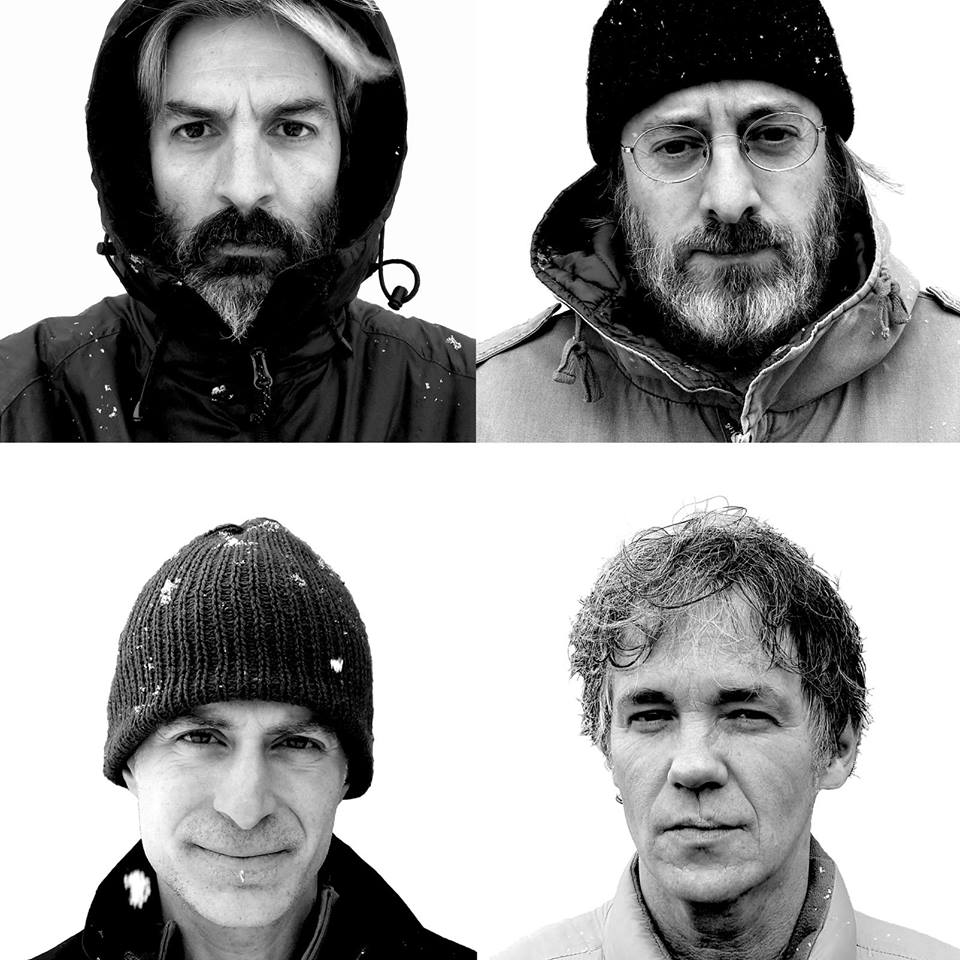 The New Year's "Snow" was released in April, 2017
See
THE NEW YEAR website
for other reviews and purchasing info.
---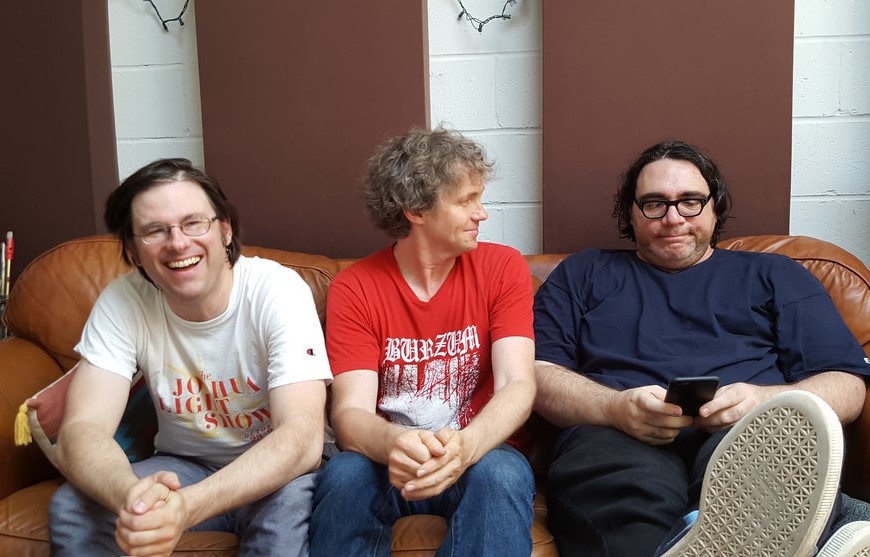 "CHARNEL GROUND" lp
-- 12XU, April 6, 2018 -- Charnel Ground's debut release was recorded in Brooklyn, NY, and features Kid Millions (Oneida/Boredoms) on drums, Chris on electric guitar, and James McNew (Yo La Tengo) on bass + organ.
Listen on bandcamp
. "'The High Price' is a total rager, with Kid and McNew laying down a demonic beat and Brokaw coughing up shards of glorious riffage and white-hot feedback," says Doom and Gloom from the Tomb. "But the album isn't all thrash-and-burn. 'Playa del Ticia' and 'Skeleton Coast' are both sunshine-infused pop numbers. Best of all is the closing self-titled epic, with the band finding an elevated plane of sonic conversation over the course of nearly 18 wonderfully transporting minutes." A download code is included with the LP.
For sale here!
---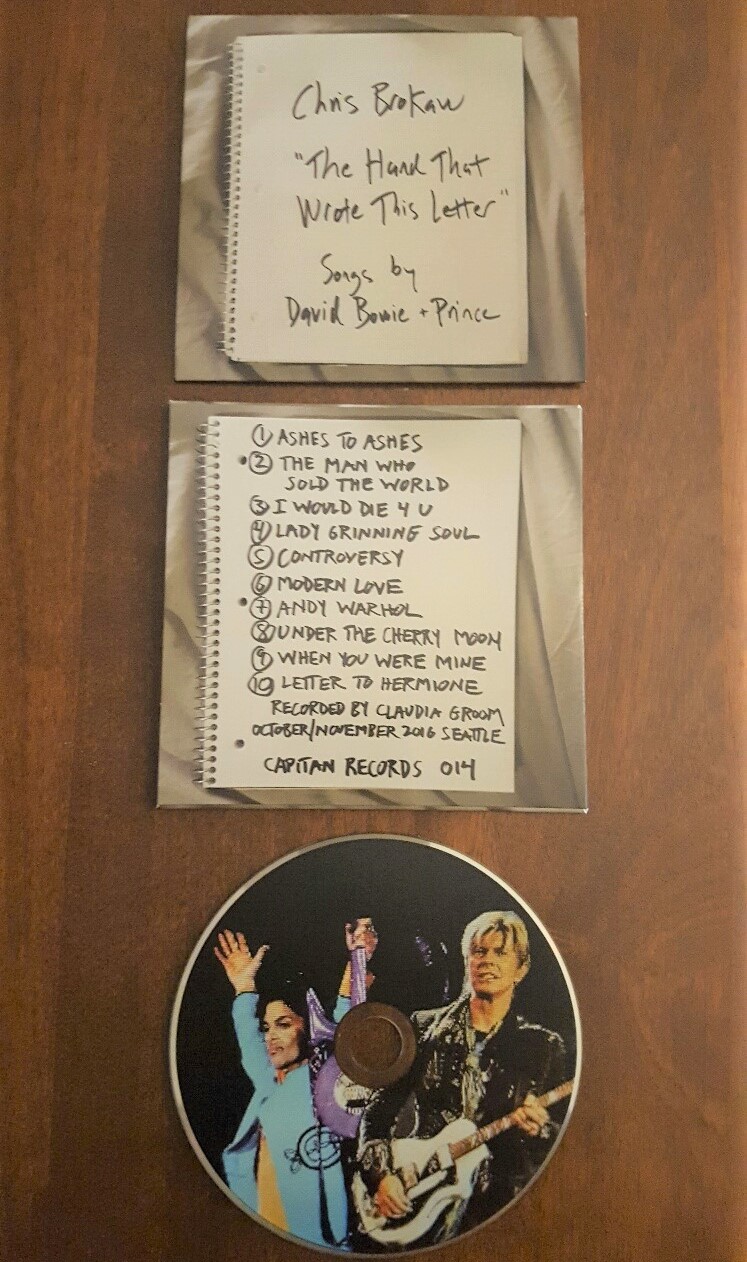 CHRIS BROKAW "THE HAND THAT WROTE THIS LETTER" cd
-- Capitan Records, November 28, 2017 -- When a friend asked Chris to play at her wedding in 2016, Chris asked her for requests -- and she said David Bowie and Prince. Chris turned some of their songs into classical guitar instrumentals, performed a few at the wedding, began playing them obsessively at home, and decided to make an album. This CD, 014 on Chris' Capitan Records label, was recorded by Claudia Groom October/November 2016 in Seattle, Washington, and mastered by Matthew Barnhart in Chicago, Illinois.
For sale here!
---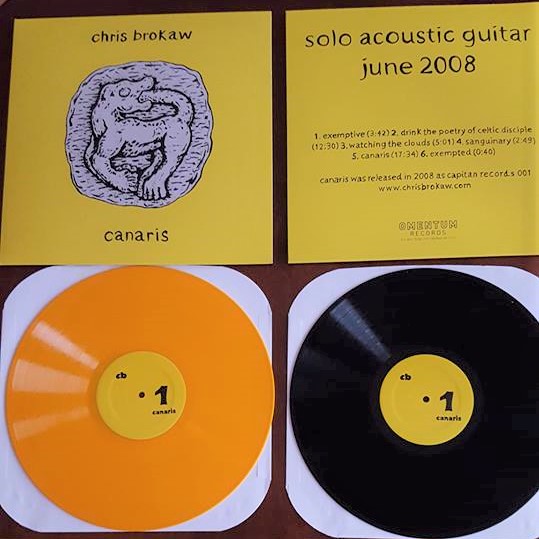 CHRIS BROKAW "CANARIS" lp
-- Omentum Records, December 9, 2017 -- This is an LP reissue/remaster of Chris' 2008 CD. Available in GOLDENROD or BLACK vinyl. New art and liner notes by Steve Lowenthal (VDSQ) and Wlad Drakkstein (Vlad Tepes).
For sale here!
---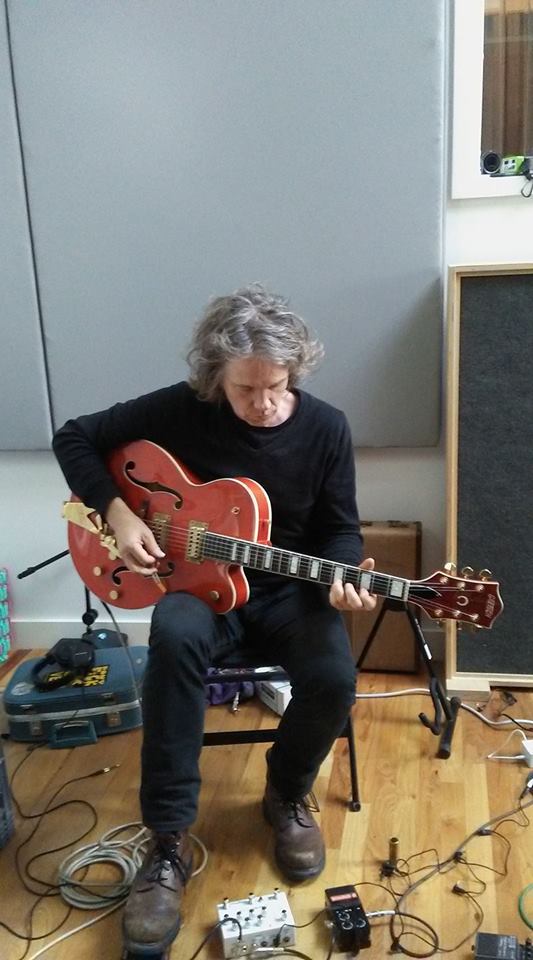 Chris, November 2017, by Thalia Zedek