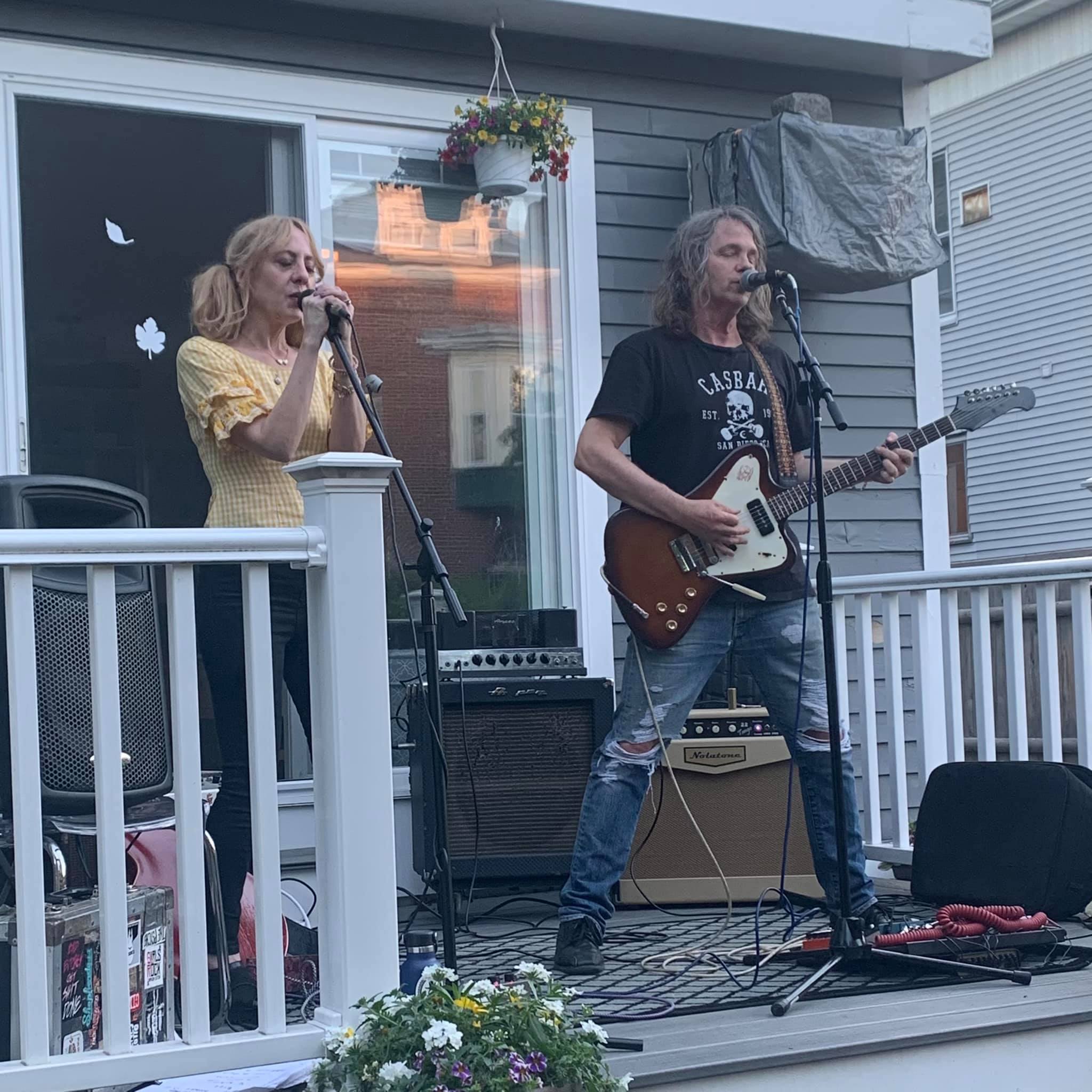 After spending the first part of 2021 teaching via video and doing livestream shows on Facebook and Instagram, Chris returned to in-person concerts in May. Here he performs with Hilken Mancini at a porch concert in Allston, MA. Photo by host Brad Searles.
May 15, 2021 -- Chris Brokaw Solo
Allston, MA, porch concert, with Hilken Mancini
June 5 -- Chris Brokaw Solo
Brooklyn, NY, at Record Grouch, 6pm
June 12 -- Chris Brokaw Rock Band
114 Scott Ave, Brooklyn, w/The Cradle
June 19 -- Chris Brokaw Solo
Somerville, MA, backyard show, with Hilken Mancini
June 26 -- Chris Brokaw Rock Band
Arts on the Lake, Carmel, NY, w/Melomane and Chrisy McCullagh
July 9 -- Chris Brokaw Solo
Facebook livestream show, at Chris' Facebook page
July 10 -- Chris Brokaw Rock Band
Cambridge, MA, backyard show
July 11 -- Chris Brokaw Rock Band
Amherst, MA, town common, at 3pm
July 15 -- Chris Brokaw Solo
Cambridge, MA, at the Plough and Stars, w/Jim Buni and Liz DeBiase; PROOF OF VACCINATION REQUIRED (vax card or photo)
July 17 -- Thalia Zedek Band
Jamaica Plain, MA, at The Midway Cafe; 20th anniversary show for Thalia's "Been Here and Gone" release with her original band, which includes Chris
August 7 -- Chris Brokaw Rock Band
Cabot, VT, outdoor show, w/Anachronist
August 14 -- Chris Brokaw Rock Band
Keene, NH, at NOVA Arts, w/Rick Rude; info here
August 29 -- Chris Brokaw Solo
Facebook livestream show, at Chris' Facebook page
Sept 3 -- Chris Brokaw Rock Band
Cambridge, MA, at the Middle East Up, w/ the Thalia Zedek Band, Helen Money, and Hilken Mancini & Chris Colbourn; proof of vaxx + mask required
Sept 4 -- Chris Brokaw Solo
Concord, MA, backyard show
Sept 17 -- Chris Brokaw Rock Band
Portland, ME, at Sun Tiki Studios, w/Lahnah; info here
Oct 1 -- Chris Brokaw Solo
Chicago, IL, at The Hideout, w/Azita
Oct 8 -- Chris Brokaw Rock Band
Kingston, NY, at Tubby's
Oct 9 -- Chris Brokaw Rock Band
Peekskill, NY, street festival
October 2021 shows scheduled for The Martha's Vineyard Ferries in Oak Bluffs, MA; Kingston, NY; Peekskill, NY; Somerville, MA; and Ridgewood, NY have been postponed due to the ongoing pandemic.
CHRIS BROKAW SOLO TOUR OF ITALY
October 22-30, 2021
Chris' Feb-March 2020 tour of Italy had to be posted because of the pandemic. The tour will now take place Oct 2021. Venues and other details will be announced later this week.
Nov 5 --
Come
Brooklyn, NY, at Union Pool w/guests Tim Foljahn And The Possible Side Effects;
tickets
Nov 6 -- Come
Brooklyn, NY, at Union Pool w/guests Antietam; tickets

[last updated Sept 12, 2021]
Jimena Bermejo and Chris Brokaw have been collaborating since 2017 on movement and music.


Chris began playing solo in late 1999. His shows feature solo electric guitar and tambourine, vocals, and acoustic guitar. His solo records include "Red Cities" (2002), "Wandering as Water" (2003), "My Confidante + 3" (2004), the original film score "I was Born, But. . ." (2004), "Incredible Love" (2005), "Canaris" (2008), "VDSQ Solo Acoustic Volume Three" (2009), "Gambler's Ecstasy" (2012), "'Now, Forager' Soundtrack" (2014), "The Periscope Twins" (2015), "The Hand That Wrote This Letter" (2017), "The End Of The Night" (2019), and "Puritan" (2021). Since 2005, he has performed with the CHRIS BROKAW ROCK BAND with a variety of musicians.
martha's vineyard ferries
MVF is a punk rock trio of Elisha Weisner (Kahoots) on guitar + vocals, Bob Weston (Shellac + Mission of Burma) on bass + vocals, and Chris on drums + vocals. Their 2010 record, "IN THE POND" is a 4 song, 1-sided 12" ep, with etching on side 2 by their pal Rosie. Their 2013 "MASS GRAVE" lp and cd is on Kiam and African Tape Records. Their most recent relase is "Suns Out Guns Out" (2021). Listen and buy at Kiam and at MVF on Bandcamp.
charnel ground
Charnel Ground's debut release was recorded in Brooklyn, NY, and released April 6, 2018 on 12XU. It features Kid Millions (Oneida/Boredoms) on drums, James McNew (Yo La Tengo) on bass + organ, and Chris on electric guitar and is for sale here. The band's live debut was Dec 11, 2017, in NYC and featured Kid Millions on drums, Chris on guitar, and Brad Truax (Interpol) on bass. SPIN writes: ". . . Brokaw plays with real tenderness as McNew and Millions patiently keep time behind him—a reminder that improvised noise rock, when played well, is fully capable of touching your heart as well as melting your face."

Chris and GEOFF FARINA (ex-Karate) have been performing together since late 2006. Their "THE ANGEL'S MESSAGE TO ME" is an album comprised almost entirely of pre-WWII blues songs. It was released on Damnably Records in the UK + Europe March 18 2010 and in the US on Chris's Label CAPITAN RECORDS on april 27 2010. It's for sale here. Their cd "THE BOARDER'S DOOR" was released in the autumn of 2010. Their LP "ALL OUT & DOWN" (2016) was re-released in a handmade/silkscreened edition with a new gatefold jacket in 2021.

EHC is a free-floating collective of musicians spearheaded and masterminded by multi-instrumentalist DAVID MICHAEL CURRY (Willard Grant Conspiracy, Thalia Zedek, Will Oldham, Boxhead Ensemble) and specializing in improvised music. The band's Hudson River Trilogy, recorded in 2001, was released in 2017 on Bandcamp. Brokaw, Curry and Sacks performed with the American Repertory Theater in Cambridge, MA, in the 2003 production of "Highway Ulysses," which won the Elliot Norton Prize for Outstanding Production by a Large Resident Company.
Chris performed livestream shows on Facebook and Instagram throughout 2020 and 2021. Viewers sent donations via Venmo @Christopher-Brokaw-2 and PayPal chrisbrokaw@yahoo.com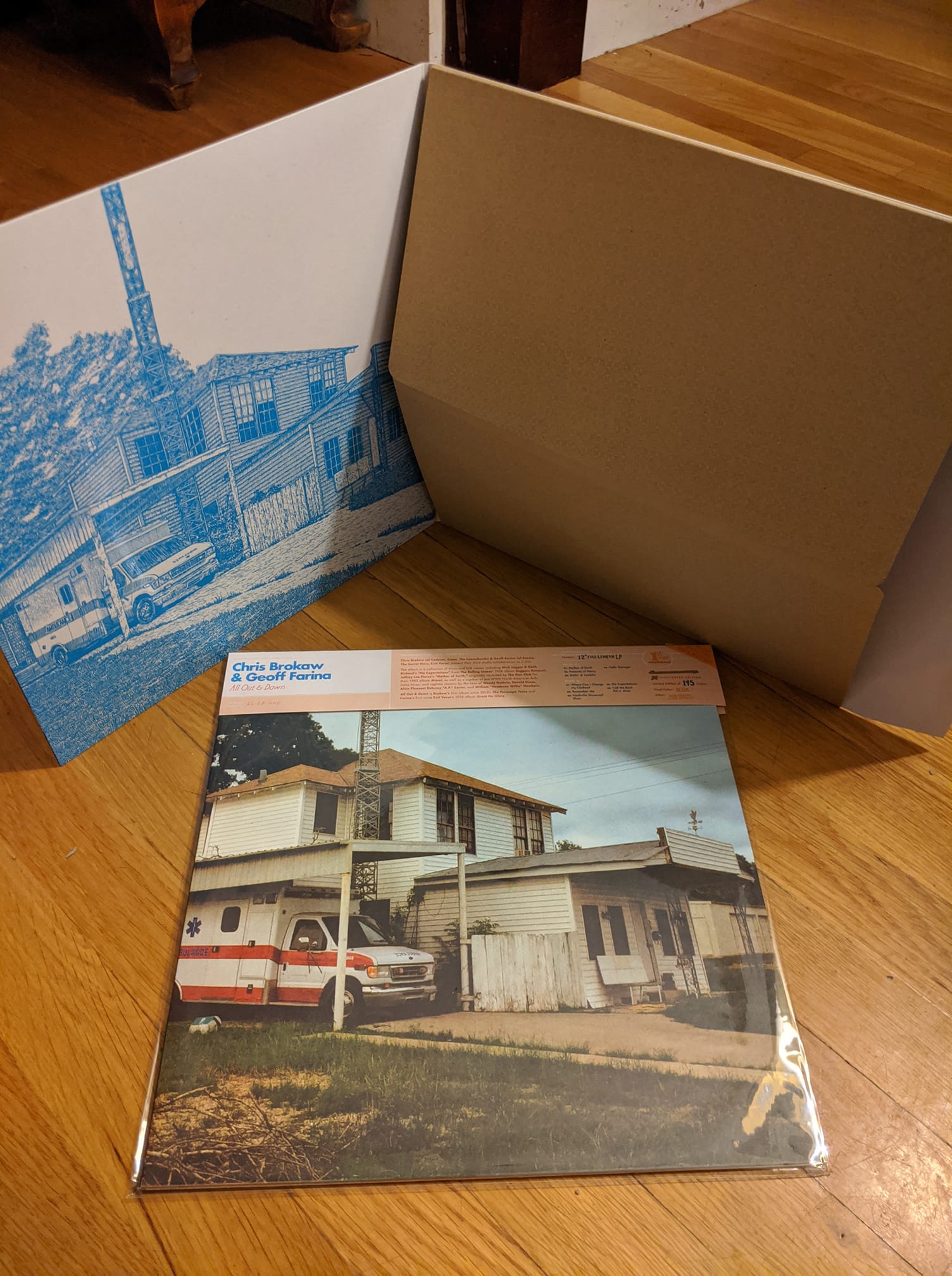 Chris writes, April 18, 2021: "Working with Dan Black and Landland Colportage on the album I made with Geoff Farina "All Out + Down" has been a unique and evolving pleasure. They just released the 3rd handmade/silkscreened edition, with a new gatefold jacket ~ each new version looks and feels better than the last. All acoustic album of guitars + vocals, covers of the Carter Family, Gun Club and more. Numbered edition of 145 copies. $25 postagepaid in the US/hit me up if you're outside ~ venmo @Christopher-Brokaw-2 or PayPal: chrisbrokaw@yahoo.com. Thanks Dan!"
The Chris Brokaw Rock Band plays Cambridge's Middle East Up September 3, 2021.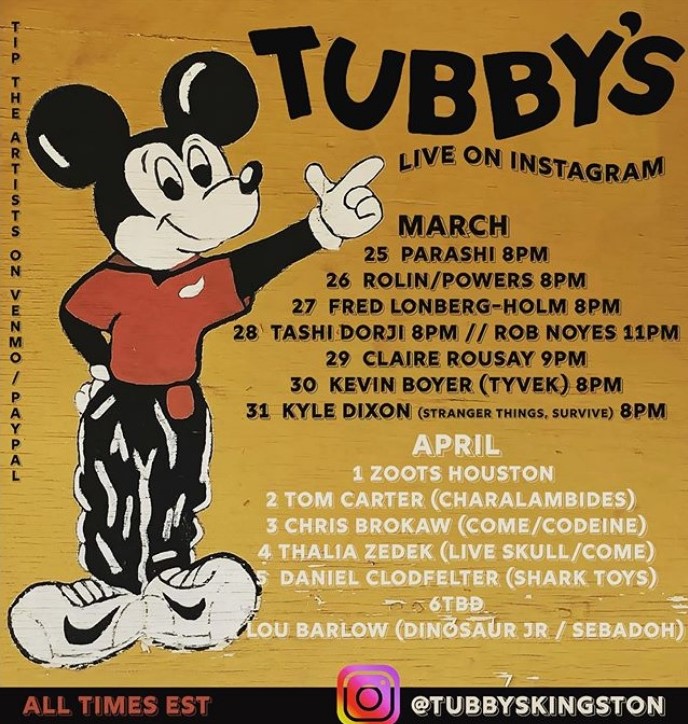 This is from April 2020, at the beginning of the pandemic: Chris' April 3 live stream show on the Instagram of Tubby's Kingston -- one of Chris' favorite clubs to play -- followed his first two experiments with live streaming in March 2020. Chris wrote: "Thanks so much to everyone who listened in on my webcasts. Your enthusiasm and generosity were flattering and a balm in this strange time. I hope it provided a good place for people to gather and enjoy music and company, however 'remote'. It was quite unique to play for a completely silent audience, while still being able to glance at comments on the screen... weird and new zone but actually quite nice."